VietNamNet Bridge – Tran Quyet Chien, 35, has become the first Vietnamese cueist to ever win the top prize at the Billiards World Cup after beating his countryman Ngo Dinh Nai 40-39 in the final of the recent Three-Cushion Carom Billiards World Cup held in HCM City. Thanh Nga talks to him about his career.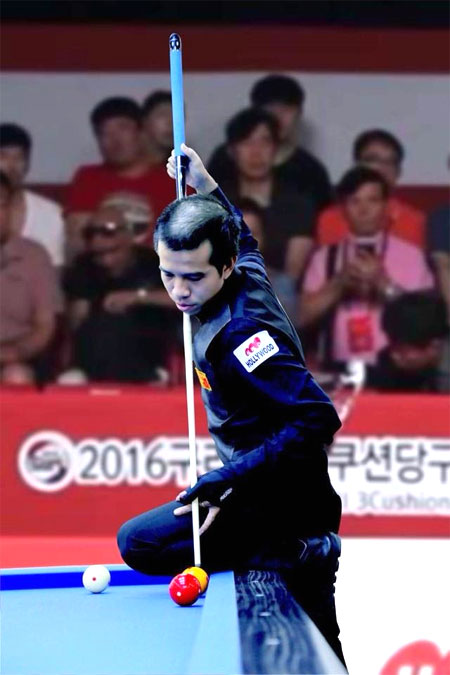 World champion: Vietnamese cueist Tran Quyet Chien seen in an international event. Photo courtesy of Tran Quyet Chien
The podium of new Vietnamese stars at the World Cup has captured the hearts of the billiard crowd as you became the first Vietnamese World Cup winner in history. How did you feel?
I didn't know which words to say about my feeling at that time, but it was too wonderful and I was too happy. I performed a minor miracle on the closing day. I beat Frédéric Caudron of Belgium in the semi-final and had an incredible finish against my fellow countryman Ngo Dinh Nai in the final.
The final, played in front of some 1,500 spectators, was a showpiece.
When did you fall in love with billiards?
I was born in a poor family in the southern province of Ca Mau in 1983. My father is a civil servant and my mother is a trader. My mother placed a billiards table at home where people could play for a fee. Since then, my love for billiards and colourful balls was shaped from the time I was small. In a poor village, a billiards table was an entertainment centre for men. Seeing adults playing billiards, I learnt by imitation.
When did you start playing billiards professionally?
I began to compete in the first national event in 2008 and then in professional events in 2010.
Your name "Quyết Chiến" (Determine to Fight and Win) sounds very strong and competitive. In life and competitions, are you still strong and competitive?
In fact, I always have "competitive" blood in any tournament. I want to compete in all events at home and abroad. However, in life, I am friendly and nice.
Can you tell me the most memorable matches in your career?
In the World Cup 2012 in Egypt, I faced world No 1 player at that time, Frédéric Caudron. I felt that I was too "small" compared to him and of course, I was beaten by him and I admired him very much. But after several years of gaining experience and horning my skills, I am now confident to take on the leading cueists in the world. And now I am very glad that I beat Caudron in the semi-final of the Three-Cushion Carom Billiards World Cup held in Vietnam this year.
I also beat Caudron in the World Cup in 2015 in Vietnam and Marco Zanetti of Italy in the World Cup Luxor in 2014 in Egypt. I defeated Daniel Sanchez of Spain at the World Cup Istanbul in 2013.
But for me, the most memorable match was with Torbjorn Blomdahl of Sweden in the World Cup Istanbul. Blomdahl took the lead of 29-5 but I didn't give up, to notch an equaliser of 40-40 and then I lost to him 2-3 in the penalty.
The final game with Nai in this year's World Cup also impressed me very much.
What was your secret to overcoming the world-leading players?
Despite what happened, I will fight and my spirit won't yield. Before entering the match, I don't care whoever my rival is. 
Can you describe your proudest achievements?
I finished third in the national championships in 2012 and 2014. After that I became the runner-up in the national championships in 2015-17 and took the title in 2018. I was the runner-up in the World Cup in South Korea in 2016 and won the World Cup this year.
On August 18, I won the International Three-Cushion Carom Billiards Tournament BTV-Becamex IJC Cup 2018 held in the southern province of Binh Duong. I beat Kang Dong Koong of South Korea 12-8 in the final.
Can you say something about playing billiards?
Billiards is an art and an intellectual sport. We should play it with our heart and with passion.
Who is your idol?
Frédéric Caudron of Belgium. He is my teacher and my friend.
How about your family? Can you describe them a little bit?
I am married and have two children: Tran Pham Thien Kim is 6, and Tran Pham Thien Y is 2 years old. My wife is Pham Thi Kim Thoa, 28, born in the southern province of Long An. Now we live in Binh Thanh District in HCM City.
What's your next target?
I wish I can gain high results in the upcoming tournaments and I can buy an apartment in HCM City. 
Source: VNS