VietNamNet Bridge – Vietnamese weightlifter Thach Kim Tuan brought home the country's first silver medal at the Asian Games (ASIAD) yesterday.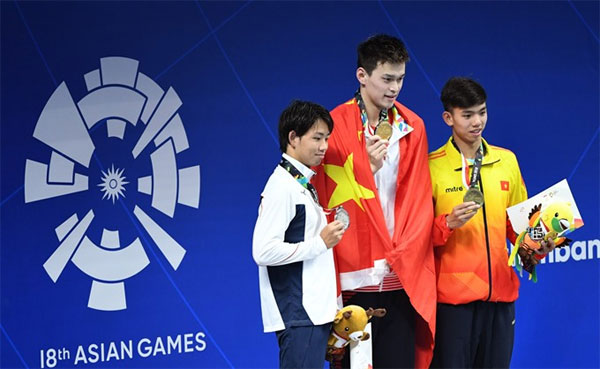 Vietnamese swimmer Nguyen Huy Hoang (right) attends the awarding ceremony after winning the bronze medal of men's 800m freestyle final in the 18th Asian Games in Jakarta, Indonesia today. Xinhua Photo
Tuan finished second in the men's 56kg category with a total lift of 280kg. Om Jun Chol of North Korea took gold medal with 287kg and Indonesian Bin Suwoto Surahmat won bronze medal with 272kg.
Another Vietnamese representative in this event, Tran Le Quoc Toan finished fourth lifting 271kg.
Tuan, 24, from the southern province of Binh Thuan, established a glorious milestone for Vietnam as he swept all three gold medals of the men's 56kg at the IWF World Championships in Anaheim, the United States last year. He also won gold medals at the SEA Games, National Weightlifting Championships, Asian Indoor and Martial Arts Games.
In the female category, Vuong Thi Huyen finished fourth with a total lift of 181kg in the women's 48kg, while Nguyen Thi Thuy came in a place behind lifting 177kg.
Young swimmer Nguyen Huy Hoang shine in the men's 800m freestyle. He took a bronze after clocking a time of 7:54.32. Sun Yang of China won gold with a time of 7:48.36, while the silver medal went to Japanese Takeda Shogo with a time of 7:53.01.
In other news, the Vietnamese male volleyball team caused an upset beating three-time ASIAD champions China 25-23, 26-24, 19-25, 22-25 and 21-19 in the first match of Group E.
China are No 1 seed of the group and are now world No 20.  It is the first time Vietnam has beaten China.
"Today, Vietnam played extremely outstandingly. They proved themselves in each position. This win gives the team a great advantage in the group as China are their archest rival," said general secretary of Viet Nam Volleyball Federation, Le Tri Truong.
"The whole team are very tired following a tense and dramatic game. However, we are very happy as we beat China in the continental event. We are very proud," said Vietnam's No 1 attacker, Tu Thanh Thuan.
Vietnam's next games will be against Thailand and Sri Lanka.
ASIAD's men's volleyball teams are divided into six groups. The best 12 teams will compete for the first to 12th place.
In tennis, Ly Hoang Nam had a good start, easily beating Ahmed Saai Waheed of Maldives 6-0, 6-0 in the first round of men' singles.
In the women's sepak takraw, Vietnam also made fans jump for joy with their 2-1 win against Japan.
In the wushu's performance, Tran Thi Khanh Ly ranked fourth with her total point of 19.34. The gold medal belonged to Indonesian Lindswell Kwok with a total score of 19.50 points. The second place earned by Hong Kong athlete Juanita Mok Eun Ying, while the bronze medal secured by the Philippines athlete Chrystenzen Wong Agatha.
Source: VNS