VietNamNet Bridge – Behind the scenes stories of Vietnam's U23 football team in the recent Asian Football Confederation U23 Championship has been revealed to the Vietnamese public for the first time via the newly-published book U23 – Nhung Chuyen Chua Ke (U23 – The Untold Stories).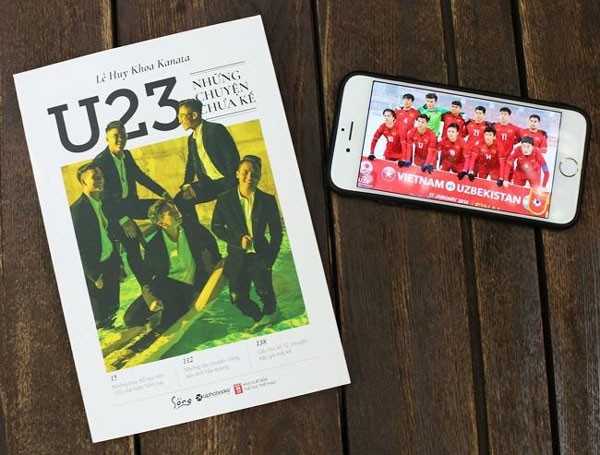 Goal: U23 – Những Chuyện Chưa Kể (U23 – The Untold Stories) will reveal to readers untold stories behind the Viet Nam's U23 football team. — Photo eva.vn
Published by Alpha Books Joint-stock Company and Sports Publishing House, the book was written by an insider – Le Huy Khoa, who works as a linguistic assistant to Vietnam's South Korean coach, Park Hang Seo.
Closely accompanying the team during the tournament in China, the author formed his own perceptions and feelings about Vietnam's glorious moments which he expressed in the 200 pages of U23 – Nhung Chuyen Chua Ke.
"The book details the stories happening to the U23 team, including each involved persons or events that the readers have never seen or heard before. For example, how we became so united, why midfielder Nguyen Quang Hai was chosen to take the free kick in the final against Uzbekistan instead of forward Nguyen Cong Phuong, or how we were so hungry on arriving back Hanoi… all of these untold stories are 100 per cent true," Khoa told Viet Nam News.
"There are a couple of reasons urging me to finish this book. First, I wanted to preserve those memories as they have become part of history, and then I wanted to tell others about what Vietnam's U23 football team did to win today's achievement and therefore, hope to spread the U23's inspiration to social, economics and cultural fields," he added.
It took Khoa about two weeks to compile stories for the book.
"I was competing against time, worrying about many details or stories that had faded to some extent as time went by," he said.
"Vietnam's U23 football team has shown us many lessons on great efforts, solidarity, determination, work organisation, group co-operation as well as ways of behaviour, expressing love and sympathy," he said.
"I just hope that the readers will understand such values, and to the Vietnamese football lovers, I want to send my sincere thanks to their boundless love and hope that they will continue to support and have sincere affection for the team, as well as closely observe our next steps in the years to come," Khoa said.
Under coach Park, Vietnam's U23 football team finished second in the Asian Football Confederation U23 Championship in China last November, becoming the first Southeast Asian country to reach the final of the championship, making it perhaps Vietnam's greatest footballing achievement. 
The team lost to South Korea, drew with Syria and defeated Australia in the group stage to advance. They then beat Iraq in the quarterfinals and Qatar in the semifinals both on penalty shootouts. In the final, they suffered a heart-breaking 2-1 loss after extra-time in snowy Changzhou, China to Uzbekistan.
Source: VNS