VietNamNet Bridge – The World Cup kicks off in a few days time, but fans of the beautiful game here in Vietnam can get their hands on the trophy - well almost.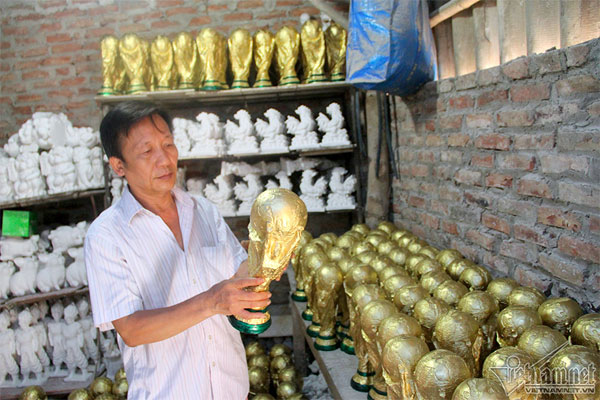 At Vuong Hong Nhat's pottery workshop – Photo: VNN
At Vuong Hong Nhat's pottery workshop you'll find it more crowded than usual. The reason is he's making replicate versions of the trophy that will be lifted by the World Cup winners next month.
He makes them from gypsum and it's not the first time he has sculptured this famous trophy. Four years ago he did the same thing for the tournament in Brazil.
Thousands of the gypsum cups have been created at Nhat's workshop in Bat Trang ceramic village in Hanoi's Gia Lam District.
Started from his love to football, 57-year-old Nhat enjoys making his own versions of the trophy.
To make the cup, Nhat spent lots of his time searching for information on the internet to make sure the details are just right.
And each trophy has to go through many stages before completion.
Nhật makes a shape to produce the mould. After the gypsum cups isdried, they are spray painted yellow together with a gloss finish.
On the average, Nhat's workshop produces 100 cups per day. Half of them are sold right in the shop and the rest are packaged up to sell to different gift shops around Hanoi and surrounding provinces.
Nguyen Thi Nga, Nhat's wife, said during the past month, the couple must work from early in the morning till late at night to produce the cups in time.
Several people from southern areas and Russia ordered hundreds of cups, she said.
Each cup is sold at VND80,000 (US$3.50). It is 36.5cm in height and nearly 2kg in weight.
Vu Dinh Chu, 68, a veteran football fan in Hanoi, said that it was a unique and wonderful idea.
It helped Vietnamese football fans to fulfill their dream of lifting the cup and nurture a dream that Vietnam could join the festival in the future, he said.
Chu believes if the cups were sold in the market in the beginning of this year, when the U23 Vietnam arrived in Hanoi on January 28, concluding their incredible journey at the Asian Football Confederation (AFC) U23 Championship in China where they claimed the silver medal, they would be very much in demand.  
The subsequent trophy, called the "FIFA World Cup Trophy", was introduced in 1974. Made of 18 carat gold with a malachite base, it stands 36.8 centimetres high and weighs 6.1 kilogrammes. It depicts two human figures holding up the Earth. 
Source: VNS