VietNamNet Bridge – Ha Noi FC remains the top team in the V.League, although they were tied 1-1 by Sai Gon in a sixth round match on Sunday in the capital city.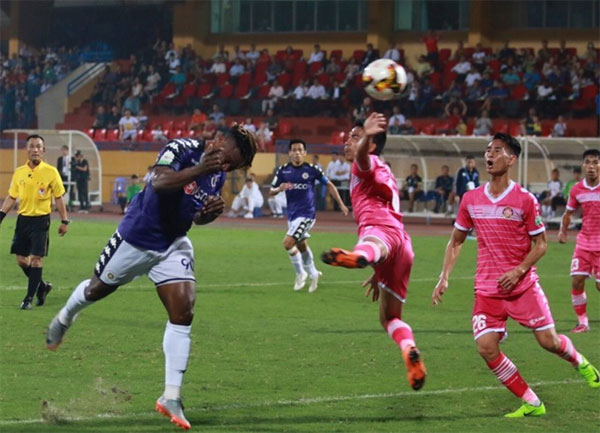 Hanoi's Oseni Ganiyu Bolaji makes a header during a V.League against Sai Gon on Sunday. — Photo zing.vn
The former champions suffered a blow when they led 0-1, just 20 minutes from the first whistle.
Huu Son netted for the visitors with a 30m-distance shot that goalkeeper Nguyen Van Cong could not block.
Playing with domination, the hosts could not reach goalie Pham Van Phong's goal until the second half.
Moses Oloya received a ball from former national midfielder Pham Thanh Luong and broke the off-side trap to score the equaliser.
The draw ended Hanoi's winning streak on their home turf.
However, they still lead the ranking with 14 points.
With only one point, Sai Gon could not escape from the SOS area. They are second from the bottom, with only five points after six matches.
HCM City FC paid off when their defence lost their concentration in the last minute of the match against Hai Phong.
Veteran defender Truong Dinh Luat could not take care of Andre Diego Fagan, who received a long pass from his home side and volleyed to score the only goal of the game at the 89th minute.
The second win of the season pushed Hai Phong to the No 10 position, but they may face a fine from the tournament organisers, as their fans set off fireworks in the stands.
HCM City, meanwhile, missed their chance to enter the top three because of the loss. They are currently No 4 with nine points.
Defending champions Quang Nam were held in a goalless match against Sanna Khanh Hoa, despite playing on their home site.
Their best striker, Dos Reis Claudecir, was given at least three threatening chances, but it was not his day on Sunday as none of his finishes could be converted into a goal.
This was their second draw in three matches on home soil.
On the other hand, one point taken from the match was considered a good result, as they played without coach Vo Dinh Tan, who was sidelined from a previous round, and some of their key players were injured.
Hoang Anh Gia Lai found their second win this season after beating SHB Da Nang 2-0 on Saturday on their home turf in Pleiku City.
Striker Nguyen Cong Phuong ended his goal drought, that lasted six months, with a penalty at the 24th minute.
His low and straight shot to the far corner did not give Da Nang's goalkeeper Le Van Hung any chance to save his net.
Tran Minh Vuong doubled the result for the hosts in the second half. His narrow-angle finish hit the bar before entering the net.
Coach Nguyen Minh Phuong of Da Nang said it was a good game. His side played well, but he was confused about the penalty and hoped referees would watch it again.
"It should have been replayed that moment. The goal totally changed the happenings of the match. My players' spirit was strongly affected," he said at the post-match briefing.
On the other side, coach Dương Minh Ninh of Hoang Anh Gia Lai agreed with referee Hoang Ngoc Ha's decision to give his team a penalty.
"It is clearly a penalty. Rimario was fault down in the box and it is a correct decision," he said.
"Da Nang are always a hard rival, especially when they play pretty well in counter-attack. However, we practiced to resist their tactics and we have done well today. This win frees our mind after two losses in a row."
Hoang Anh Gia Lai jump to No 8 after six matches with eight points.
Da Nang, meanwhile, are in 11th place with one point less.
In another match on Saturday, Nam Dinh suffered their fifth defeat, losing 0-1 to Quang Ninh Coal at Cam Pha Stadium.
Despite playing in defence, Nam Dinh failed to stop the only goal for the hosts by striker Mac Hong Quan at the 31st minute.
With only one point, Nam Dinh remains at the bottom of the table.
Coach Nguyen Van Sy encouraged his players, praising their efforts during the 90 minutes, but also confirmed that he needed some quality players to avoid relegation.
The narrow win helped Quang Ninh remain in the second position, while threatening leader Hanoi.
Source: VNS