VietNamNet Bridge – Nguyen Thi Tam, 23, is a slim young woman with a pretty face. At first glance, no one would guess she is a strong boxer on the Hanoi and national teams. She recently made Vietnamese history as the first Vietnamese female boxer to win an Asian title. Thanh Nga spoke with her.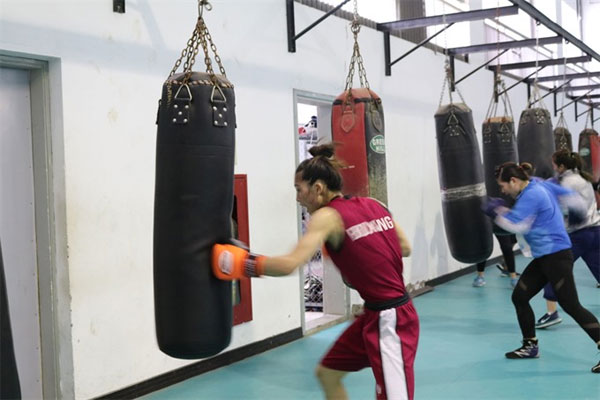 Packs a punch: Nguyen Thi Tam (left) aims to make an entrance in the upcoming Asian Games in Indonesia in August. 
What led you to take up boxing? 
At the age of 14, I would watch track-and-field events and dream of becoming a famous runner for my hometown in Quynh Phu District, Thai Binh Province. However, after two years, I realised that athletics didn't suit me, so I asked my coach to let me quit. After that, a local coach recognised my capacity for boxing and took me to Hanoi to follow his training programme. 
At first, I was very afraid and always asked to return home, but my coaches always encouraged me. So I would train some more. I gradually completed difficult moves and felt more passionate about the sport; I didn't want to give it up. 
Boxing is a sport that requires high-intensity training, and trainers have to be able to manage injuries at any time. Did you have any difficulties as a woman training in this sport?
Yes, of course. I sometimes suffered injuries such as black eyes, sore arms and sore shoulders. That is normal. At that time, I don't dare go home because I am afraid that my parents will scold me and forbid me from continuing to train as a boxer. In fact, I don't fear being injured. I just think that I will have to try harder to avoid such situations.
Have you ever wanted to stop boxing?
Yes. There was a time in 2016, when I competed in the Let's Viet Championship, held in Hanoi. I was very confident about facing Trinh Thi Diem Kieu of the military team in the final. I played better than my rival, but the result was in favour of Kieu. I was very sad and so was my coach, Nguyen Nhu Cuong. Cuong and I walked a long road from Hanoi's Trinh Hoai Duc Gymnasium to my hotel to talk with each other. I asked Cuong to allow me to retire from competition, but he encouraged me greatly and told me I had to be stronger. Cuong allowed me to take a short rest at home to regain my spirit.
After that, a journalist wrote about my game with Diem, which divided public opinion. The Viet Nam Boxing Federation invited a Thai referee to mark that final match again, and in a wonderful turn of events, I found I had won 4-0. Although I didn't take the title back, I was very happy because I had recovered my honour.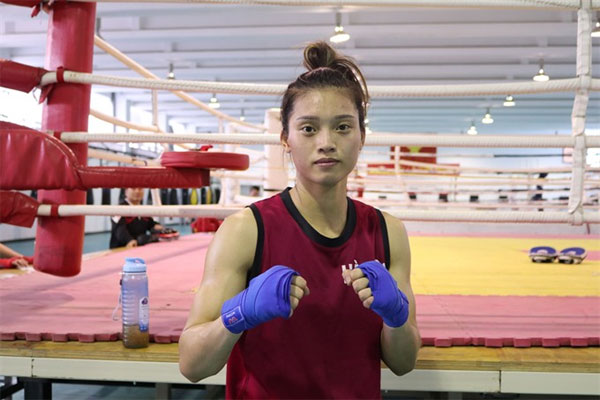 Knock out: Nguyen Thi Tam. — VNS Photos Luong Thu Huong
Foreign experts say that many factors have made you the leading boxer of Asia, such as flexible movements in the arena, upward strikes and being able to bear pain well. What do you think about that?
I think I have only just begun; I need to make even greater efforts.
The Ministry of Culture, Sports and Tourism recently announced the top ten cultural, sports and tourism events in 2017, naming you for bagging the first gold medal for Vietnamese boxing in an Asian event. How did you feel about that?
I was moved to tears over winning the Asian title on defeating Pang Choi Mi of North Korea 3-2 in the final of the women's 51kg category at the Asian Boxing Championship, held in HCM City late last year. 
I was really very happy and surprised as that achievement was chosen to be listed among the typical events of the capital city. It was a gift that let me show my deep gratitude towards my coaches, the Thai expert and my teammates.
Please describe a typical day for you.
In the morning, I often swim, run or train at the gym. After that, I practise boxing for around 4-5 hours per day. When I have free time, I watch elite boxing matches.
What's next on your agenda?
I don't intend to sleep on the victory I gained. I will try to make an entrance in the upcoming Asian Games in Indonesia in August.
Are you under any pressure right now?
No, I'm not. I am very comfortable. My coaches, especially Cuong, created a plan for me to train and rest reasonably to ensure I'm in the best physical condition.
Do you have any advice for young girls who want to become a famous boxer like you?
They must try their best and overcome difficulties and challenges. Their efforts will be fruitful.
What does boxing bring you?
Thanks to boxing, from a timid girl, I became stronger and I am not afraid of facing obstacles in life.
What are your greatest achievements?
I won gold medals in the National Junior Boxing Championships from 2009 to 2013. From 2014 to 2017, I triumphed at the national Senior Boxing Championships and won a gold medal in the Asian event last year. 
Source: VNS