VietNamNet Bridge – Nguyen Thi That, "Queen of Vietnamese cycling" has marked 2018 by winning the country's first-ever women's Asian gold medal at the Asian Road & Para-Cycling Championships 2018 in Myanmar.
Nguyen Thi That competes in a domestic cycling tournament. — Photo courtesy of Nguyen Thi That
She overcame 26 rivals, including powerhouses from China, Japan and South Korea, to take first place in the women's 106-km road race in February.
Thật, 25, from the southern province of An Giang, said the gold medal in Myanmar will be a driving force for her to take the gold in the upcoming Asian Games (ASIAD) 2018 to be held in Indonesia from August 18 to September 2.
With the aim of reaching her goal, That has refused many invitations to compete for foreign teams to focus on training for ASIAD.
"Many international clubs have offered me to play for them but I haven't decided yet," That told Viet Nam News.
Ngo Quoc Tien, coach of the national team and the An Giang provincial cycling team, also confirmed with Viet Nam News that a professional cycling team from Italy invited Thật to compete for them but she refused in order to train in Switzerland to prepare for the Games in Indonesia.
"I am very glad to seize the first Asian gold medal for Vietnamese women's cycling. I had this result thanks to my training board, leaders and sponsors during past years," That said.
"I will aim to have a bigger achievement to satisfy everybody's hope, especially in the upcoming event in Indonesia," That said.
Labour of coach
Part of That's success nowadays is thanks to the labour of coach Ngo Quoc Tien, who was named the "King of Mountain" in Vietnamese cycling.
Ten years ago, Tien found That's talent when the latter was learning physical exercises in a seventh grade class in Tinh Bien District in An Giang Province. He persuaded her family to allow her to compete for the junior team of the province; but her family didn't agree, being afraid that it would be difficult for their daughter. Then coach Tien asked the chief of Tinh Bien District to persuade That's family and at last, they agreed.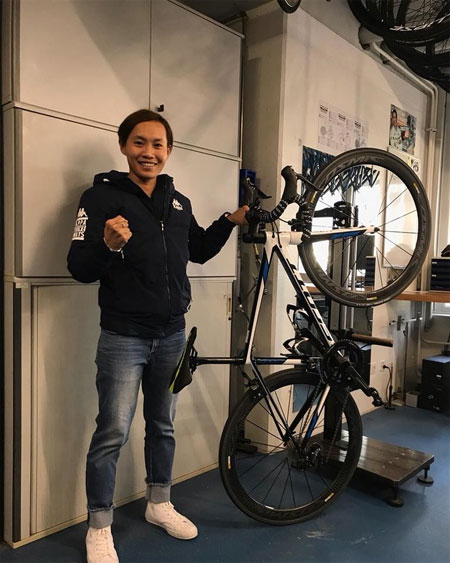 Nguyen Thi That seen during her training session in Switzerland. — Photo courtesy of Nguyen Thi That
"At the age of 14, I became a cyclist. It was rather difficult as everything was new and I was far from home but Tien helped me overcome difficulties," That said.
"That had a sense of training as well. She trained with all her heart. She easily approached new techniques at training centres at home and abroad," Tien said.
According to the coach, besides her talent, That has passion and patience with the bike. If she continues to practise and compete in international events, she will show great advancement.
During her training in Switzerland, That took the yellow jersey of the Grand-Prix Crevoisier 2018 on March 26, which attracted professional riders from Europe.
The Vietnamese cyclist brought into play her strength, which is the sprint, to finish first in the women's class with a timing of 1 hour and 55.35 minutes.
Her International Cycling Union's coach, Alejandro Gonzalez Tablas, was pleased with her result, saying that after a long time he has been able to guide such a talented athlete.
Earlier, That finished second in the 16th Grand Prix of Chambéry in France.
Love for cycling
With a strong attachment to cycling, That has dominated most national events. She won two golds at the Southeast Asian Games last year and one silver at the Asian Games in 2014.
For her, the bike is a heart-to-heart friend.
"Bike is my life. It nourishes me and gives me pleasure. Maybe, I don't need my boyfriend but the bike I must have," That said.
"That rarely leaves her bike or neglects her training. I believe that if she maintains her thirst for winning at every event, she will have a strong progress in her career," Tien said.
That takes care of her bike every day after training and competing. Sometimes, she bares her heart to it.
"I feel sad whenever I have to change a new bicycle," That said.
Efforts for younger sister
That's success is a driving force for her younger sister, Nguyen Thi Tha, when it comes to cycling.
That and Tha of the Gao Hat Ngoc Troi An Giang team intimidated many rivals in the national tournaments. The younger sister was a member of the national junior cycling team. Tha won a gold medal in the national event in 2010 and three gold medals in the national event one year later. She also competed in several international tournaments.
Unluckily, Tha had a serious injury in the National Sports Games in 2014. She suffered four broken ribs and a damaged kidney, while her liver and spleen were bruised. As a result, Tha had to retire at the age of 19 because of multiple injuries.
"Ever since my sister met with an accident, I have played with more than 100 per cent of my strength in every event. I compete for me and for Tha. I dedicate every victory to her," That said. 
by Thanh Nga
Source: VNS