VietNamNet Bridge – Le Tuan Minh jumped into the top three of the HDBank Cup International Open Chess Tournament's Masters Pool yesterday in Hanoi.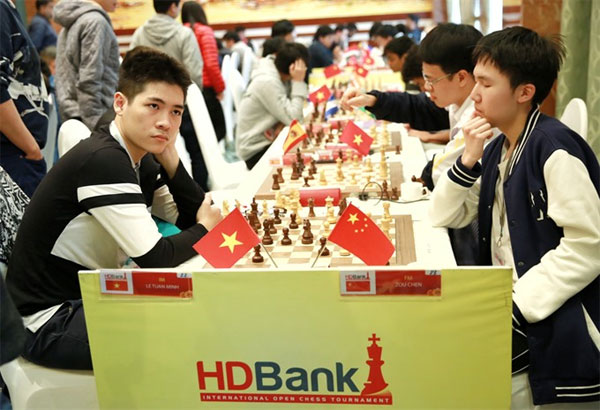 Le Tuan Minh of Vietnam ranks third after fifth round of the HDBank Chess Open.
The International Master won all two games defeating Grandmaster Nguyen Duc Hoa of Vietnam and FIDE Master Zou Chen of China.
He now has 4.5 points to rank third, behind Russian GM Dmitry Gordievsky, five points, and Chinese GM Zhao Jun, 4.5 points.
No 1 seed and defending champions Le Quang Liem with four points found a berth in the top 10 after five games.
Other players of the hosts winning yesterday were IM Nguyen Anh Khoi, GM Nguyen Anh Dung and GM Bui Vinh.
In the sixth round today, Minh will play Gordievsky; Liem will play against Erigasi Arjun of India, and Khoi will see Indian Karthikeyan Murali.
In the Challengers pool, Michael Ocido of the Philippines claimed the top position with a maximum five points.
Vietnamese Nguyen Dinh Trung and FM Vuong Trung Hieu were second and third, respectively. 
Source: VNS