VietNamNet Bridge – FLC Thanh Hoa will seek revenge for their loss to Bali United last week when the two sides meet again for the Asian Football Confederation (AFC) Cup.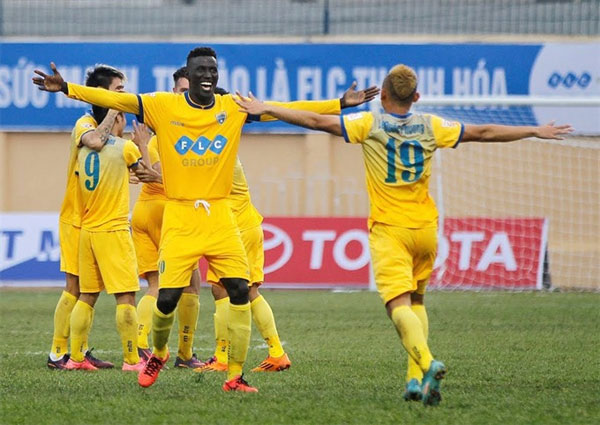 FLC Thanh Hoa will receive Bali United at the My Dinh Stadium today. — Photo youtube.com
The two teams will face each other today in the fourth-round match at Hanoi's My Dinh Stadium.
In the previous round, Thanh Hoa were beaten 1-3 on away ground.
At a press briefing yesterday in the capital, coach Marian Mihail of Thanh Hoa said Bali United had proven they were a good team with quality players on all lines.
"One of the reasons for Thanh Hóa's loss last week was that we did not properly rate Bali's ability, losing concentration in some moments when they scored," he said.
However, despite the loss, Mihail praised his team and said the players had learnt lessons from that failure and that in the second-leg match, Thanh Hoa would play with the best players and target a win.
Mihail said Vietnam's beloved U23 goalkeeper, Bui Tien Dung, would take a spot in the coming match. He was rested on the bench last week after his mistakes led to Thanh Hoa's 1-2 loss to Yangon United late last month.
He said Dung needed to relax and calm his mind after receiving too much attention from the media and his supporters recently. Currently, Dung was the best keeper of Thanh Hoa.
Mihail said Dung was a young and skilful player and that his responsibility was to develop him into a better football player.
Thanh Hoa are now in third place at the AFC Cup, with three points after three matches. Another loss means they will be eliminated from the continental competition where they are participating for the first time.
Meanwhile, Widodo Cahyono Putro of Bali United said his team won the first leg match but admitted that Thanh Hoa were a strong team. In the coming match, Bali United would play carefully and may choose to play in defence to save the net and then find a chance to score, Putro said.
He also said Thanh Hoa would play attack as they had lost the last match, adding the coming game would be tough, but Bali were determined to win at least one point.
Bali United captain Fadil said football in Vietnam had developed rapidly in recent years, which was evident in the country's U23 success. Thanh Hoa had some of the best U23 players, though the other players were also quite good. Bali, however, were also determined to give the game their best shot. 
While Thanh Hoa will open the doors for free for their fans, Bali United have announced that Indonesian supporters will fly in to encourage them. They will be joined by a number of their countrymen living in Vietnam for a total of some 1,000 fans appearing at My Dinh.
The match will kick off at 6pm and will be aired live on the Fox Sports channel. 
Source: VNS