The annual HDBank International Open Chess Tournament features a record number of participants and bonus awards in its eighth edition which will run in Hanoi from March 10-15.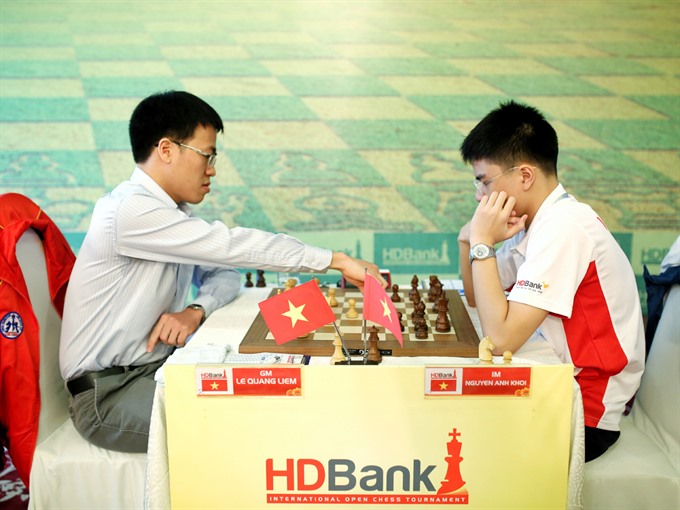 GM Lê Quang Liêm (left) will defend his title at the eighth HDBank International Chess Open Tournament which will be held in Hà Nội on March 10-15. — Photo baodongnai.com.vn
A total of 271 masters have registered to take part in the competition which offers a total bonus of US$55,000, an increase of about 20 per cent compared to last year.
Among them 132 will compete in the Master category for athletes who have Elo ratings — a standard measure for evaluating a player's strength — of 2,100 for men and 2,000 for women, reflecting their word-class abilities. (Top players have Elo ratings above 2,400.) The rest will take part in the Challengers discipline.
Việt Nam, as the hosts, send their best roster, including all 14 Vietnamese Grandmasters (GM), to the tournament at the Army Hotel, No 1 Nguyễn Tri Phương Street.
"The HDBank event is the biggest professional chess tournament in Việt Nam and Southeast Asia. As an official competition in the world chess federation's (FIDE) system it lures the attention of not only high quality masters but also chess lovers," said Lê Thành Trung, deputy president of the Việt Nam Chess Federation, at a press briefing yesterday in Hà Nội. "After seven editions, HDBank Open has made its name in the world of chess. This year we are honoured to receive visit of the FIDE President Kirsan Ilyumzhinov who lands in Việt Nam today and will take time to watch our games."
Defending champion GM Lê Quang Liêm who is the world No 22 is seeded No 1. The master grabbed three gold medals in his latest event sporting Việt Nam's jersey at the Asian Indoor and Martial Arts Games (AIMAG) last September.
He is followed by Chinese GM Wang Hao who finished third in the previous event in HCM City and GM Sethuraman Panayappan Sethuraman from India.
Another Vietnamese GM Nguyễn Ngọc Trường Sơn holds the No 6 seed. He returns to the tournament after withdrawing last year because of illness.
Among participants, Lei Tingjie of China is the only female player who has grabbed the GM title.
Lei won the Women's Chinese Chess Championship title last May and took home two gold medals from the AIMAG from Turkmenistan.
Players will play nine matches. The winner of the Master pool will walk away with $15,000 while the Challengers champion will bag $12,000.
"Chess is a special sport, the mind sport. HDBank wants to make it more popular to the public and support players in their career. I hope that in the future we could invite more sponsors for the event so that the HDBank event could lure the participation of the world leading masters," said Trung, who is also deputy general director of HDBank.
Chess lovers can find more information of the event at www.chess.hdbank.com.vn and www.vietnamchess.vn. Matches are broadcast online through www.livegame.vietnamchess.vn,  www.chessbomb.com and www.chessbase.com. Results can be checked at www.chessresults.com/tnr259127.aspx. — VNS