The Minister of Culture, Sports and Tourism Nguyen Ngoc Thien has set the goal to win at least three gold medals at the 18th Asian Games this year.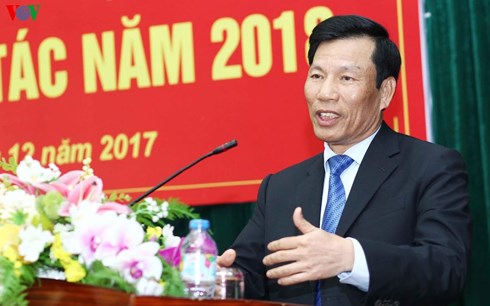 Minister of Culture, Sports and Tourism Nguyen Ngoc Thien
Deputy Director of the General Department of Sports Tran Duc Phan said that Vietnam had had many achievements in 2017. The U20 national football team qualified for the 2017 FIFA U20 World Cup for the first time and Vietnam ranked third in the medal tally at the Southeast Asian Games. Various athletes gained gold medals at Asia and international competitions.
"Some of the highlights in 2018 are preparing to participate in the Asian Games in Indonesia and Olympic qualification round in Japan," he said.
Talking about the Asian Games at a meeting held by the General Department of Sports in Hanoi, Thien asked the department to work closely with other agencies to select and train talented athletes. He specifically said Vietnam should target three gold medals at the 2018 Asian Games.
"We can't just count the achievements alone. The minister must take responsibility if there are bad results," he said. "We had done it in the past, why can't we do better now?"
Vietnam won four gold medals at the 2002 Asian Games held in South Korea. However, this proved to be a huge task as in 2014 and 2010, Vietnam only won one gold medal in 2014 by wushu artist Duong Thuy Vy and karate artist Le Bich Phuong in 2010.
Hoang Xuan Vinh from the General Department of Sports told Thanh Nien News that they planned to gather 405 athletes and 85 coaches to train at five locations. About 306 athletes will train at the National Sports Training Centre. Swimmer Anh Vien is one of the gold medal hopes for Vietnam.
"The athletes will be trained overseas and attend both local and international competitions. Vietnam has a better chance to compete at 400m dash and 400m hurdles. There is a huge expectation for Bui Thi Thu Thao to win the long jump medal. VND4bn (USD176,400) has been allocated for track and field sports and it will be used to train key athletes," he said.
There is also hope that Vietnam will win golds in weightlifting and shooting.