VietNamNet Bridge – As CEO of the Viet Nam Basketball Association (VBA) League, Tran Hoang Viet has a heavy work schedule, but he remains true to his sporting instincts, spending time training and competing in endurance sports. Thanh Nga reports.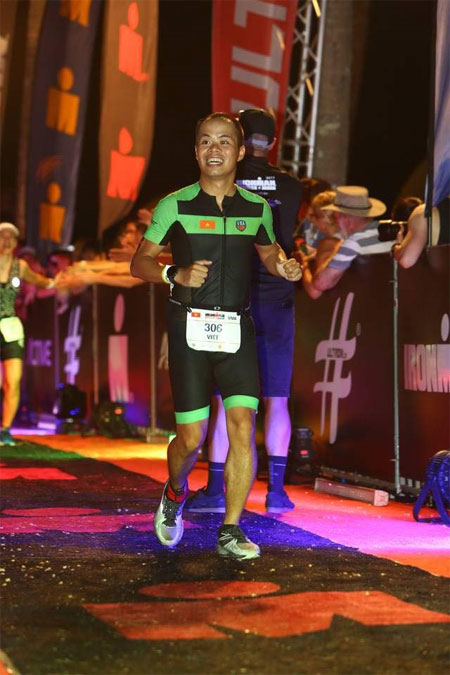 Tran Hoang Viet seen in the Ironman Malaysia last month. — Photo courtesy of Tran Hoang Viet
As CEO of the Viet Nam Basketball Association (VBA) League, Tran Hoang Viet is very busy with his heavy work schedule, however, he still manages to spend time training and competing in sports, particularly running.
"I have to arrange my work and sacrifice my personal life to go to bed early and wake up early to practice," Viet told Viet Nam News.
"Besides this, to follow this sport, I have to manage my time well, but it is very good for both my physical strength and my career," Viet shared.
Earlier, the 31-year-old businessman only played in team and combat sports, however, running has helped him get a fresh outlook on life.
According to Viet, running is like a form of meditation. It helps his body and mind be more comfortable and helps him think better. It also makes him appreciate life a lot more.
With this thought, Viet participated in the Viet Nam Mountain Marathon 2017, which is one of the largest ultra-running events in Asia and a landmark event on the Southeast Asian calendar in the 42km category.
It is the third time this Hanoian has participated in the event in Sa Pa in the northern mountainous province of Lao Cai.
According to Viet, irrespective of whether it is 42km or 100km, participants have to conquer small dirt roads and narrow trails that take them through the majestic mountains and valleys which are only used by locals.
The race gave him a true glimpse of local life as he ran through the rice fields and ethnic minority villages.
Running is also similar to the CEO's career, in which he has faced many difficulties and challenges.
To manage a company effectively and to complete a race, Viet has to set up a well-prepared plan; he has to be steadfast about his goal, using his will to instil in himself the instinct to never give up.
In the last one year, Viet began practising for the Ironman Triathlon, which consists of running, biking and swimming.
Running in particular and the triathlon in general require discipline, professionalism and will. Training for the triathlon is extremely hard, however, Viet said he fell in love with this sport, adding that it helped him handle stress better.
Despite being a rookie in this triathlon sport, Viet participated in the Ironman Malaysia last month, which attracted the participation of more than 1,000 athletes from 60 countries.
His aim – to challenge himself to be an Ironman.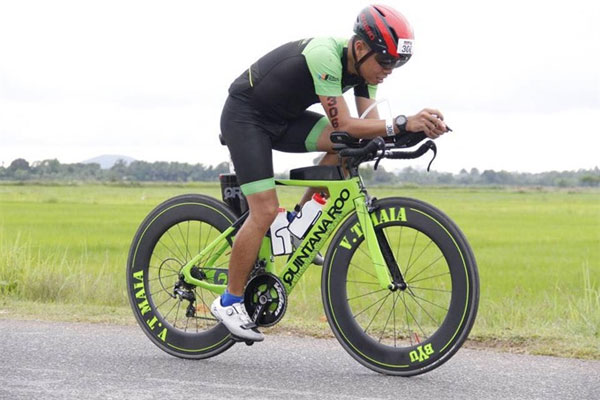 Tran Hoang Viet during training. — Photo courtesy of Tran Hoang Viet
The Malaysian event is widely considered one of the most difficult one-day sporting events in the world. Athletes began with a 3.8km swim at the Danna Langkawi, then take part in a 180km bike race, and lastly, compete in a 42km run.
Any participant who manages to complete the triathlon within the allocated timings is an Ironman.
Viet completed the swimming event in 1:46.49, bike race in 7:01.32 and running in 4:58.09. He started at 7.30am and completed at 10pm. He had to compete continuously for 14 hours and was eventually successful in becoming an Ironman.
"At 6-7pm, I was so tired; I ran using my mental strength, not with my legs. Moreover, I had food poisoning, so after every 10 minutes of running, I walked for a bit, until I finally reached the finish line. I was very very happy with this win," Viet said.
"I had been very eager to participate in this difficult event in Malaysia. Once I finished it, I recalled my whole training, and I appreciated the entire process, not just my result. I came to appreciate the Ironman lifestyle, which made me strive and get better every day," Viet added.
To prepare for the event, Viet hired a coach and trained for six months continuously.
"It is an expensive sport. To pursue it, I had to buy a bike valued at some VND120 million (US$5,200)," Viet said smiling.
"I practised six days a week. Despite being sick, I still trained," he added.
Next year, he intends to compete in the Ironman Srilanka, Ironman Viet Nam-Da Nang and Viet Nam Mountain Marathon.
A successful businessman
Viet is deputy general manager of XLE Group, a sports entertainment company. He manages the VBA League, which ended earlier this month. The league's success this year was evident -- it drew more than 60,000 people to stadiums and more than two million viewers watched the games live on television.
Earlier, he was in charge of the executive and management position of key projects in marketing and sales of XLE Group, which manages the Saigon Heat professional basketball club.
Joining XLE in 2013, Viet and his colleagues played important roles in developing the Heat to become the first professional business sport model in Vietnam, including increasing revenue through the sale of tickets and souvenirs, organizing media events, and sponsorship. Ticket sales of the Heat have increased exponentially in recent years, with each game attracting more than 2,000 people.
Viet is also co-founder of the Saigon League, the biggest football bandwagon in HCM City, which has expanded to more than 110 teams and 1,100 players.
Viet, who graduated in finance from the Brigham Young University in the United States, was named on Vietnam's list of 30 brightest stars under the age of 30 by Forbes Viet Nam last year. 
VNS