VietNamNet Bridge – Vietnamese badminton player Pham Cao Cuong inked a three-year sponsorship contract with Midomax Viet Nam Company in Hanoi on December 7.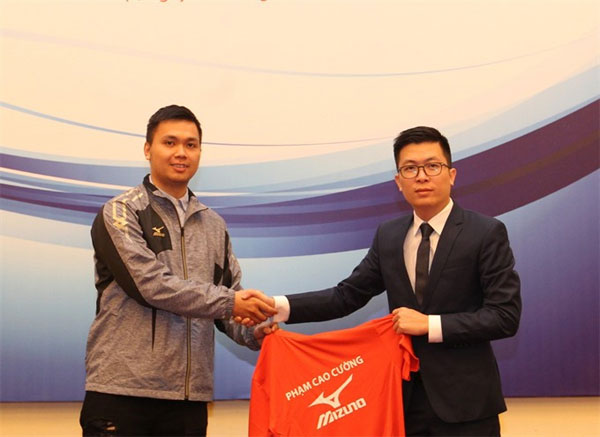 Pham Cao Cuong (left). — Photo kenh14.vn
Under the contract, Cuong will be the representative of its Japanese sports trademark, Mizuno.
Twenty-one-year-old Cuong will receive a sponsored racket, uniform, competition allowance and support expenses to take part in international tournaments.
Cuong will also receive a big bonus if he achieves high results at both domestic and international events.
The sponsor expects that Thai Binh Province-born Cuong will earn a spot to compete at the Olympics in 2020.
Before signing the contract with Cuong, Mizuno co-ordinated with the Viet Nam Badminton Federation (VBF) to offer him a short-term training session in Japan in October.
At present, Cuong is world No 112 for the senior rankings and world No 5 in the junior rankings.
Last year, Mizuno also signed a one-year contract with Vietnam's top badminton player Nguyen Tien Minh valued at VND1 billion (US$43,500).
Cuong is considered as the replacement for 33-year-old Minh in the near future.
"Last year, I defeated Minh in the national event. I believe I will match Minh's level. I am only 21 years old. I am still young and have many chances ahead of me. With the support of the VBF, sponsor and Minh, I hope I will have the chance to shine," said Cuong at the press conference.
Source: VNS