VietNamNet Bridge – Goalkeepers were heroes yesterday, as they played key roles in their semi-final matches of the National Women's Football Championship in Ha Nam Province.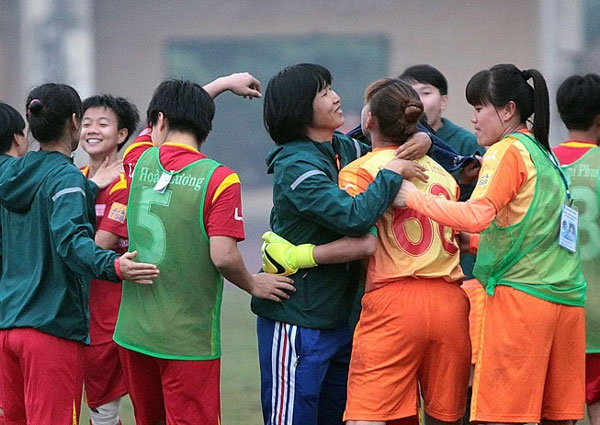 HCM City 1 coach Doan Thi Kim Chi (centre) congratulates her goalkeeper Dang Thi Kieu Trinh after their win over Viet Nam Coal and Minerals in the semi-finals of the National Women's Football Championship yesterday. — Photo plo.vn
Defending champions HCM City 1's goalie Dang Thi Kieu Trinh saved two penalties, to help her team defeat Viet Nam Coal and Minerals 3-2 in the penalty shoot-out of the first semi-final match.
Later, keeper Lai Thi Tuyet of Phong Phu Ha Nam also blocked two shots from Ha Noi 1 players in the second semi. Hosts Phong Phu Ha Nam won 4-2, after the match ended 1-1 in the official time.
Despite being considered to be the stronger team, HCM City found it impossible to reach Viet Nam Coal's net.
In the first half, the reigning champions did not have many chances to threaten goalkeeper Khong Thi Hang, as their attacks were stopped from their side.
The only threatening opportunity went to Hoai Luong at the 24th minute, as the striker broke through Viet Nam Coal's defence to face Hang.
However, Hang's rapid reaction saved the net.
The second half was played in high speed. Both sides created a number of attempts, but failed to score a single goal.
Hang proved her talent, when she denied Chuong Thi Kieu's finish near the box at the 81st minute.
A draw result in the official 90 minutes resulted in a strong push for Viet Nam Coal's players, who also started the penalty shoot-out with high hopes.
Hang met no difficulty in stopping Kieu from again scoring in this match.
However, she was not as good as former national keeper Trinh of HCM City 1.
Trinh succeeded in pushing away two kicks by Nguyen Thi Van and Nguyen Thi Truc Huong.
Earlier, Pham Thi Hang of Viet Nam Coal made a shot that went wide.
In the second semi, Phong Phu Ha Nam's Le Thi Thu Huong opened the score just seven minute from the first whistle.
With only three passes, a ball was given to Huong, who made a strong sprint to close on Hanoi 1's box, before looping the ball over goalkeeper Nguyen Thi Thuy Duong and into the net.
Former champions Ha Noi 1 needed 15 minutes to score an equaliser by Pham Hai Yen.
Ho Thi Quynh shot a perfect ball from a free kick to the box, where Yen was waiting. She jumped highest among players and headed straight to the net
The balanced situation was maintained throughout the rest time of the game, forcing two sides to the penalties.
Keeper Tuyet of Phong Phu Ha Nam stopped two finishes by Ha Noi 1's captain Nguyen Thi Muon and striker Nguyen Thi Xuyen.
While her teammates succeeded with four out of five penalties.
It was enough to make them the second team in the final match, which will be played on Sunday.
Viet Nam Coal and Ha Noi 1 shared third place. 
VNS