Nguyen Thi Ngoan of Vietnam won a gold medal at the Karate 1-Premier League in Halle/Leipzig, which closed yesterday in Germany.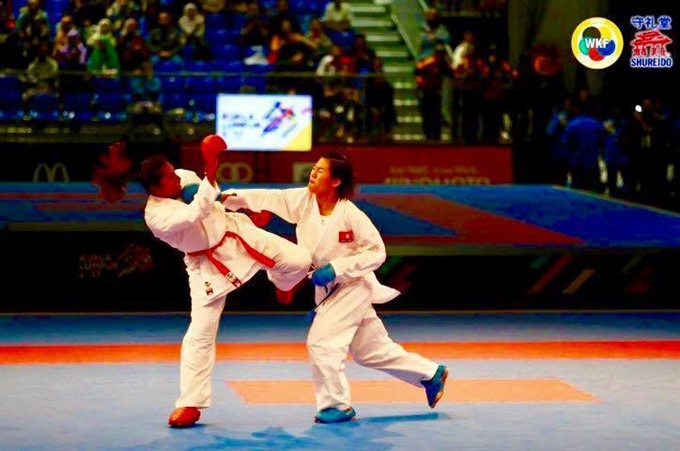 Nguyen Thi Ngoan of Vietnam (right) won a gold at the Karate 1-Premier League in Halle/Leipzig in Germany. 
Ngoan defeated Jumaa Haya of Canada in the final of the women's 61kg category.
Ngoan led 1-0 in the first two rounds. Haya received three points in the third set to lead 3-1. However, the Canadian made four mistakes during the match, which was enough for the referee to announce she was the loser.
The Southeast Asian Games silver medalist Ngoan earlier received a bye in the first round match. She defeated rivals from Turkey, Switzerland, the US, France and Austria, on her way to the gold-medal match.
The Karate 1-Premier League is one of the tournaments that athletes use to collect points to qualify for the Tokyo Olympics in 2020.
"The gold medal is a historic title for Viet Nam, as it is the first time our martial artist has won in this prestigious tournament," said Vu Son Ha, head of Karate Department of the National Sports Administration. 
VNS