VietNamNet Bridge – Captain Dang Thi Kieu Trinh has announced her retirement after winning the gold medal at the Southeast Asian Games women's football event in Malaysia.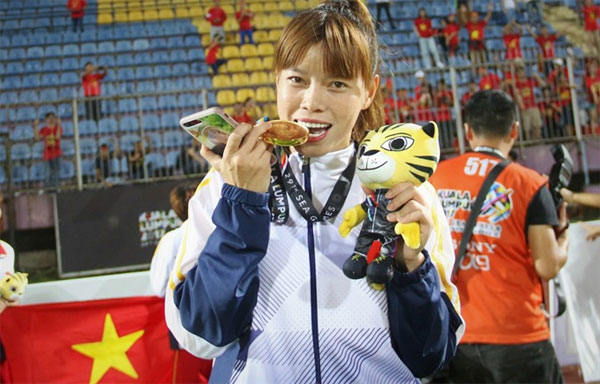 Goalkeeper Dang Thi Kieu Trinh and her gold medal in her last SEA Games. — Photo xevathethao.vn
Trinh, 31, burst into tears during her interview with reporters at the UiTM Shah Alam Stadium while the Vietnamese team were waiting for the victory ceremony on Thursday.
Viet Nam won the tournament after ranking first in the round robin format five-team tournament. The top position could only be decided after the last round matches. Viet Nam beat Malaysia 6-0 while Thailand won 3-1 against the Philippines. Viet Nam topped with 10 points, the same as Thailand, but won the title due to better goal difference.
Defending champions Thailand ranked second and Myanmar were third.
"It has been eight years, I now have such a happy feeling," Trinh, who has been playing football since she was 13, said.
"It is great to win the tournament. Each championship title is an important part of my life. But this one is more meaningful as it is my last SEA Games," the goalkeeper, who conceded only two goals in four matches at this tournament, said.
During her 13 years with the national team, Trinh, from Dong Thap Province who plays for HCM City FC, won three gold and two silver medals at five consecutive SEA Games.
She was also part of the team that ranked sixth at the Asian Cup in 2014 and was a key player of the Viet Nam team that bagged a berth to compete at the 2018 Asian Championship in Jordan.
Trinh was the best goalie of the national tournament in 2010, 2011 and 2013. She won the Golden Ball for best female footballer in 2011 and 2012, three Silver Ball in 2009, 2010 and 2014, and a Bronze in 2016.
In 2012, she was voted best female player of ASEAN.
Bidding goodbye, Trinh said she hoped women's football would receive more support from the sports authorities even as her young teammates got more success in the future.
Trinh will next move to be a trainer at her club.
Coach Mai Duc Chung said Trinh had a perfect end to her career by triumphing in her last tournament.
The fifth gold medal of the team brought its members a bonus of more than VND4 billion (US$179,000), of which the Viet Nam Football Federation granted VND3 billion ($135,000), and the rest was from enterprises and fans. 
Source: VNS