VietNamNet Bridge – Nguyen Thi Thanh Loan is an expert in the martial art of Aikido. For more than a decade she has held classes for disabled kids in HCM City, bringing hope and friendship to often lonely youngsters.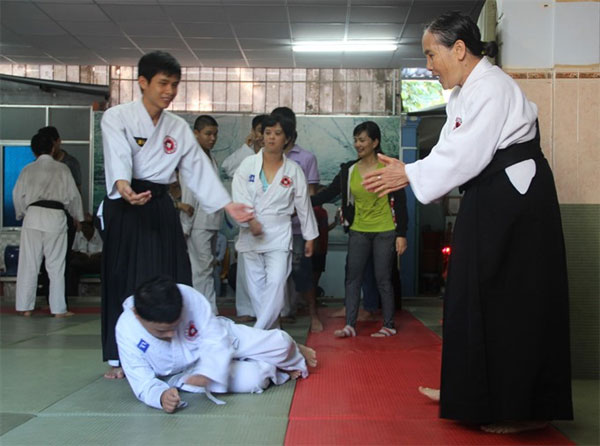 Lesson in optimism: Aikido martial arts instructor Nguyen Thi Thanh Loan in a class in HCM City. — Photos: Xuan Du/VNS
Nguyen Thi Thanh Loan, born in 1947 in the southern province of Long An, started learning Aikido – a modern Japanese martial art, when she was 11. Almost ten years later, she became one of the two first Vietnamese women to earn the internationally-recognised Shodan black belt.
She has trained generations of Aikido learners in Viet Nam, especially children.
In the last 12 years, she has become better known as a martial arts instructor of children with disabilities in HCM City. 
Loan said that the first Aikido class for children with disabilities was opened at the Ky Dong Swimming Club in HCM City's District 3 in 2005 when the city's Sports Department established the Martial Arts Association for people with disabilities.
There were about 20 visually impaired children in the Aikido class.
"It was a new challenge for me at that time because teaching Aikido to normal children is difficult but it is more difficult to teach those with disabilities," she said.
"I was very nervous when I was in charge and teaching the children," she said, adding that she was most concerned about how to teach the children while avoiding injuries.
"Many times, I blindfolded myself in an attempt to better understand my students," she said.
"I soon recognised that despite their loss of vision, their hearing and sense of touch are still very sensitive."
During lessons, Loan would first describe the Aikido movements very carefully so the children could imagine them.
Then, she would make the movements herself, standing still after each one and allowing the children to touch her, she added.
Step by step, with perseverance by both teacher and students, the disabled children were able to perform basic Aikido moves.
Loan said that when she saw her disabled students do somersaults, strike and wrestle like any other children, she was surprised by their rapid progress.
"They can master movements better and better, and more importantly, they become more active and optimistic," Loan said. 
The martial arts instructor said that children with disabilities often felt depressed, so they, in many cases, isolated themselves in their own worlds where they felt safer and more comfortable.
"I want to connect them with the common world. Martial arts, sports and more understanding about their surroundings are key for them to better integrate with others and allow them to become healthier, stronger, more confident and ultimately happier," she said.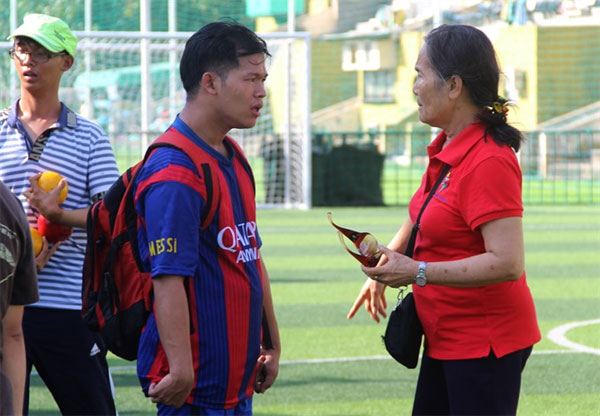 Art of life: Aikido martial arts instructor Nguyen Thi Thanh Loan helps her students do more outdoor activities. 
In 2014, Loan began giving classes in Vietnamese, mathematics, English and dancing for her students at District 3's Children Centre.
Now, at the age of 70, Loan travels to the HCM City Sport Training Centre every Saturday morning for a football class with disabled children or the Ky Dong Swimming Club for martial arts and swimming lessons. The rest of her time is spent at District 3's Children Centre.
All classes are free of charge for children with disabilities. Their parents are encouraged to donate money for other teachers or buy schooling materials.
Huynh Nguyen Son Nam, one of Loan's students with Down's syndrome, said that in the last two years, he attended martial arts, swimming and football classes.
Nam's cousin Pham Ngoc Tuan said that he usually took Nam to the classes and witnessed positive changes to Nam's life.
Nam was more independent and could take care of himself better, Tuan said.
"Nam is good at swimming. My family would have never known it if Nam had not attended Loan's classes," Tuan said.
Le Hoai Yen Linh, who also has Down's syndrome, enjoys Loan's classes. The first time Loan met the little girl, she was with her mother and couldn't stop staring at the students practising Aikido.
"I found Linh's mother confused as if she did not want to disappoint her little daughter but she didn't want to interrupt my class either. She was hesitant," Loan said, remembering that Linh seemed very eager.
"I could see her eagerness in the way she looked at me and the students."
That was the moment Loan decided to introduce Linh to her class. They spent some time together and Linh was taught some easy warm-ups and Aikido moves.
Linh's mother said that Aikido changed Linh's life. 
Next generation
Aikido in Japanese is often translated as "the way of unifying with life energy" or "the way of harmonious spirit", a non-violence martial art that practitioners could use to defend themselves.
One of the guidelines of Aikido is to consider love and peace as ways to enter society.
With love and enthusiasm, Loan has inspired her children to begin new chapters in their lives.
Thanks to Loan's classes, many students have matured. They have gone on to earn Aikido black belts and some are now Aikido instructors in their own right.
Nguyen Phuoc Linh, a visually impaired student, has practised Aikido for ten years and graduated from the HCM City Special Education Department's Teachers Training University. Now, Linh is a teacher at the Nhat Hong Sponsor Centre in Thu Duc District.
Every Saturday morning, she takes a bus from Thu Duc to District 3 (about 13km) to teach other visually impaired children.
Another instructor and a student of Loan, Bui Tat Thanh, finds communication difficult as he suffers from autism. Amazingly, he has found his calling in helping children practise Aikido fists.
Looking at Linh and Thanh actively move around the class, among their students, it is difficult to recognise their disabilities. Knowing this, many of the parents are even more respectful of the hard work they do.
After witnessing disabled people training in HCM City, Japanese Aikido masters said that Viet Nam had brought more humanity and fame to the art, local media reported.
Loan said that if she found any other opportunities to help disabled children integrate into society, she would try.
The smiles on the faces of Loan's students are evidence enough of the transformation she has inspired.
Nguyen Xuan Du
VNS