Vietnam's national cricket team will make history by competing for the first time at the Southeast Asian (SEA) Games in Malaysia next month.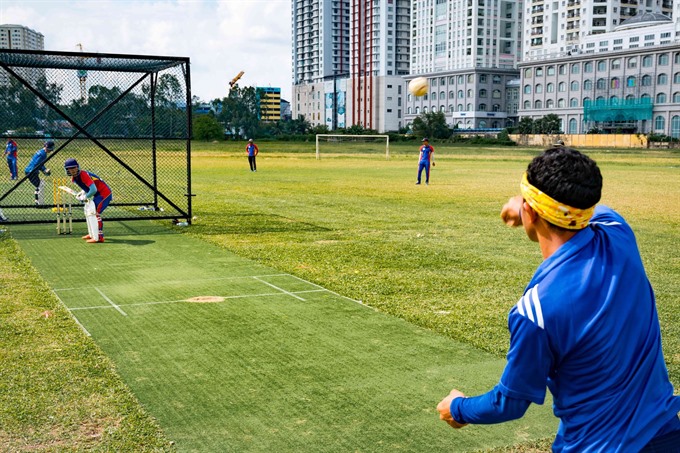 The Vietnam's national cricket team train for the upcoming SEA Games. 
It is also the first time cricket, the world's second most popular sport by participation, will be played at the SEA Games.
Cricket is a relatively small sport in Vietnam, but has been played in the country for more than two decades.
Many attempts were made by passionate expatriate cricket players, especially those from England, Australia and India to kick start cricket in HCM City and Hanoi.
In 2006, the Saigon Cricket Association was founded by a community of expats, and was renamed the Vietnam Cricket Association (VCA) in 2009 to commence formal applications for incorporation and request membership to the Asian Cricket Council.
The 18-member Vietnamese team have gathered recently to prepare for the Games.
Most of them come from the HCM City University of Sport. Several members of the squad have experience in baseball, volleyball and football. The team began playing in the VCA league to gain experience, which had previously been expat-only.
The squad are coached by Australian Mick Blinkhoff.
In preparation for the SEA Games, the team have been training five days a week at the Phu Tho Sports Centre in HCM City.
Team captain, Le Hoang Dang, 25, was a gym instructor, earning about VNĐ8million (US$347) a month but he decided to quit to train for cricket full-time with a monthly allowance of VNĐ5 million ($220) from the government.
Đang previously played in regional Games in 2011 for the national baseball team.
"Cricket is an interesting sport. The whole team are training hard learning cricket's rules, which are rather complicated. Although we are all new to the sport, we will try our best not to finish bottom at the Games," said Dang.
Apart from Dang, the other players in the team will be competing in a regional sporting event for the first time and many are making big sacrifices in terms of study and stable work to fulfill their cricket dreams.
For example, Hoang Phuc Ty, 23, is a coach of an amateur volleyball club in the southern province of Binh Duong and commute about 80km every day to train with the cricket team.
Vietnam team are ready for the Games but their dream is not a medal, they hope cricket will develop in their country. 
VNS