VietNamNet Bridge – Coach of Viet Nam's national female gymnastics team, Nguyen Thi Thanh Thuy, was born in the northern port city of Hai Phong in 1970. She developed a strong attachment to gymnastics at the age of seven. In 1987, she retired from competition to learn gymnastics coaching in Russia.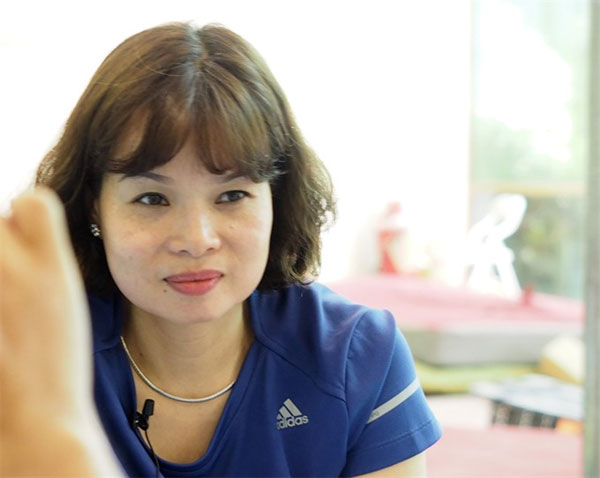 Coach of Viet Nam's national female gymnastics team, Nguyen Thi Thanh Thuy -- Photo: Doan Tung/VNS
In 1993, she began to train female gymnasts in Hai Phong and then later became coach of the national team.
For more than 23 years, Thuy has trained many outstanding gymnasts who have gone on to success at regional and world tournaments. Thanh Nga talks to her about her life and career.
Can you tell why you chose gymnastics as a career?
In my childhood, several friends and I signed up for gymnastics lessons at the Hai Phong gymnasium. After that, I felt the sport was my destiny. After graduating from high school, I earned a scholarship to study gymnastics for five years at a sports university in Russia.
I returned home with the wish of imparting the knowledge I had gained in Russia, and wanting to train the next generation of Vietnamese gymnasts.
What are the difficulties in training gymnasts?
Gymnastics has specific characteristics that trainees must learn at a very young age. There are a number of difficulties in training youngsters. It requires them to have patience, endurance, flexibility, and a passion for the sport. Not many trainees can meet these demands.
However, I have always been enthusiastic in my approach to training, as well as being able to work in a good environment, so we've managed to inspire many good gymnasts. Moreover, we are supported by the leaders of the National Sports Administration with good equipment and experts.
What do your trainees think about you?
When they were younger, they said that they were very afraid of me because I was fastidious, but even then nobody quit. After that, when they got older, they confided in me. My students and I have shared many sweet and unforgettable memories over the years.
Gymnastics requires trainees to be passionate because of the hard work involved. Do you have any special methods to help your students focus?
Passion is the No 1 priority for gymnasts. When my students and I face challenges, we often discuss the solution together. This is a psychological method. I am a master of teaching science so I often care about my athletes' psychology.
Your gymnasts often carry out difficult moves. Do you have to perform these moves for your trainees to follow?
No. As a coach, I must demonstrate smaller methods and put together steps to complete a move based on physical strength, flexibility and the natural qualities of each gymnast.  
I train them in the style of work, posture, and especially the art of performance.
You found Viet Nam's top female gymnast Phan Thi Ha Thanh when she was six years old, and have worked with her over 20 years gaining medals at home and abroad. Thanh has retired from competition to become a coach. What do you think about her decision?
I wish Thanh all the best in becoming an excellent trainer. She was a good gymnast but not every good gymnast can make the transition to coaching.
What do you think about the potential for Viet Nam's female gymnastics following Thanh's retirement?
Gymnastics is a strong sport in Viet Nam. At present, junior gymnasts are very promising. We have good facilities and high determination. We will strive to win medals at the upcoming Southeast Asian (SEA) Games in August, Asian Games in 2018, and we hope to compete in the Olympics in 2020.
How have your gymnasts performed at international tournaments over the past few years?
I have trained many gymnasts who have gone on to win medals at international events. Now I can list several names such as Nguyen Thi Nga who won gold medal at the SEA Games in 1997 (the first gold medal for Viet Nam in the regional tournament); Tran Hai Ninh who was silver medallist at SEA Games in 1997; Tran Thi Phuong Thao, gold medallist in the SEA Games in 2003; Ta Thi Bich Ngoc, silver medallist at the Games in 2007.
Notably, Thanh is the first gymnast to win a medal for Viet Nam in global competition, winning bronze at the 2011 World Artistic Gymnastics Championships. At the Asian Games in Incheon in South Korea in 2014, the 25-year-old won one silver and one bronze. She also won many gold medals at Asian and SEA events.
I know that you have made many sacrifices for work. Can you share a little bit about your life?
I left Hai Phong for Ha Noi in 2012 to guide the national team. My family lived separately. My husband, former footballer Dinh The Nam, is the coach for Viettel Football Centre. Because of our careers I live in the National Sports Training Centre, while Nam lives at his centre. My daughter is studying at a university in Ha Noi, while my son is learning at a high school in Hai Phong.
However, we believe in each other and strive to do our best. I spend 24 hours every week with my son, and this is a precious time for me.
VNS