Vietnam landed in Bucaramanga on September 17 to prepare for a challenge with powerful Italy in their last round match of Group C in the Colombian Futsal World Cup.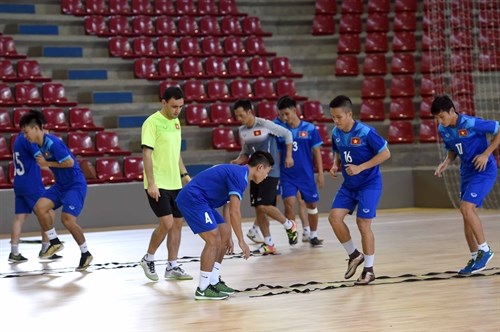 Vietnamese players practise in preparation for their World Cup campaign
The other match between Guatemala and Paraguay is set to be played in Cali.
Head of the Vietnam delegation Tran Anh Tu said the target is only one point, so his team could be one of the best four teams that rank third, after the group round, and qualify for the next stage.
After one win and one loss, Vietnam are in third position, while Italy grabbed two wins to stand on top.
"We are still in good spirits after a big loss 1-7 to Paraguay (on September 15). There were mistakes in that match, but losing to a big team like Paraguay is nothing to be sad about because they are at a higher level than us," said Tu, who is head of the Vietnam Football Federation's Futsal Department.
"What we need is to know how to avoid these mistakes again. We sat down together and coach Bruno Garcia said that we must have one point from Italy." Spanish expert Garcia also talked about Vietnamese losses and how to resist Italian power.
"We can play better in tactical concentration (against Paraguay). Of course, the effort was on the field, but it's not enough when you are playing against the best teams. We are very demanding with ourselves and we need to follow our plan and not make silly mistakes, because the other team will take advantage of it," Garcia said in an email to Vietnam News .
"We need to learn from the game about individual mistakes and have to increase our intensity and concentration about tactics, we are playing against the best teams in the world and the mistakes can be very expensive," Garcia explained.
"(In the coming match) we need to play more than 100 per cent over our performance. Our team is characterised by a high spirit and good tactics, as we follow our plan. We need to show it and reach perfection, because Italy is a strong team with experienced players in this type of tournaments," he said, adding that Vietnam's journey in Colombia has not ended yet.

World No 4 Italy is one of the title favourites in this World Cup. They won a bronze medal in Thailand in 2012, in Brazil in 2008, and were also runners-up in Chinese Taipei in 2004.
Meanwhile, Vietnam is enjoying their first-ever World Cup. The team ranks 39th in the world.
VNA