VietNamNet Bridge – Paraguay beat Viet Nam 7-1 in the second match of Group C of the FIFA World Cup Futsal in Medellin, Colombia, yesterday morning, Sept 15.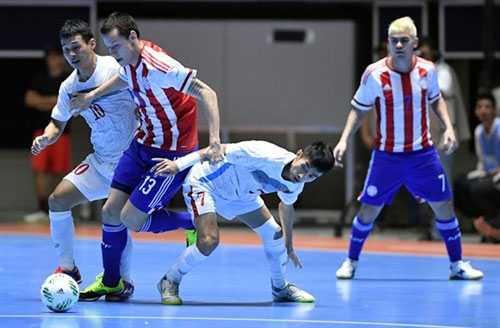 Paraguay and Viet Nam's players vie for the ball in the second match of Group C of the FIFA World Cup Futsal in Medellin, Colombia, yesterday morning. — Photo vff.org.vn
"Today, we met a tough rival. It's unfortunate we didn't have the necessary spirit and power. Besides, my players weren't as focused as expected and the team had to pay a heavy price with goals being scored continuously in the first half," coach Garcia said.
"In the second half, we performed better; however, Paraguay utilised every opportunity and scored two more goals."
"This is an unsuccessful match, but we aren't disappointed. The 1-7 loss will put us on the back foot to get a spot among the four best third-placed teams. But Viet Nam's tournament is not yet over. We will try our best to get at least one point in the upcoming match against Italy," Garcia added.
Looking to bounce back after their first game defeat against Italy, world No 12 Paraguay turned up the heat against world No 39 Viet Nam to score five goals till half-time.
It was a fine display from the South Americans, who took full advantage of a slow-starting Viet Nam side, which had impressed in their win against Guatemala on the group's opening match day.
In the second minute, thanks to a pass from Ayala Enmanuel, Martinez Francisco opened the score for Paraguay.
Receiving an early blow, Viet Nam coach Bruno Garcia continuously changed his players in an attempt to curb his rivals. However, with their superior strength, Paraguay easily scored their second goal in the seventh minute.
In the 11th minute, Ayala Emanue raised the score to 3-0 for Paraguay.
Before the end of the first half, Viet Nam received two more blows in the 12th and 17th minutes.
After the break, Paraguay continued dominating the match and Rejara Richard scored his country's sixth goal in the 33rd minute. Just some five minutes later, Juan Pedrozo increased the gap to 7-0.
To their credit, Viet Nam regrouped and enjoyed more possession than their opponents from there on; however, there was to be no reward until Tran Van Vu scored in what was virtually the last kick of the match.
With this loss, Viet Nam rank third in the group with three points. Italy and Paraguay are in the lead.
In their final matches of Group C on Saturday, Italy will play Viet Nam in Bucaramanga while Guatemala will stay in Cali to face Paraguay.
 "We need to learn from the mistakes of this match to be better prepared for the match against European heavyweights Italy," caption Nguyen Bao Quan said.
Source: VNS