Do Tuan Duc and Pham Nhu Thao reserved a spot at their first international final at the Yonex Canada Open badminton tournament on Saturday.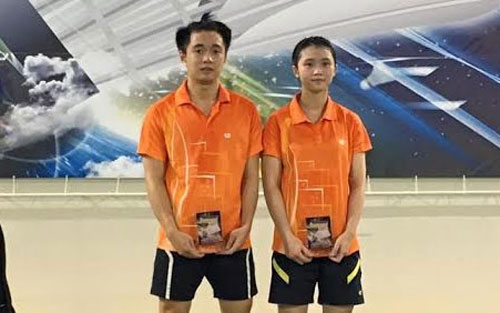 Do Tuan Duc and Pham Nhu Thao advance to the final of the Yonex Canada Open. — Photo baobacgiang.com.vn
The Vietnamese defeated world No 52 duo Sawan Serasinghe and Setyana Mapasa of Australia 21-19, 15-21, 21-13 in the semi-final match of the mixed doubles event.
Their final rivals will be No 4 seed Nico Ruponen and Amanda Hogstrom, who sent the top title favourite pair Robin Middleton and Leanne Choo from Australia 21-18, 21-17 in another semi-final match.
The Cong triumph at Military Volleyball Open
The Cong beat Bien Phong 21-25, 25-23, 25-18, 25-9 to triumph at the Military Volleyball Open tournament's men category on June 29 in Ha Noi.
Making full use of their advantage as the host, Bien Phong established their domination in the first set with the outstanding performance of spiker Nguyen Huu Ha.
The team took the lead from the beginning, quickly finishing the first set 25-21.
However, the tide turned in the next set, when The Cong limited Ha's strong volleys while their setter Nguyen Xuan Thanh worked hard to provide smart balls to teammates, leading them to a 25-23 win and then again with 28-18 and 25-9.
It was Bien Phong's second loss at a final in two months. Earlier, they were defeated by Sanest Khanh Hoa in the Hung Vuong Cup in April.
In an early match of the day, Tien Nong Thanh Hoa won 3-1 against PVD Thai Binh, taking the bronze medal for the women's team.
On June 28, Lien Viet Postbank took the women's title. Vietinbank came in second.
Source: VNS