U18 PVF to compete in Asia champions Trophy
Viet Nam's U18 PVF will compete in the 2015 Asian Champions Trophy, scheduled to take place in Malaysia from August 5 to November 19.
Eight of the best football academies from across the region are participating in the highly anticipated tournament, including teams from Thailand, Japan, India, Cambodia, Viet Nam and three teams from Malaysia.
PVF will play in Group B alongside Frenz United B of Malaysia, Phnom Penh Crown FC of Cambodia and Kashima Antlers of Japan.
Group A consists of defending champions Chonburi FC of Thailand, Frenz United A, All India Football Federation of India and Malaysia's Felda United FC.
It will be aired on the HTV channel.
National women's football team gather for Olympic qualifiers
The national women's football team gathered at Ha Noi's Youth Football Training Centre yesterday (July 28) to prepare for the second round of qualifiers for the 2016 Olympics.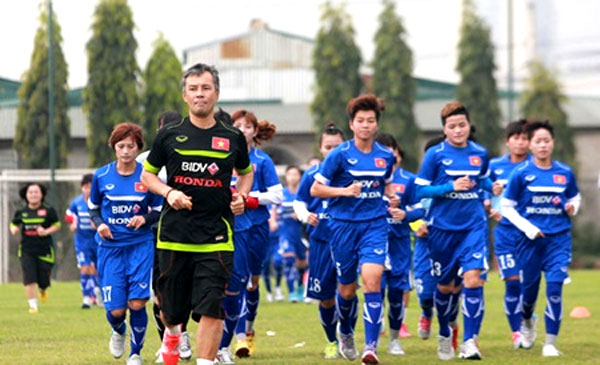 Coach Norimatsu Takashi trains with his players in Ha Noi -- Illustrative image – VNS file photo
Coach Norimatsu Takashi called on 26 players who performed well at the recent 2015 National Women's Football Championships to play. The HCM City and Ha Noi 1 teams are contributing the most players – nine and seven, respectively.
The team will have 46 days of training, 12 days of which will be in Japan, before leaving for Myanmar on September 12.
The qualifying round will be held in the Youth Training Centre Stadium in Yangon, Myanmar from September 14 to 22.
According to the draw, Viet Nam are in Group A with Thailand, Myanmar, Jordan and Chinese Taipei.
The event's winner will join Japan, the reigning Asian champions, and 2014 AFC Asian Cup runners-up Australia, North Korea, China and South Korea in the final qualification round to be held from February 29 to March 9, 2016.
Thai Son Nam in Group D at AFC futsal club champs
Thai Son Nam (TSN) will face tough rivals in Group D of the 2015 AFC Futsal Club Championship, to be held in Iran from July 31 to August 7.
TSN, who triumphed in the HCM City's Top Club Futsal Open, will meet champions Shenzhen Nanling, China, and Bank of Beirut, Lebanon.
The event's 12 teams are divided into four groups that will compete in a round robin format. The top two from each group will play in the quarter-finals.
The team left for Iran on Monday to prepare to meet Shenzhen Nanling on July 31 and Bank of Beirut on August 1.
Source: VNS