Runner Quach Thi Lan yesterday won her first silver medal for Viet Nam at the 17th Asian Games (ASIAD) in Incheon, South Korea.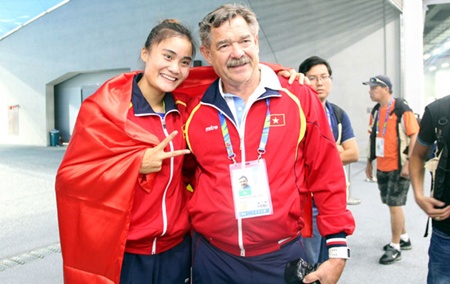 Lan, 18, who had just finished her training tour in the United States, finished second in the women's 400m event with a time of 52.06sec, a personal best in her career so far.
Oluwakemi Adekoya of Bahrain took the gold medal with a time of 51.59sec while Machettira Poovamma Raju of India took the bronze with a time of 52.36sec.
"I am happy with the medal. I did not set any target before the competition. I just tried my best. The Indian athlete is fast, but the runner from Bahrain is even faster, and that surprised me," said Lan.
"The training course in the US has helped me a lot as I have improved my physique and technique," she added.
"Lan did pretty well using my tactic of chasing the fastest athlete to push up her speed. Her result is the best in her history after she overcame her shortcomings through training. However, I'm not totally satisfied because I wanted a gold medal for her," said Lan's coach, Nguyen Trong Ho, adding: "She is young and she will harvest more titles in the future."
Lan's teammate, Nguyen Thi Huyen, also competed in the event and finished seventh with a time of 53.79sec.
Unfortunately, ASEAN sprint queen Vu Thi Huong failed to repeat her performance at the Guangzhou Games four years ago, where she took a bronze medal.
Huong, who assumed the task of winning a second gold medal for Viet Nam in Incheon on her shoulders, ranked fifth in the women's 100m dash.
Her slow start apparently affected her final result of 11.68sec as she failed to catch up with other rivals and bowed out of the top three. Wei Yongji of China took the gold medal with a time of 11.48sec, followed by Fukushima Chisato of Japan with 11.49sec and Olga Safronova of Kazakhstan with 11.50sec.
Huong will compete in the 200m event, where she won a bronze medal four years ago, on Thursday.
Meanwhile, boxer Luu Thi Duyen yesterday won a semi-final berth in the women's lightweight category after beating Chorieva Mavzuna of Tajikistan, 2-1. She will go up against Yin Junhua China.
Her teammate, Le Thi Bang, followed up Duyen's victory with a win in the women's flyweight category over Josie Gabuco of the Philippines, 3-0.
She will compete against Hmangte Chungneijang Mery Kom of India at the Seonhak Gymnasium tomorrow.
Wrestler Pham Thi Loan trounced Lao Phinith Soumaly, 5-0, to advance to the semi-finals of the women's free-style 55kg pool.
Yesterday morning, Vietnamese walker Nguyen Thi Thanh Phuc was disqualified from the women's 20km walk after committing three technical errors only 6km from the starting line.
It was a lesson for the London Olympian, who previously won one silver and one bronze medal in Asian championships.
Earlier, runner Nguyen Van Lai withdrew from the men's 1,500m event so he could focus on his strongest point, the 10,000m event, on Thursday.
After nine days, Viet Nam maintained its 17th rank overall with one gold, seven silver and 20 bronze medals. China have secured its hold of the top spot with 105 gold medals while South Korea ranked a far second with 42 gold medals, followed by Japan with 34.
VNS/VNN