VietNamNet Bridge - Why does Vietnam not take advantage of the brain and talent of local architects, but has to hire foreign architects with expensive price?
Architect draws attention for award-winning design
Architect Vo Trong Nghia and his journey to "seek failure" 
The Architectural Record magazine (USA) recently published an article: "Is Vietnam the new destination for architects?" The article describes the powerful entry and operation of foreign architects, especially from the West, in Vietnam.
Sadly, Vietnam's urban development is in confusion. It is unable to recognize the country's architectural characteristics and the contribution of nearly 17,000 local architects in key projects. Meanwhile, Vietnamese architects have received many international architectural awards. Most recently, architect Vo Trong Nghia won two awards of the International Architecture Awards 2012.
Why do not we take advantage of the gray matter of local architects but use foreign architects with expensive price? Is it that Vietnamese architects have not confirmed their reputation and talent or because they are not properly interested and appreciated?
Not only investors are blamed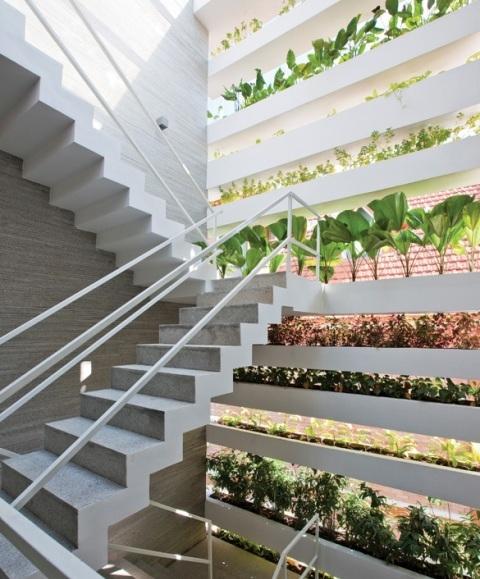 The green house in District 2, Ho Chi Minh City, designed by Vo Trong Nghia. Photo: Hiroyuki Oki 
Commenting on the idea that "Vietnamese architects and design consultant companies are not inferior to their foreign colleagues," Dr. Ngo Viet Nam Son, President of the HCM City-based NVD Architects & Planners, said that we need to look back to point out the strengths and weaknesses of domestic architects.
According to Son, it is true that we have architects with exceptional talent, but we do not have many companies that work well together to make great works. The weakness of Vietnam's architectural firm is the poor spirit of cooperation and weak teamwork skills. Lack of management experience, international experience, communication and the poor use of multi-professional resources in architecture are other weaknesses.
On the other hand, many architects who have worked in foreign consulting firms for years, often have to draw based on the guidance of their superiors so they do not have many opportunities to reach out to new technology, and new thinking of the world. Not many people dare to struggle and concern to create groundbreaking works.
Before 1996, contractors usually used model designs so architects did not have opportunities to develop their skill and talent. In the integration stage, the presence of foreign architects with strange designs (not really new) has quickly attracted managers and investors and they were hired to design key works.
In fact, designs by foreign architects are not really suitable with Vietnam, such as a building in the center of Ho Chi Minh City. In a tropical city, the glass-made building does not use good heat insulated measures. Two other construction planning schemes in the city center also lack comprehensive vision, resulted in project delays. The construction of an inappropriate building spoils the natural landscapes in Ha Long.
Mr. Nguyen Hoai Nam, Deputy Director of the HCM City Department of Planning and Architecture, said that investors' favor of foreign architects not only leads to huge waste but also limit opportunities for Vietnamese architects to participate in large and small projects throughout the country.
In the article "Design fee of Vietnam needs a big change" by a group of architects published on the Construction Newspaper in March 2012 showed that there are many big differences between the design fees of Vietnam and foreign countries. For example, when comparing the design fees in accordance with Vietnam's law, the prices offered by Vietnamese architects are only about 1/10 compared to North American architects while their wages are also from 4 to 5 times lower.
In addition, the design fees in Vietnam are only classified in five categories based on the level of difficulty of the works, not the type of works. Meanwhile, with the same design fees, it is more difficult to design a hotel than an office building. Thus, not only by the authorities, the investors but also the law on architects has also contributed to narrowing the development path and dedication of Vietnamese architects.
What solutions for Vietnamese architects?
The failure in many large projects across the country has shown that the trust in foreign brands can lead to mistakes. The most common mistakes are that we highly appreciate some foreign architects who are newly graduates or unemployed overseas. Many designs of large foreign companies fail to meet the actual demand in Vietnam but they are worth millions of US dollars.
According to Mr. Ngo Viet Nam Son, the reason is the investors usually chose foreign architects based on that company's design experience. However, the experience belongs to the entire company is not necessarily the experience of the person assigned to do the specific design for the Vietnamese partner. Moreover, foreign architects are less knowledgeable about people, culture, social conditions of Vietnam. Therefore, investors of large projects should be mindful to choose the architects with both domestic and foreign experience and know how to cooperate with necessary partners to implement the works and to protect their reputation.
In contrast, Ngo Viet Nam Son said that local architects should not be too self-respecting. International awards usually favor the idea or the implementation of small projects. Currently, we do not have any great works of Vietnamese architecture firms that has international influence, or wins awards in the competitions to select designs for major projects in foreign countries. Therefore, experience in group work to large works up to international standard is very limited.
The strength of Vietnamese architectural firm is low designing fees, having deep understanding of Vietnam, working flexibly and having highly personal creativity. The government and the architects' association need to support them in terms of the policies and laws so that they can better promote their capabilities. In particular, the law on architects should be passed early to specify responsibilities of architects and to protect the rights of Vietnamese architects and ensure fair competition among local and foreign architects.
An immediate solution to quickly create attention from investors, according to Mr. Nguyen Hoai Nam, is the state should amend the rules on design fees to narrow the gap between foreign and domestic architects. Since then, the design consulting firms in the country will boldly hire foreign architects. As the "foreign preference" though cannot be erased a day or two so the presence of foreign architects, particularly famous ones, in Vietnamese architectural firms will be a certain appeal for customers.
Mr. Nguyen Hoai Nam stressed: "The spirit of rising up and overcoming immediate difficulties to win the long-term victory of young architects of Vietnam is extremely important."
"We must regain the leadership in the development of Vietnam's architecture, not only stems from the pride of Vietnamese architects but also for the urban development of true culture of Vietnam," said Son.
DNSGCT