VietNamNet Bridge – The distinction between the students from rich and from common families is evident within primary schools and has raised worries among parents.
The students who only use branded goods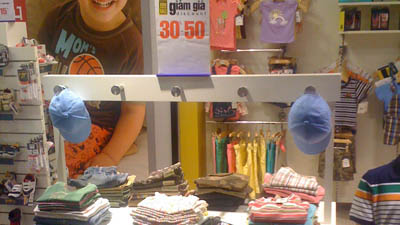 Van Anh, a third grader, is the child of a successful businessman who specializes in trading high grade apartments. Anh only goes shopping with her parents at big shopping malls like Parkson, Diamond Plaza or Vincom, while she never goes to normal department stores. Every time she goes to Hong Kong or Singapore with her parents, she always brings home famous brand name clothing.
Anh's clothes and belongings are expensive, each of which is worth from one million dong to several million dong. A dress or a pair of Esprit shoes is priced at several million dong, while Lego toy or Barbie doll is worth no less than one million dong.
It is estimated that Anh's clothes and toys are worth a total of hundreds of millions of dong.  Speaking with Anh, one would hear Anh talk extensively about famous brands, the characteristics of the products and of course their prices. Anh does not like domestically made products because she believes that they are "rustic".
A mother who has a son studying at a prestigious school in HCM City said that there are two "classes" in the school.  One consists of students from average families and the other consists of students from wealthy families. The students from the "upper class" always wear branded schoolbags worth hundreds of dollars, D&G clothes worth several million dong, and have iPhones. Meanwhile, students from average families only use domestic products.
The mother complained that  now the "class distinction" can also be seen in education.
"Awkward situations always occur when students vote for extracurricular activities. Students from poor families only want to visit popular places in Vietnam, because the trips are not too costly, while the kids from wealthier families only want to travel abroad," she said.
Meanwhile, according to Nguyet Mai, a parent, "there are two kinds of rich parents". Many rich parents think that wearing expensive clothes is a must, because this shows the "upper class" of their children. Besides, there are also the parents, who have a passion for branded goods.
The first group of parents includes the ones who are really wealthy. With a monthly income of hundreds of millions of dong, they can spend tens of million dong to buy famous branded clothes for their children.
The second group includes the ones who also like products with foreign brands, but they are just popular everywhere in the world, and in some cases the products are outsourced to Vietnam.
Using branded goods in the eyes of an American
Robert Dewitt, an US citizen said on VnExpress that it is not by chance that children of the modern times pay attention luxury goods when they are still young.  Higher living standards and the opportunities to access high quality goods prompt parents to purchase expensive branded goods.
Like their parents, children have also used to new consumer habits. It is not advisable to criticize adults or children, but it is also not advisable to encourage these consumer habit.
He noted that in Vietnam, using branded goods is a way for many people to show which class they belong to. They are ready to spend much money to buy branded goods, just in order to be admired by other people.
The US is a wealthy country, but US consumers do not spend money immoderately. "Quality is the first thing we consider when deciding whether to purchase goods," Robert said.
Tu Uyen