VietNamNet Bridge – Going to the southwestern region, you must visit Tam Nong, in Dong Thap province, a small rural market but is very famous for snake meat.
Hanoi's snake village on National Geographic
Herbalist saves over 550 snake-bitten victims
Before 5 o'clock in the morning, Mr. Phi woke me up to go to the snake market. Located in the town of Tram Chim, the snake market of Tam Nong looked very small and sleazy in the dim lights.
Tens of traders carried sacks to stalls in the market. Phi led me up to the counter which seemed to be the biggest in the market, with many iron casks.
Seeing a man carrying a big sack, Ms. Tam, the stall owner, said: "Please pour them into this cask for me!" The man cut the strap and turned the sack upside down into the cask. I got closer and saw hundreds of snakes of all kinds in the cask. Indeed if someone is poor-spirited, they will be very scared to see this scene. Dozens of other stalls adjacent to Tam's kiosk were also full with snakes.
Ms. Tam said: "I've been selling snakes for more than ten years. This snake market opened a very long time ago, that I could not remember. When I was a kid, my mum led me to this market to buy snakes to cook the cuisine--snake stewed with citronella."
At about 6 am, the market began being bustling. Hundreds of traders from all over southern provinces of Tien Giang, Ben Tre, Can Tho, Hau Giang, Ho Chi Minh City, Binh Duong, Dong Nai flocked to the market to buy snakes. The market is awash in the atmosphere of bustling trading, but it was not just like any market anywhere...
At the other side, Ms. Nam just bought a 50kg sack of snake from a farmer. After paying money to the farmer, she slowly put her hand into the sack to catch snakes and place them into different glass boxes. Seeing my surprise, she laughed and explained: "These snakes are very gentle. Moreover, I've got used to them. The big ones are put in here, the medium-size snakes are in this box and this box is for small ones."
Dry snake – Tam Nong's specialty
The people here have a specialty: dried snakes. At the Tam market, I witnessed many people processing dried snake. In a corner of the market, Mr. Cuong was flaying snakes to process dried snake. He piled them up, estimated at more than 100 kg.
He said: "I buy about 400 kg of snakes per day. You see, in hundreds of kilos of snakes, there will be a number of dead or wounded snakes that nobody wants to buy. To avoid loss, we process them into dry snakes. Unexpectedly, it becomes a specialty of Tam Nong. This product is favored by drinkers and it is sold like hot cakes."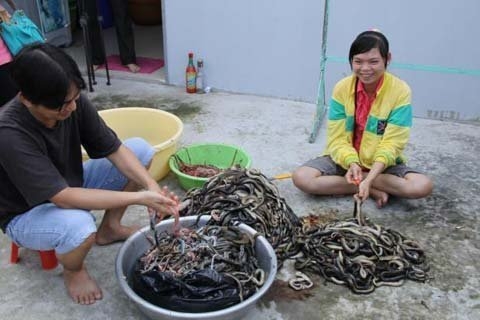 Processing dry snake, a specialty of Tam Nong.
To have a kilo of dry snake, it should have 10kg of fresh snake meat. Snake skin is also sold to use as fertilizer or to be processed into fee for catfish. Nothing is wasted away from the snake.
At another stall, I saw two barrels of dead snakes of more than 100kg. According to the owner, Ms. Tu Dinh, she was awaiting three workers who would come to skin the snakes. After being skinned, meat will be cut up from bone and salted. Then snake meat will be exposed to the sun for 3 days. The most important stage is embalming snake meat with spices and drying. And finally, the product is packed with the "brand" "Tam Nong dry snake."
One kilo of dry snake is priced from VND350,000 to VND400,000 ($16-20). The profit is only VND30,000/kg. Dry snake processed from snake bones is cheaper, about VND100,000/kg.
Tam Nong dry snake is very famous and sold out very quickly, so many people in the town of Tram Chim have taken advantage of its popularity to produce "fake" product, which is processed from python meat.
Mr. Phi said: "Tam Nong dry snake is very delicious when it is roasted or fried, using charcoal. It is deep sweet, tough and soft ... And what kind of dry snake which is very tough and unsavory is surely to be fake."
Tam Nong market also sells birds, rats, turtles, wild chicken, eels, frogs, etc.
Worries
The three days in Tram Chim were three days I was "immersed" in parties with all kinds of cuisines processed from snakes. And one question kept haunting me, if snakes are used like this, there will be snakes in nature? Someone said: "A watched pot never boils! The southwestern region will never be exhausted with snakes. The God created this region so the God must create enough snakes for us to eat."
Meanwhile, Mr. Nguyen Van Hung, director of the Tram Chim National Park, said: "There are snake farms in Tram Chim. For example, the snake farm of Mr. Mai Minh Man in Phu Thanh A commune is very famous. Each year, Man earns profit of hundreds of millions of dong. Snakes sold at the Tam Nong market also come from these farms. We encourage people to develop such farms. For catching snakes in the wild, especially in the area of Tram Chim National Park, we strictly prohibit."
Compiled by Le Ha