VietNamNet Bridge - The answer to the domination of foreign comic books in the Vietnamese market for the past over 10 years is mainly because Vietnam does not have a comic book industry.
Children can comfortably read comics of 18 +?
Less than one percent of comics in Vietnam are Vietnamese origin
VietNamNet reporter talks with Mr. Hoang Minh Quan, media representative of the Kim Dong Publishing House, a senior publisher of books for children in Vietnam; Ms. Phan Thi My Hanh, Director of Phan Thi Company, the publisher in Vietnam that only publishes Vietnamese comics; and Mr. Nguyen Thanh Phong, the painter who won the special award in the competition "Asian Animation Festival" in 2011 in China.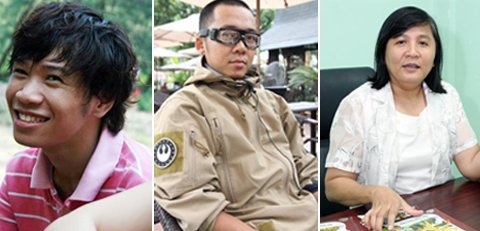 From the left: Hoang Minh Quan, Nguyen Thanh Phong and Phan Thi My Hanh.
Why do foreign comics account for the big bulk in Vietnam?Hoang Minh Quan:
The purchase of the copyright to publish foreign comics comes from the need of young readers.
The sale of a Japanese comic book is about 2,000 copies for the normal book and from 5,000 to 10,000 copies for in-vogue comics. For the famous comic books like "Detective Conan" or "Doraemon," the sale of 10,000 copies is normal. For the latest volumes of Detective Conan, the sale can reach 50,000 copies, particularly 100,000 copies for volume 74.
But for Vietnamese comics, it is far more difficult to sell 2,000 copies for each volume.
Nguyen Thanh Phong:
The domination of foreign comics in Vietnam is because the source of Vietnamese comics is unstable. Time is a very important factor with comics. It takes several years to draw a new set of comics. In other countries, readers have to wait for 3-4 months to have a new volume. The classic series such as Doraemon, Detective Conan can be published periodically since they were already published in Japan.
Another factor is Vietnamese readers are familiar with the manga. It requires a great effort of the local artists to make them accept domestic comics.
Why does a private company like Phan Thi only publish Vietnamese comics?Phan Thi My Hanh:
I would like to confirm that Vietnamese can compile comics. Our artists can learn drawing techniques from foreign books to develop Vietnamese comics. Through comics, I want to convey the culture, history, beautiful pictures of Vietnam.
Also I have to comply with the foreign rules which have proved to be successful in building characters, animation, comic techniques, etc.
The success of the series "Prodigy of Vietnam," which has been favored by the readers for over 10 years, makes us very proud. We have published "The scientific prodigy of Vietnam," "The mathematic prodigy of Vietnam," The art prodigy of Vietnam," etc. Since then we have decided the only way of publishing only Vietnamese comics.
How about the investment in a set of Vietnamese comics?
Phan Thi My Hanh:
The cost for a set of Vietnamese comics is more expensive than buying the copyright of foreign comics. The time for publication is also longer and is more risky.
For a set of comics like "Prodigy of Vietnam," only money is not enough. Publishing comics require very high accountability and discipline in each person, each stage, but the discipline is almost a "luxury thing" with Vietnamese artists. This is a risk.
Next is the cost. Not only the implementation cost but also the cost of PR must be taken into account. 10 years ago we had only eight volumes of the "Prodigy of Vietnam." The price for each volume at that time is VND4,800, with 10,000 copies for each volume and discount of 15% for agents. But at that time we had to spend more than VND100 million for the launch of the series.
So what is the advantage of Vietnamese comics over foreign comics?
Phan Thi My Hanh:
Buying foreign comics, you will only have the commercial rights in a given time, and you are not allowed using the book for other purposes or to sell the book in other versions.
For Vietnamese comics, the investment company is the owner of and has the full use of the book in any form. We are also expected to export and have released the e-version for "Prodigy of Vietnam."
The need can come from Vietnamese children who were born and raised abroad, who want to learn about the cultural roots. We are about to sell "Prodigy of Vietnam" on the App Store of Apple, through the flat world to export the book. This technology is very convenient and popular in the publishing world so we will not ignore this market. Other publishers have no such conditions because they only buy foreign comics.
I think that selling foreign comics or Vietnamese comics is the same. If you are determined, you must think of integrating good stories, then advertising them by various ways. Finally, we are proud that we have an outstanding set of Vietnamese comic books and we have achieved something.
How do publishers support cartoonists? Can they live with this job?Hoang Minh Quan:
Only when people can live with the thing they do, it can be called a profession. Currently, in Vietnam, there are not real cartoonists, only artist. They mainly earn their living by make illustration pictures or book cover, etc.
We still support cartoonists by placing orders. When cartoonists are ordered, it means that their work will surely be printed and they will definitely get paid.
Artist Dao Hai is an author who can live with drawing comics. The Kim Dong Publishing House paid highly for the series "Naughty Ti". In addition to royalties, the author is paid royalties for each edition.
Nguyen Thanh Phong:
I thought that I can live with drawing comics. Of course I do other projects, but it is true to note that "a profession must be the work that can help people to earn a living from it." There are very few people can live with comics in Vietnam.
What are the priorities that publishers give for Vietnamese authors?Hoang Minh Quan:
Most of the potential artists are invited for cooperation with the Kim Dong Publishing House, at different levels. Actually, very little products that can be used immediately in the first time it is sent to us. But when the young painters have a chance to work and improve their abilities, it is also beneficial for publishers in general.
Many people misunderstand that the publishers do not print Vietnamese comics because only foreign comics can bring in benefit. I agree that foreign comics creates turnover but it is not true to say that the publishers do not pro Vietnamese comics. You must have products, both good and bad, to send to the publishing houses and they will get back to you.
The cartoonists should be more proactive. If you are anonymous, the publishers will not come to you to give order. The publishers are still waiting for the signal from the painters.

Nguyen Thanh Phong:
Vietnamese comic books are progressing in a very positive direction. Previously, there were only a few good authors, but at the recent comic show we saw many good authors.
We want to get more support from publishers and readers, but essentially it is still the driving force from the creators. They must have enough effort and investment to win in the local comic market, before Japanese manga.
Could we say that Vietnam has a comic industry?Phan Thi My Hanh:
Vietnam does not really have a comic book industry. But if we do not build a comic industry, when will we have it? When will the story of cultural deficit continue? If you do not start building it we will not have it forever.
To have an industry, there must be a unified entity from top to bottom, with decent planning; not having many comics is having a comic industry.
Currently, the painters are still seeking their own way and depend on the publishers to have their books printed. In that circumstance, though we have one or 10 Phan Thi companies, we cannot have a comic industry.
Hoang Minh Quan:
We do not have the comic industry, not yet the Vietnamese comic style yet. If we want to have it, we must begin the construction right now.
After each comic festival, the product quality increased. In the two first festivals held in 2010 and 2011, we did not have domestic products for display. At that time we only had the illustrations, but in 2012, there was remarkable progress in quality and we really had comic products.
To some extent, the foreigners are also very surprised by Vietnamese artists. Belgian painter Jean-Clause was very amazed at Vietnamese comics, which are very unique. Do not talk about the style when we do not have a comic industry. Let's just consider that the product is worth for the reader to spend money on? I think that it starts to be worthy for buying!
A Doraemon copy is VND16,000, a copy of "Naughty Ti" by Dao Hai is priced VND40,000, but the parents are still willing to buy the book for their children. This is a good sign!
Nguyen Thanh Phong:
I do not think that we have to wait for 10 years to have the Vietnamese comic industry. It is probably only 5-6 years, because the return of Vietnamese comics has begun.
I say "return" because this formation has had since 2000 with the "Prodigy of Vietnam" series. Subsequently, from 2004-2005 there were more young people to pursue a career in drawing comics, including Phong Duong. It would take about 10 - 15 years to the authors of this generation to be mature, stable and live by comics. Gradually, this will attract more people to participate.
Ho Huong Giang
(To be continued)