VietNamNet Bridge - Many tourists coming to Saigon are cheated by taxi drivers by old tactics, but very effective such as meter fraud, running around, transferring passengers from one car to the other cars, etc. Having access to taxi drivers in Saigon, reporters have disclosed many tricks.

Meters - "magic wand" of taxi drivers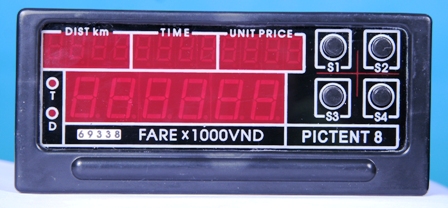 It seems that everyone has heard or know about meter fraud. However, in order to detect it, one must be experienced because taxi drivers operate and use very sophisticated technology.
Following a long-time friend who is a taxi driver, we were present at an electronic repair shop on An Duong Vuong road (District 5, Ho Chi Minh City). A young man of about 35 years old, with southern accent, was sitting in the cab and said: "How much do you want to increase this time, big brother?" The taxi driver who is our friend said: "How should I do?" "VND10.000dong/km," the man suggested. "Too much, about VND7,000 is fine," the taxi driver said. The technician replied "ok."
Just by clicking his fingers on the buttons on the charge meter, electronic numbers blinked continuously on the meter. The technician disassembled the meter and took out the motherboard of the meter, bringing it into the shop, adding an electronic chip which can make numbers on the meter to jump, then cemented the meter again.
In less than 15 minutes, the meter was brought back to the cab to attach to its position again. The taxi driver gave the technician VND350,000 ($17) (VND100,000 of wage, VND250,000 for the chip).
According to taxi drivers, most taxi firms, including big companies, use meters of China because they are cheap (about VND1 million or $50 for a meter) and it is easy to replace components. Although meters are verified, and sealed but taxi drivers still have their own tricks.
However, if the authorities discover meter frauds, they will impose severe sanctions so many large taxi companies closely manage meters, in order to protect the interests of customers and the rights and reputation of their company. Thus, most of meter fraud cases occur for taxis of small firms or illegal taxis.
It should be added that there are other techniques to make impacts on meters, such as beeping the horn to make the meter run faster. In this case, the horn is connected to the meter via the additional chip.  
Taxi drivers can also add a "button" on the gear level, which in is connected to the wire running to the meter. This is a relatively sophisticated design. When the driver flicks on the button during he puts in gear, the meter will run faster.
Running around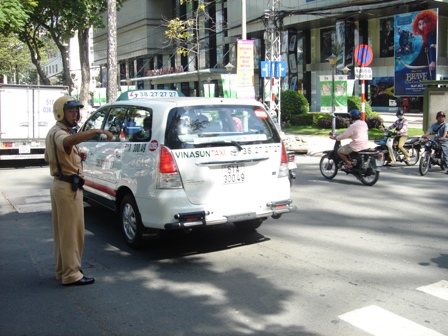 This trick is used by almost all taxi drivers in Saigon. With this technique, if passengers detect the trick and ask them to run in the right way, the drivers will explain that he runs around to avoid traffic policemen, traffic jams or "this road has a lot of traffic lights."  
Ms. Pham Thi Ton, 60, in Binh Tan district, HCM City, was cheated by a cab driver when she caught the cab from Tan Son Nhat Airport to Tan Binh Market. The driver took her around Ba Chieu Market, Binh Thanh District. She asked him to stop in the road. The driver pointed at the meter, asked her to pay charges. Ton had to give him VND70,000 ($3.5). And yet, after receiving money, the taxi driver uttered: "Crazy old woman," and ran away.
Taxi drivers usually use this trick if their passengers are people who come from the countryside or from other provinces, those who are not fluent in the streets, or who know but do not notice much. Taking advantage of this, taxi drivers usually park at bus stops, railway stations, ports and airports to solicit customers and then put them into the matrix to charge them exorbitantly.
Transferring passengers from this cab to another is the popular trick applied by taxi drivers at Tan Son Nhat airport.
Taxi drivers usually solicit passengers who have just left the plane to use their services, but the charge will not be paid based on the meter but on package. The agreement is made orally.
After the car leaves the airport to Truong Son road, Tan Binh district, the driver will complain that the passenger's route does not suit his car and he calls another cab to come. The passenger will have no way rather than get into this cab, which is usually an illegal cab.  
"I was transferred to a cab that I did not know what taxi firm it belonged to. So when I left my bag, including a laptop, money and some personal papers, in the cab, I did not have a chance to see them again," said Mr. Tran Thanh Man, 42, from District 10.
Other tricks
Some taxi drivers are very bad to claim money from patients of an emergency by deliberately running slowly to ask for tip.
Passengers with urgent cases require taxi drivers to run faster, but the drivers give the reason that if they run fast they will be fined by traffic police. They ask the passenger to pay fine for them in case they are stopped by traffic police. If the passenger agrees, they will drive crazily.
When they are stopped by the police, cab drivers will try their best to beg policemen to forgive them. Though they do not have to pay fine, they will still pretend as if they have to pay fine and ask the passenger to give him money for the fine.  
In addition to trying to extort money from passengers, taxi drivers compete unfairly, for example eavesdropping radio waves of others.
Each taxi is equipped with a walkie-talkies and each taxi firm has its own broadcast frequency. When customers need to ride, they call the tax firm to specify the location where they are standing, then the staff on the phone will notify on the radio system. The taxi driver in the nearest area will run to serve the passenger.
Eavesdropping information from others is the most hydrophobic but many taxi drivers still use this dirty trick.
The cost for adjusting radio waves to hear of others is from VND1.5 to VND2 million. Upon receiving the information, the driver can drive his cab to the location before his rival.
VTC