VietNamNet Bridge - By different tricks, swindlers lure many girls in southwestern provinces to go abroad to get married in the form of travel. Many girls have been sold to pimps.
Ruralgirls marry foreign men for filial duty
Brideruns away at midnight because of 'sexual violence'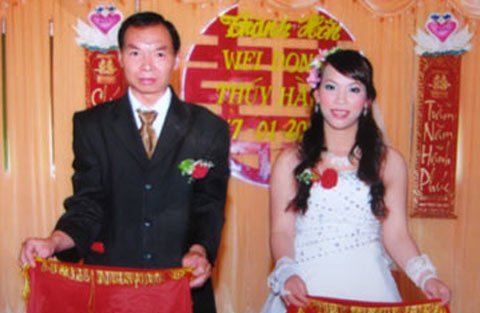 Bride Pham Thuy Hang and groom Chen Wei Dong
 on their wedding day.
Then, while the girls are abroad, at home, the investigating agencies have received many petitions to call for help from their relatives.
Married to become... prostitutes
Marrying foreigners has become very popular for girls in the Mekong Delta. Most of them consider this as the way to have an easy life.
In his petition, Mr. PVT, in Binh Thuy district, Can Tho City, wrote: "In early 2012, through a broker, my daughter named Pham Thuy Hang was married to a Chinese man - named Chen Wei Dong. She married that foreign man for her filial duty."
The wedding was held at the Vinh Ky restaurant in Can Tho City. Thuy Hang's husband is at the same age with her father.
In the first meeting with his parent-in-law, the Chinese man promised to dedicatedly, thoughtful take care of his wife and to be an intimate husband.
The bride's family trusted in the Chinese man's promises. They did not know that he was a swindler.
When "the couple" just passed through the border, the "bridegroom" Chen Wei Dong immediately sold his "wife" to a pimp.
"Then, this pimp intended to sell my daughter to another man as his wife. But my family has lost contact with my daughter for a few months. We have tried many ways but still could not save my daughter," Mr. T. wrote.
In another case, Mr. Nguyen MT, in Ninh Kieu District, Can Tho city, accused a Vietnamese woman named Mai and her Chinese husband of cheating his sister, Ms. Nguyen T.A.D, 20. These people also used the same trick: introducing the woman to marry with a foreign man, then selling her to a pimp.
Where's the ransom?
After quick weddings, when they know that they are cheated in foreign land, Vietnamese brides have to pay huge ransoms to be repatriated.
Recently, the Can Tho Police Agency received denunciations of Mr. Nguyen Hien Sang. According to Sang, in April 2012, his girlfriend named Thach T, 29, 24, in Chau Thanh A District, Hau Giang province, was taken to China by a matchmaker and could not find a way back.
Sang said: "The matchmaker told me to pay VND80 million ($4,000) for T to return home. But we cannot afford to pay the ransom."
Back to the case of bride Pham Thuy Hang, someone asked Mr. T. on the phone to pay ransom of VND60 million ($3,000).
"When my family contacted with the pimp, they impudently asked my family to pay VND60 million to release my daughter. My family is in pain and does not know when we will meet our daughter again. Meanwhile, the criminals are still out there...," quoted from Mr. T's petition.
Similarly, Mr Nguyen M.T, the elder brother of a bride named D went to China to rescue his sister. There, the pimp claimed up to VND170 million ($8,000) of ransom.
Statistics in Tan Hung Ward, Thot Not District, Can Tho City, only in recent months, at least seven girls registered to marry Chinese men.
The latest trick of brokers is taking Chinese men to the bride's home. Just the local authorities confirm that the girl is still single; the marriage procedures will be implemented immediately.
Giving only VND30 million ($1,500) to the bride's family and brokers, the foreign groom can "own" a young bride.
Despite waiting tragedies and pitfalls, many girls in the Mekong Delta still desire to get married to foreign men.
Quoc Huy