VietNamNet Bridge – Returning to Vietnam to "seek failure" at the advice of his Japanese teacher six years ago, architect Vo Trong Nghia faced great difficulties at the beginning--to harvest stunning successes later.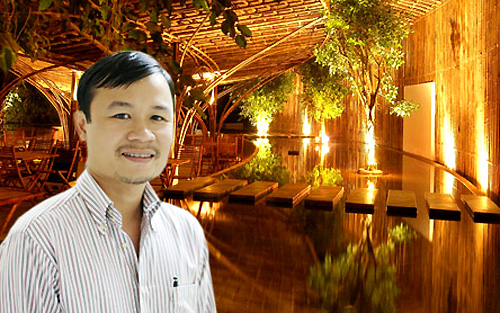 Architect Vo Trong Nghia.
Since Nghia won the 2007 International Architecture Award (IAA) for his bamboo-made water and wind café in the southern province of Binh Duong, he has received around 30 international architecture awards. Among them are two gold medals of the Asian Architects' Association, five International Architecture Awards (US), four Green Good Design awards (US), two Asia FuturArc Green Leadership Award, etc. So far this year, he has won seven international prizes.

Nghia was born in 1976 in a peasant family in the central province of Quang Binh. Graduating from the Hanoi Architecture University, he got a scholarship of the Japanese government in 1996 to study architecture at the Nagoya Technology Institute. He was the first laurette of the architecture faculty in 2002.

During his four years at Nagoya University, Nghia only attended class for the lessons that he thought of being useful for him.
"I don't like trite and hollow knowledge. I only study what I like, so I used to go to libraries or famous architecture offices in Japan to work for free. In Japan, students are allowed to be free but they have to take responsibility for their acts," Nghia said.

In 2004, Nghia won the Furuichi Award of the Tokyo University for his outstanding MA thesis. One year later, he was presented the Dean of The University of Tokyo Award for his PhD research work.

Nghia wrote his MA thesis at the University of Tokyo for only the last three months of his 2-year MA course. During these years, he was keen on designing a five-storey wood-made house but finally, he chose the thesis on aerodynamics, wind and water. This is the "formula" for his success in the future.

Nghia did not finish his PhD thesis to return to Vietnam, at the advice of his instructor, Prof. Hiroshi Naito, to seek "failure."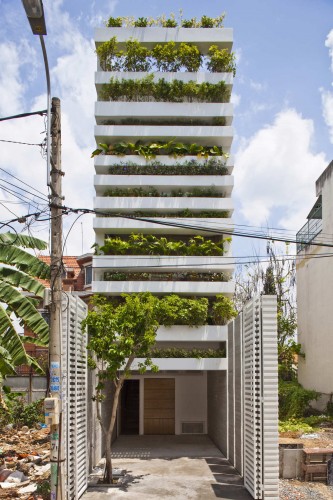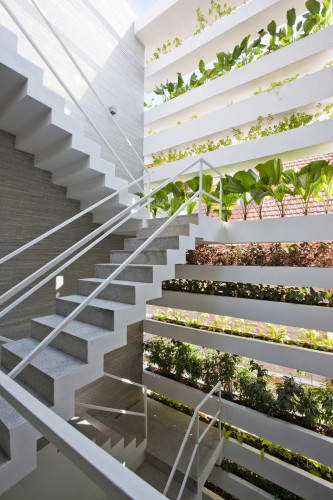 "Stracking Green" house in HCM City
.
Nghia was grateful to his Japanese professor, who taught him a lot of knowledge, which sometimes made him weary. He studied architecture but Prof. Hiroshi Naito taught him knowledge about materials, structure, landscape panorama and aerodynamics. He followed him to international architecture contests to understand how to prepare perfect files to pass strict criteria of international competitions.

Returning to Vietnam in 2007, he designed the water and wind café in Binh Duong province. This work uses wind and water as natural air conditioners. This bamboo-made work has been known widely at home and abroad. Nghia won several international prizes for this design.
However, easy and early success was accompanied with problems. Nghia faced a lot of difficulties when he started business in Vietnam, because of his peculiar personality. Two years after he opened his own company, he did not have any client. Young architects did not want to work for a boss like him.

Nghia did not have connection with the local community of architects. He did not have feedback against others' comments on his works. He quietly learnt from the comments and did what he thought to be right. Thus, he seemed to be an "outsider." As an outsider, he exerted effort to prove his talent through winning international prizes.

Nghia said he had tried his best to have Vietnamese architectural works be known in the world. "I'm a Vietnamese and I wish to devote myself to Vietnam," he explained about his determination to come back to Vietnam after ten years living in Japan and refusing many attractive offers.

Nghia has trained and "driven away" many talented architects, who have been successful in their career after leaving Nghia's company. He has earned a lot of money from architecture but he has also invested highly in architecture.

Nghia has invited many foreign architects to Vietnam to work with his young architects, in order to train young talented architects.

Nghia said that young Vietnamese architects are good but they do not have many chances to meet with their foreign colleagues. They also lack experience. They can draw very nice works but the real works are not as nice as drawings.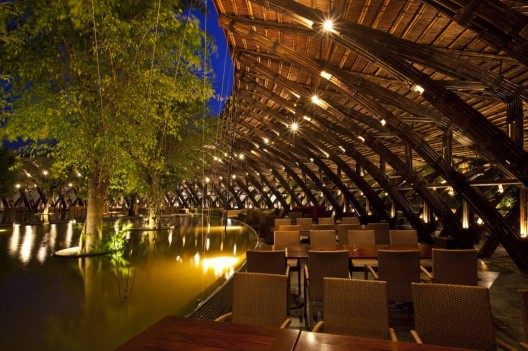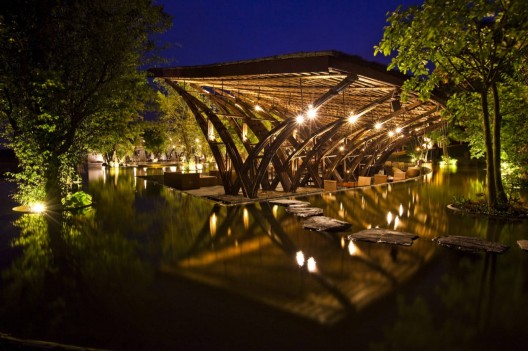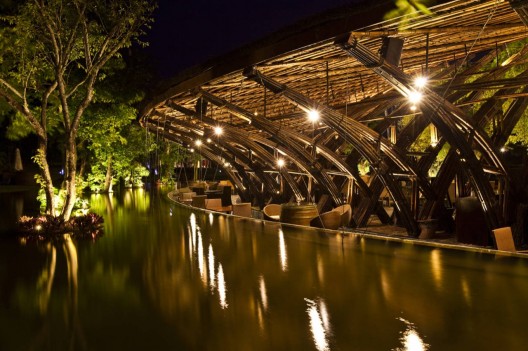 Bamboo Wing

Nghia's first international accredited work was made from bamboo and he continued designing other works with bamboo. However, they are very different from each other. He wished one day, Vietnam's bamboo architecture would predominate the world.

At present, he does not want to talk about bamboo. He is pursuing environmentally friendly architectural works or green construction works. A house in HCM City, named "Stacking Green," the Phan Chau Trinh School in Binh Duong or the Pouchen Kindergaten in Dong Nai are tests for the new trend. These works, using many trees and aerodynamic principles related to wind, water and light, won international awards.

Nghia is making low-cost energy-saving houses, which are suitable to Vietnam's climate and to the income of most Vietnamese. These houses are 40sq.m, costing from VND320 to VND 480 million/house ($16,000-24,000).

Nghia said beautiful works can be cheap works. Though they are big or small, each architectural work must convey a new message and idea and be appropriate to everyone.

Nghia's goal in the near future is having his architectural works in the world leading books on architecture.

Nghia works for his passion and his passion is unlimited. He can work from 12 to 15 hours a day. He goes to bed early but he also gets up early to practice Zen meditation, to go swimming and then go to work for the whole day. He devotes his entire energy to work and creativeness.

"The success must be built from the courage to break down the past success to achieve new success," Nghia said.

He compared himself as a gamer: "At work, I imagine myself as a gamer. Whenever I reach a level, I want to reach a higher, more difficult level."

Impressive designs by Vo Trong Nghia:
The water and wind café in Binh Duong, which brought about the first international prize to Nghia.

After this work, a water and wind bar was also built in Binh Duong. It won many international awards.

Bamboo Wings at the Dai Lai Flamingo Resort in Hanoi.

Vietnam's pavilion at the Shanghai Expo.

A pipe-shaped house in Gia Lai.

"Stracking Green" house in HCM City, which also won many awards.

Phan Chu Trinh School in BinhDuong.
Translated by T. Van