VietNamNet Bridge – Facebook Chief Operating Officer (COO) Sheryl Sandberg said that the barrier for female leaders is everywhere, while VietJet Air Chief Executive Officer (CEO) - billionaire Nguyen Thi Phuong Thao said that in her corporation, female leaders are highly respected and given every opportunity to unlimited promotion.
The COO of Facebook and the CEO of Vietjet Air were two of the famous speakers invited to the APEC CEO Summit 2017 held at the Ariyana Conference Center in Danang from November 8-10. The two business women attracted the attention of the media as well as APEC delegates in two sessions with two different topics. The CEO of Vietjet talked about the trend of connection for development while Facebook COO Sheryl Sandberg talked about technology and connection. But both of them attracted special attention of thousands of attendees when they discussed the story of women rights and empowering women.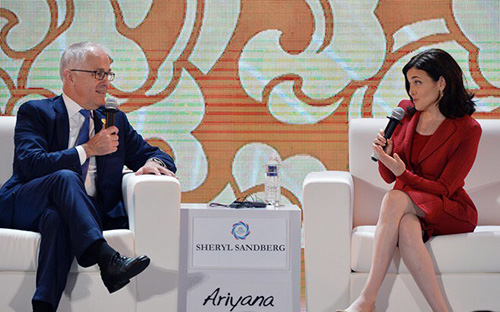 Facebook COO Sheryl Sandberg speaking at APEC 2017
In a glamorous red dress, the Facebook COO said that in almost every corner of the world, although women's education levels are rising, men still hold the majority of leadership roles. Barriers to female leaders are everywhere. Even in the family, women's leadership is not respected. "I am always interested in the development and empowerment of women, gender equality. I want to ask what will happen if we also have female leaders in our family - that's the leadership element that I want to emphasize." The COO of Facebook also said: "Do not call female leaders bossy. Next time if someone tells you like that, you should tell him that you are able to lead, not boss," she said.

The female CEO of the aviation industry of Vietnam and the world, Nguyen Thi Phuong Thao appeared elegant in a black velvet Ao Dai (Vietnamese traditional gown). She said that in her company, women are always given priority and empowered.

At the session about connectivity for development, referring to the working model and environment at Vietjet, Thao revealed that VietJet has a feminist-emphasized working environment where women are helped to work and develop themselves.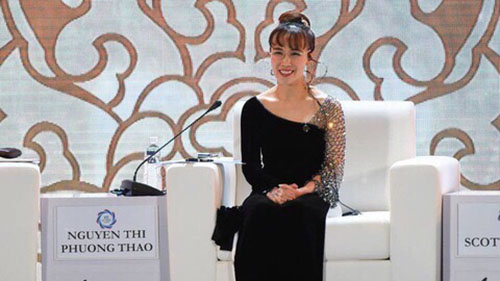 Nguyen Thi Phuong Thao, CEO of Vietjet speaking at the APEC CEO Summit 2017
"Assuming that when my company chooses a manager or sends an employee to a training course, between a male and a female employee of the same level, the female employee will be selected," the billionaire said. 

She also called for thousands of representatives and leaders who attended the session to not only speak but enforce specific policies for feminism in their own organizations. Vietjet CEO's speech received the endless applause of thousands of attendants.

This is not the first time the CEO of Vietjet expressed a strong opinion on the issue of feminism. When she was named a billionaire by Forbes, the female CEO said that female characteristics affected her work. For example, Vietjet does not have fierce competition with competitors, does not take customers of other airlines but it creates its own passengers - those who previously did not have conditions to have access to aviation services as it is too expensive.

She also applied the standards of corporate governance, academic knowledge, and human resources management in line with international standards in a very female way. This helped Vietjet change the growth model without difficulty as other airlines in the same segment. Specifically, Vietjet CEO said that the firm will connect to the global airline network through cooperation with other airlines, towards the model of consumer airlines, which is completely different with the traditional LCC model. This model aims to serve all consumer needs, combining e-commerce and consumer goods retail and logistics systems.

"Unlike traditional LCCs, Viejet is invested up to international standards, a member of the International Aviation Transport Association, so it is fully qualified to connect with all of the world's leading airlines. Vietjet can be found in any market. In addition, Vietjet is leading the trend of digitization and automation inthe 4th Industrial Revolution - this is key to the goal of connecting growth, "she said.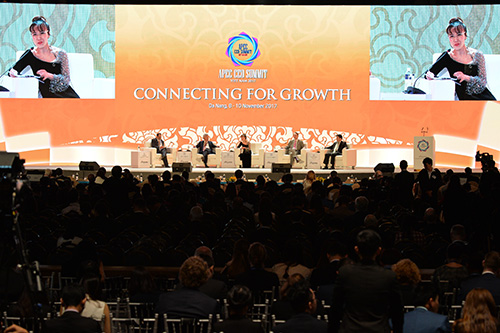 This female CEO "shocked" the public when bringing Bikini shows on board of Vietjet Air with the "hidden message" of removal and distinction, respecting each other's freedom instead of pursuing rigid stereotypes. The act of celebrating women and freedom through Bikini outfits on airplanes led to the airline's nickname as Bikini Air.

The male partners as well as co-workers of Thao often expressed their admiration for the CEO's working efforts. The staff considers her a model of female leader who leads others with love and encouragement, who once reminded her employees "let's fight in the market with the highest willingness and honesty." Not only in business, with the philosophy of "honest business", besides looking for profit, the better goal is to create values, especially new values for the community and to do charity work. Thao regularly participates in charity activities and she encouraged her employees to participate in them as part of corporate life.

Thao is also known as a multi-talented, feminine woman who loves family life.

Facebook's most powerful woman, Sheryl Sandberg, at the APEC CEO Summit, said that when investing in women, we are investing in the family.

The Facebook COO also noted that men are more likely than women to work in the tech field. Very few women pursue this field and fewer women study areas like computer science.

"Right in the Silicon Valley, I sent my seven-year-old daughter to a computer-skills class, and there were only four girls in the 30-member class. When class members experience games, all of them were offered driving games and there were no games for girls," she said.

Removing this gap is not only important for the information technology sector but also for the society. During her days at APEC 2017 in Da Nang, Sandberg was confident and dynamic.

Facebook COO - billionaire Sheryl Sandberg, born in 1969, is also known for being a "fighter for feminist". Sheryl Sandberg's special position at Facebook has helped her stand as the world's sixth most powerful female entrepreneur.

Xuan Thach