VietNamNet Bridge - "For the first time, the role of micro, small and medium enterprises in the economy has become a content considered at the APEC CEO Summit 2017," said Vu Tien Loc, Chairman of VCCI and APEC CEO Summit.
Advantages in the new context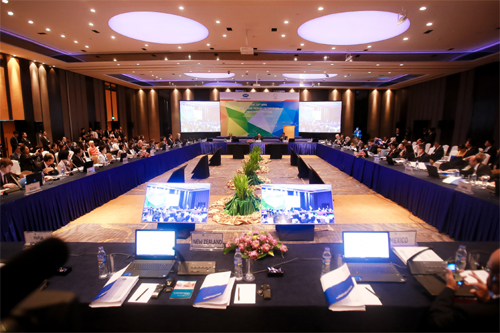 "Emphasis on micro-enterprises meets both the requirements of inclusive growth and reflects the advantage of microenterprises in the new context," said Vu Tien Loc.
Today, micro, small and medium enterprises account for about 79 percent of all businesses in Asia-Pacific. Policymakers and economists say that the APEC Year 2017 is an opportunity for Vietnamese micro, small and medium enterprises to learn from experience, promote their images and build business partnerships with the world's leading firms.
2017 is a very important year for Vietnamese businesses. Accordingly, the Government, ministries and sectors continue to focus on enterprises by continuing to implement Resolution 35 on business support and development to 2020 and Resolution 19 on continuing to perform tasks, major solutions to improve the business environment, enhance national competitiveness in 2017 and the vision to 2020.
Vietnam hosts APEC Year 2017 with many meetings, conferences, seminars, dialogues ..., which discuss many important issues including how to develop micro, small and medium enterprises in the digital era. This is an important link, and also an initiative of Vietnam to contribute to the development of micro, small and medium enterprises.
According to Dr. Can Van Luc, member of the Vietnam Committee for Pacific Economic Cooperation, when Vietnam is the host of APEC 2017, Vietnamese enterprises in general, especially small and medium enterprises will enjoy many benefits. This is the opportunity for businesses in APEC to learn, share with each other and conduct research, join the supply chain and value chain of the region. 
This is also an opportunity to promote the image of the country, people of Vietnam as well as products and services of Vietnamese enterprises. Finally, it is the opportunity to connect, and create relationships with partners, customers and management agencies in the future.
Taking advantage of APEC support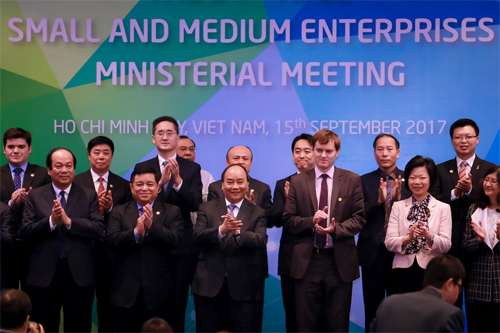 The 24th Ministerial SME Meeting.
Supporting businesses is one of the three main pillars of APEC. Vietnamese businesses can use programs to boost their business and investments such as: the Boracay Action Program to support micro, small and medium enterprises to participate in the global market; and the APEC Business Travel Card (valid for entry visa with multiple entry validity in 5 years).
In addition, APEC has a number of corporate training programs in specific areas such as safety regulations on temperature sensitive exports (agricultural products, pharmaceuticals ...), introduction of new logistics services to monitor and ensure the integrity of the goods, financial security of the supply chain ...
APEC is the leading forum for the formation of diversified and dynamic cooperation mechanisms to facilitate the participation of enterprises. Vietnamese businesses can participate in, and address issues of concern through the following:
APEC Business Summit: The conference will be held on the occasion of the APEC Summit. This is an opportunity for Vietnamese businesses to meet, discuss and recommend directly to economic leaders as well as APEC ministers.
The dialogue between APEC economic leaders and members of the APEC Business Advisory Council (ABAC): Vietnamese businesses can raise their concerns to APEC economic leaders through ABAC representatives of Vietnam.
APEC Business Advisory Council: This is one of the important mechanisms to propose ideas and initiatives of enterprises in APEC policy making. Vietnam has three full members, three alternate members in ABAC.
Public - Private Dialogue between APEC Working Groups and Enterprises: Vietnamese enterprises can participate in public-private dialogues on food security, women and economics, small and medium enterprises, human resources, finance ...
The opportunities are huge. The other problem is that the Vietnamese business community needs to prepare and do something to improve their competitiveness and seize the opportunities offered by APEC.
Minh Tam