VietNamNet introduces the second part of the talk "Integration and Development". This has been a hot topic in recent times as a number of Free Trade Agreements (FTAs) that Vietnam has signed with many countries are about to take effect. 
Our guests today are Mr. Nguyen Lien Phuong, Director of the LP Entrepreneur Institute, Prof. PhD Nguyen Quang Thai, Vice President of the Vietnam Economics Association and Dr. Tran Dinh Thien, Director of the Vietnam Economics Institute.
Part 1: The last chance for Vietnam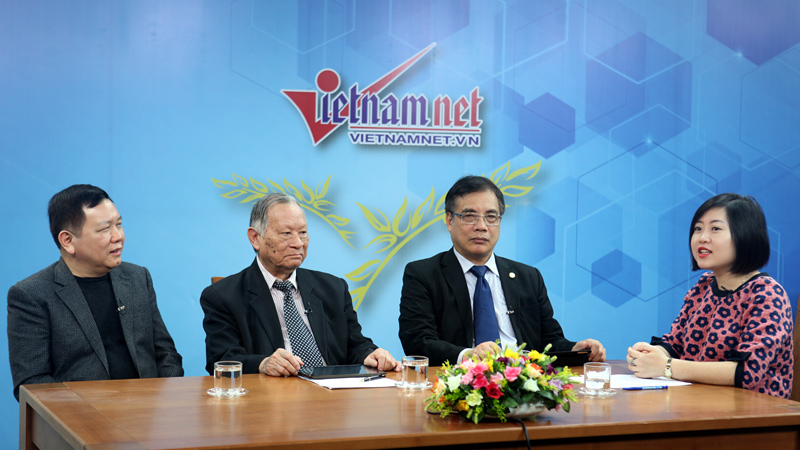 From the left: Mr. Nguyen Lien Phuong, Prof. Nguyen Quang Thai and Dr. Tran Dinh Thien
VietNamNet: Everybody sees that it is time to change the model of development of Vietnam. After all, concentrating our elite to discuss, to find out a new model of development is firstly the task of the country's leaders and elite, is that right? The people who are here today are also among Vietnam's elite. I would like to ask you: do you think that this is the right time to discuss this issue or not, as the deadline is very short?
Nguyen Lien Phuong: While we are adjusting in order to put the abnormalities into the normal roadmap, many people think that it is enough for our development. That is improper thought because others do such normal things and they even do it better than us. 
For example, for customs procedures, tax procedures, business registration procedures, all of the business barriers that we are trying to remove but what we have achieved is just equal to what other countries in the region have done. It is only necessary conditions, which is not enough for development. 
This is another example: some suggest to strongly invest in education and I would like to say that if there is a strong investment in education – of course investment in education is very necessary – but if that strong investment in education does not support Vietnam's growth model and its own strength, but only provides better human resources for multinational corporations – is it enough?
Once Deputy PM Nguyen Thien Nhan said that: If all our universities reach world-class, then our businesses, our economy cannot absorb that human resources, because the level of development of our enterprises is very low. 
As the two sides are not at the same level, the high-class human resources will run to the enterprises of high class or FDI enterprises. Thus, they will work as hired employees for foreign-invested enterprises. 
But sometimes we think mistakenly that if we achieve that level of education, we will develop. 
It is similar as one who comes to a poor family and tells them to clean up their home, to send their children to school ... then everything will change. It's not wrong, but it takes a very long time and it is not a right thought for development.
VietNamNet: So we need a new model of development but it seems to be still very vague?
Nguyen Lien Phuong: Now our problem is how to not lag behind others. But to catch up with and walk abreast with them, the first thing we must do is to find a new model of development. 
To discuss the new model, we have proposed a principle, which has been shared with students at our LP Entrepreneur Institute:there is only one formula to be able to fairly play with the world – it is bring into full play the quintessence of Vietnam and set it up on an international level. 
Until now we have chosen the things that are not our essence, not our advantage to develop. I take an example here: Vietnam always dreams to develop science and technology. 
I assure you that we can never do it. Vietnamese have no strengths in research. We know that science and technology comes from the West. Why Europe and the United States can develop science and technology at high level? It is because their culture is voluntarism, logical. 
Why can Northeast Asia develop science and technology? It is because their culture is voluntarism and they did not accept to be inferior. They know how to pass the samurai sword to rise, to learn from the West and grow.
Our culture is sensationalism i.e. everything is in the head – from patriotism to hatred against the enemy. 
What we think inside the head is different from what we show on our faces. Sensationalism goes along with arbitrariness, easiness, and easy satisfaction. We are easily satisfied with what we have achieved.
This culture is not suitable for developing science and technology. It is a sad fact that the real achievement of Vietnamese in the field of science and technology in the last 30 years is very poor. 
Sometimes we applauded the things that are new in Vietnam but they were done by others many years ago. We innovate just a spoke, but we think that we create something great. We should not misuse this.
Now look at the truth. We should stop dreaming that we can produce software to control the world. 
It is impossible because our leading IT firms are still processing software for foreign partners and they have to try their best to have software processing contracts. We must be very clear about it.
In theory, that choice is very interesting because Vietnamese people are good at math so we can invest in information technology, can write software for the world. There are some young Vietnamese who can write computer games so we thought that Vietnam might become a great power. That is wrong thought. 
From the weak power of science and technology, it leads us to the wish of conducting industrialization. The industrialization requires high technology, so we continue to go a wrong way and such choices result in improper research and we waste a lot of resources on it.
Prof. Nguyen Quang Thai: In the past 10 years, experts and scientists advised Vietnamese leaders to innovate the growth model, and it was included in resolutions. 
The people also supported it as they realized that the things and the way we have been doing so far is not effective and we need to change. But what is the purpose of renovation? 
It is to increase the competitiveness of Vietnam, of Vietnamese enterprises, of Vietnamese products, so that Vietnamese goods can enter the local and international market. Thus the increase of the national competitiveness consists of three levels.
The first level that we have seen so far is that we only invest some capital, some labor or some sci-tech and skills into the input. But let's say that we have a low-level input. For example, we devote some more farm land for rice cultivation and see it as the measure to raise rice output. 
It is so simple. We do not think of the use of new seeds and techniques to increase the rice output, which is much better than the expanding of the land area for rice growing. That way of thinking comes from our culture.
Regarding Vietnamese laborers, the world praises Vietnam's golden population but this will exist for just 5 to 10 years while up to 50% of the population are not professionally trained yet and up to 80% of Vietnamese workers have not been vocationally trained. With such human resources how can we adapt to the modern technology and lead the world.
Our team is involved in the development of the Vietnam 2035 Report, which predicts that in the next 20 years, Vietnam will have less than Malaysia's current development, or at the best Vietnam might reach the development level of South Korea in the early 21st century.
According to the latest report, which is the most optimistic report of the Asian Development Bank (ADB), by the middle of this century, Vietnam will be almost equal to the world average, i.e. in the best condition Vietnam might reach that level of development. 
So, the way of development of Vietnam will be very harsh. We need special measures to make breakthroughs; otherwise, according to recent forecasts, the situation is not optimistic. 
The goal of 7% of GDP growth appears to be so optimistic. I think part of this slow movement comes from the imbalance between the operation of the state apparatus and the fact. 
Perhaps we should strengthen propaganda and explanations about this, as Mr. Thien said that we have to learn and have to pay the price.
According to reports and surveys by international organizations, it seems that even though we are trying our best, we will still lag behind others, i.e. 20 years later, our development will be only equal to that of Malaysia today, while 20 years from now, Malaysia will not stay still as it is today. So the situation is not optimistic at all.
Nguyen Lien Phuong: We do not highly appreciate these reports and surveys. We are businessmen and we look the other way. That is still the view of the outsider or of the people who are not involved in the game. 
In the game, there are different ways of operation and it is the most important to choose the best way. 
There are always ways to get out, otherwise we will never have 30-year-old billionaires, because they must accumulate wealth but in fact we have a lot of independent young billionaires who got rich by themselves, not by inheriting assets of their families. Zuckerberg is only 31 years old but he is the fourth richest man in the world.
We can change the institution. Our leaders talk a lot about it. Our institutions are going to change. 
Here we have to assume a game where every participant in the game has to default that we have the capacity to change, otherwise we are nailed to the reports and surveys of the Western organizations and our destiny is arranged in a roadmap like that. 
We want to discuss another story; otherwise it will continue in the old way with seminars that are held constantly, and it is like the last period.
VietNamNet: Let's look at the miracles of Japan or Korea. At that time, according to all the usual calculations no one could have thought that Japan and South Korea would develop like this but they took advantage of the historical moment, the historical chance to develop. 
So I think Mr. Phuong's opinion is very reasonable and we should not be pessimistic. 
Actually, the story of 20 or 30 years has such historic moments. In the end, are we going to take advantage of that?
Dr. Tran Dinh Thien: It is difficult to talk about the concept of time or the transition of era. I would like to contribute to the discussion this idea. 
Earlier I said that Vietnam changed the structure very slowly; our economic structure is still at low class, even after 30 years of renovation. 
It means that after 30 years we have not changed the level, while we have been focusing on speed. The speed is high but the level does not change. 
This problem leads to two circumstances. Economically, professor Thai should know it clearly that if we keep growing but our level is not upgraded, we will face a limit. 
Our economy has been difficult for years, because of the limit: our resources have been exhausted and our low labor cost is no longer an advantage. 
The cost of technology is now even lower than the labor cost. We have reached the limit of growth.
Our growth rate is called high, but it is high for ourselves. Vietnam's annual growth rate is 7%, but that 7% percent is compared to Vietnam's growth only. 
Singapore's annual growth is only 2%, but how much it is 2% of Singapore? 
For example, Singapore's per capita income is $60,000 per person a year so 2% of Singapore is $6,000. How about Vietnam? Vietnam's per capita GDP is $2,000 only, so 7% is just $140. 
Our growth rate is higher than Singapore's but the net income is much lower than Singapore's. That's the gap of the development level.
The development level of Singapore is different. Previously, Singapore was also poor like Vietnam, but they made a breakthrough in development. They not only grew in terms of GDP but grew in terms of development level, too. 
If an aunt grows normally, it is still an aunt, it cannot transform into a rabbit. Then, the matter here is that we do not deny the important role of the speed of growth, but going with the pace of the age is a change of structure and change of development level. Vietnam now has to think about this.
VietNamNet