Today VietNamNet holds the talk "Integration and Development". This has been a hot topic in recent times as a number of Free Trade Agreements (FTAs) that Vietnam has signed with many countries are about to take effect. 
The guests today are Mr. Nguyen Lien Phuong, Director of the LP Entrepreneur Institute, Prof. PhD Nguyen Quang Thai, Vice President of the Vietnam Economics Association and Dr. Tran Dinh Thien, Director of the Vietnam Economics Institute.
VietNamNet: Our story today will start with a rather interesting event that happened recently: a week or two agothe Party Secretary of Ho Chi Minh City Dinh La Thang spoke to the farmers of Cu Chi district. The farmers raise dairy cows but they could not sell milk. Later, Thang held a dialogue with the CEO of Vinamilk, Ms. Mai Kieu Lien. At that talk, Lien said that when Vietnam enters the Trans-Pacific Partnership (TPP), two years later the price of milk would be only VND8,000-VND9,000 per 1 liter. At present Vinamilk still buys it for VND13,000 per liter. With the current situation of dairy cow breeders, the future will be very harsh. The business could be wiped out without changes. What does this story mean to you in the current context when Vietnam is eager to join a series of free trade agreements?
Nguyen Lien Phuong: I think the story of the dairy industry also represents the story of all economic sectors of Vietnam. We face the risk that many industries and service sectors can be wiped out. At present, our retail sector has nearly been taken over.
In the game of integration with these agreements of new generations, Vietnam is one of the weakest players and we are almost helpless in the next few years. But this is a chance rather than a risk since this is the time when we have passed 30 years of renovation, opening up and international integration, we have to find a new path of development, a new development model for Vietnam and this is a great opportunity.
Prof. Dr. Nguyen Quang Thai: In my opinion, the story about dairy cow breeders in Cu Chi shows that in our economy today, there are a lot of pressing issues, which may occur due to a lack of alignment and interaction. But there is another issue revealed through the talk between HCM City Party Secretary and Ms. Mai Kieu Lien: integration requires us to accept the challenge. 
Even in this global game, maybe some Vietnamese businesses will fall but the new ones will have to overcome the old generation to meet the requirements of integration. And that is the way to raise Vietnam to new heights. They have to dare to face and overcome challenges. That is, if a difficulty emerges, we have to solve it. We have to create a new way to adapt to the global game. This is a great opportunity for the development of Vietnam.
Dr. Tran Dinh Thien: It is already a big problem when Ms. Mai Kieu Lien just talked about one aspect of the problem, ie price, cost. We think we have advantage of price thanks to low labor cost and the availability of resources. But, in fact, even for labor- and national resources-intensive industries, we are not competitive.
We can look at the simplest aspect of the problem - productivity. Then we see that Vietnam's productivity is extremely low. Our wages are cheap, but in fact, productivity is very low so the costs are very high.
Second, this is the bottom line. After 30 years of renovation and opening the door for integration, let's see how the development level of Vietnam is at present.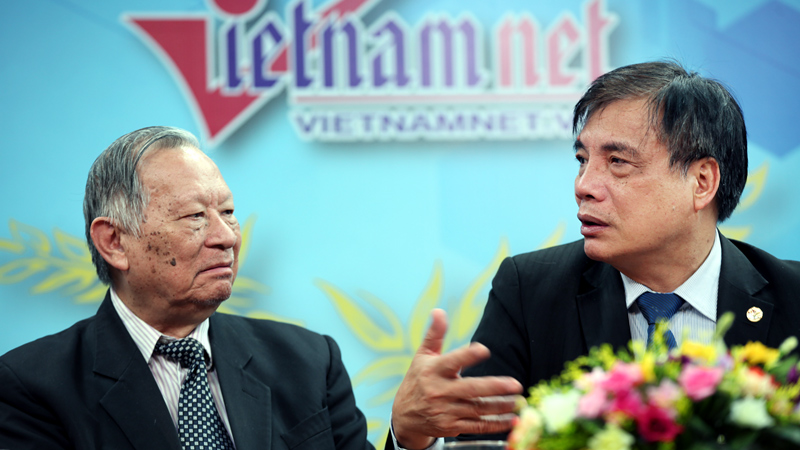 Prof. Nguyen Quang Thai and Dr. Tran Dinh Thien
Now competition is not just for price. I want to say that Vietnam's level is now a problem. Actually, Vietnam's productivity as Professor Thai has just said that for decades, our productivity is still crawling on the ground. Regarding the technology, the development level, they have not changed, too. This is a huge problem. We are now integrating into groups of high levels. The gap between our aspirations, our desires and the way we choose to realize our aspiration is very wide. Here, I think the story about farmers in Cu Chi contains many aspects and we should deal with them.
How does the state think about development and integration? What should the state do to make the actual capacity of Vietnam to be implemented properly?
VietNamNet: From the answers of our guests, I see an issue. All Vietnamese are very enthusiastic about the country's situation, including leaders, who are also impatient with the country's developmental level, with inherent problems of the Vietnamese economy. What is the story behind our eagerness to join free trade agreements – the games of integration at very high level?
The current situation is completely different from the time of about 10 years ago. At that time, we had to struggle to complete negotiations to join the Bilateral Trade Agreement (BTA) with the United States. Also, it took us nearly 10 years of negotiations for the membership to the World Trade Organization (WTO). But now it is easy to join the TPP or many other FTAs. The question is why do we so eagerly want to join these agreements? Is it good when the aspirations are very high, but our current capacity is so low?
Nguyen Lien Phuong: I see here two problems. When Vietnam is boldly engaged in new-generation free trade agreements, at one side it is a concern because Vietnam is now at a very low level of competition. It is similar to the case of a football team of a district that has to play against an international-standard team.
But if you look at the other side, we see that we have to change the team and change the way of playing so that it is able to cope with that elite team. The important thing is that we must have the determination to change the team and dare to make that change. These are two approaches. One way is to lose and the other way is to build a new team like the one of Doan Nguyen Duc and we will play fair. That is the choice of Vietnam in a time that can be said to be historic.
I think that Vietnamese people today, including the leaders and those who are responsible, will have to answer to the people and our heroic tradition that whether we accept to be defeated or we will try to break through.
Professor, Dr. Nguyen Quang Thai: I think this is a process of self-awareness. The process of self-denial is the process to take on a new height so that Vietnam can make its own opportunities and actively create new opportunities and seize opportunities to develop.
Vietnam's participation in these FTAs is to give the country a chance to develop to new heights, which can bring Vietnam to shoulder with the power.
If we only run behind others and try to catch up with them, we will always at the lower level. We have to get over to win. The aspirations of growth must be on the mind of overcoming and defeating oneself, surpassing with the new mind and at the new development level.
Dr. Tran Dinh Thien: The world is now moving forward and there are so many choices, a lot of means. For example: In Vietnam, there are people who ride bicycles, some drive cars and some travel by train.
Vietnam integrates into the world as has many choices, and the world also creates conditions for Vietnam, which may be harder but are more selective. Vietnam will continue to use bikes because Vietnamese used to cycle and because Vietnamese roads are suitable for bikes, or will they use planes for travel?
If we choose to ride a bike, the question is, when will we travel with the world, with the human race? Or maybe we plan to ride a bike now but in the next 10 years we will travel by air. That's the way we play the game.
We do not want to change, to modify it in such a simple way. The first approach must be to change the way the game is played, so that the game can catch up with the world. It is important to change what we are doing and leave it more quickly, not to maintain it.
Once Vietnam has chosen something good to follow, then we try to modify it and that way takes us a long time.
Prof. Nguyen Quang Thai and Mr. Nguyen Lien Phuong.
Recently, Mr. Phuong took a group of small and medium Vietnamese businesses to Dubai to see global integration, high-level integration. Most of them said that it is very good but when they came back to Vietnam, many of them were unable to overcome difficulties. At least a third of them have the desire to play that level of integration.
In Vietnam, as Professor Nguyen Quang Thai said, if we keep accepting the game of following, then we will be unable to go ahead forever. Nowadays our thoughts of going behind is quite clear, while the thought of going ahead do not amount too much. To get ahead, we have to learn from the best.
One of the great successes in terms of strategic thinking is concurrently signing a series of high-level free trade agreements. We are weak but we are still willing to play a big game to escape the game of going behind.
Nguyen Lien Phuong: In modern history, Vietnam had a great opportunity in history when we liberated the South and unified the country, the Vietnamese brand was at that time glittering on a global scale. Later it is reported that up to two-thirds of the heads of state today took to the streets for Vietnam when they were young. The world's leading figures at that time like Jane Fonda ... took to the streets for Vietnam. Unfortunately, we missed the opportunity to turn that value into economic value.
We lost that chance and after so many years we can do it again. I think this is the next opportunity and there will be no chance anymore, since this is the final opening. This time, in the game with powers, we dare to negotiate with them fairly and we dare to integrate into the world and then the world sees Vietnam as a star, as a phenomenon, as the sprit of a heroic people. The matter is how to turn it into economic value. The Vietnamese brand is very beautiful in the eyes of the international community. We have a modern market. And now they like us.
Let's take an example: Two weeks ago Mr. Thien joined us to take part in the world's largest food and beverage fair in Dubai. After three years since we organized the Vietnam national pavilion here, this year I invited many officials, reporters and experts to Dubai for survey.
There was a phenomenon that our guests witnessed: the booth of Vietnam with 24 small businesses but it was extremely attractive. The booth was always crowded, which showed the attraction of Vietnam. Vietnamese businesses had to work until the last minute, when the fair closed. Meanwhile, the pavilion of Thailand was much bigger than ours, but the number of visitors was modest. China's booth was very large, but it was quiet.
With more than 80,000 visitors coming to the fair in five days, a Vietnamese firm – the Hanoi Kinh Bac Company - received up to 2,000 visitors. This is a branding game and it's not really the appeal of goods because the level of our goods is really low. The first attraction here is the name "Vietnam". If we understand that value, then we will see tremendous opportunities. The matter here is how to transform it. If this time we let it pass away, it is probably that we will never have such a chance to let the world talk about us, pay attention to us.
VietNamNet: Several decades ago, when Vietnam started renovation, international friends, experts and leaders were very excited about the Vietnam phenomenon. There was also prediction that Vietnam would take about 20 years to transform into a dragon, a tiger, a phenomenon similar to Singapore or South Korea. And now we also have such an invaluable opportunity and perhaps it is the last chance as Mr. Phuong said. The name "Vietnam" shines brightly and many international friends look forward to see Vietnam's development.
But I want to ask the guests this question: Why is there such an opportunity, and our aspirations are so great, and in history the opportunity has come to us many times like that. What happened in that process so that after 5 years, 10 years we look back and we see that we lost precious moments to get what we want?
Nguyen Lien Phuong: At the LPI Entrepreneur Institute, I shared with businessmen a method of development. That is: "wise choice, intelligent approach." There are only two kinds of people in this world. One type is wise and intelligent. And the second type is to work for smart and wise people.
In the past 30 years, looking back at our choices, we have to say that we are not smart enough. Our economy is like a jackfruit. It has too many spikes and we do not know which one is the main. At this time we choose this, at that time we choose the other. At first we chose electronics, we dream of an electronic industry dream. Then we chose the car, next software, then shipbuilding ... In short we choose so many things.
As Dr. Nguyen Dinh Cung said: we have up to 64 economies, including 63 local economies and one central economy. The way we operated the economy over the last 30 years has diminished our resources, because we do not have a strategy, a model or or a good plan. I hope that in this new opportunity, the most important thing that the government must do is to carefully discuss the development model. The current task of correcting the defects of the economy and social life is just bringing abnormality back to normal. To escape from the normal model, you must have a strategy.
Dr. Tran Dinh Thien: The question of why the opportunity passed is a very good question. Perhaps a part of our thinking is that we just enjoy the opportunity. The nature of the game of development is that you have to give up something to get what you want. In Vietnam, we see the opportunity and we think that it is easy to get it. 
This argument means that if you want to overcome the challenge or enjoy the opportunity, you must prepare the conditions, prepare the capacity. And the preparation must be at the same level with the opportunity. So the approach here must be the principle of vision, to make everything from instability back to normal, to bring normal society forward.
I think in the next five years we must solve two things: To normalize a healthy society on which we start a new development model. All elites must focus on this model to integrate into the world with a decent stance.
VietNamNet