VietNamNet Bridge – "Our people are hard-working but we lack creativity," former Deputy Prime Minister Vu Khoan said, expressing his concern about the adaptability of Vietnamese workers in the digital age. 
Chairman of FPT Software: "I do not need a degree"

On the occasion of the 2nd APEC Senior Officials Meeting (SOM 2) held recently in Hanoi, VietNamNet co-operated with the World and Vietnam newspaper to organize the online roundtable talks with the theme "Human Resources in the Digital Age: Challenges in Vietnam" in order to provide a multi-dimensional perspective on this issue. This is also a major topic for high-level policy dialogue within the framework of SOM 2.
The talks were broadcast live at 10am on May 23, 2017, and streamed live via fanpage Vietnamnet.vn with the participation of four guests.
- Mr. Vu Khoan, Former Deputy Prime Minister
- Dr. Dao Quang Vinh, Director of the Institute of Labor Science and Social Affairs, Ministry of Labor, War Invalids and Social Affairs
- Ass. Prof., Dr. Huynh Quyet Thang, Vice Rector of the Hanoi University of Technology.
- Mr. Hoang Nam Tien, Chairman of FPT Software 
In part 1 of the roundtable talks, participants discussed mass unemployment due to the impact of the industrial revolution 4.0. Meanwhile, demand for human resources in new occupations is 2-4 times higher than training capacity. 
Chairman of FPT Software, Mr. Hoang Nam Tien affirmed the recruitment concept: "a degree does not matter if you can do the job." This view wassupported by other guests, as the overemphasis on a degree is a barrier to human development of Vietnam in the digital era.
In part 2, degrees and qualifications continued to be discussed, but more importantly, it was mentioned that each Vietnamese worker needs to change his certain traits of character to adapt to the new era.
This is the second part of the talks.
Former Deputy Prime Minister Vu Khoan: APEC brings together 21 economies, many of which are advanced in science and technology such as Japan, the United States, South Korea, China, and Taiwan. They made their own inventions and trained their workers, yet they still lack enough human resources.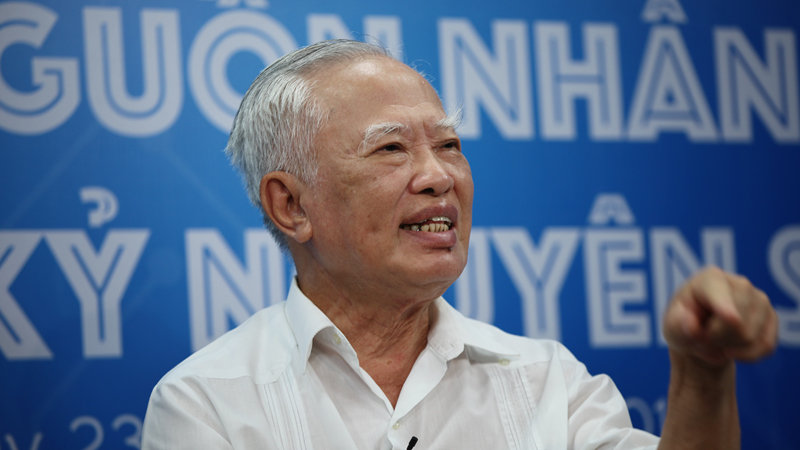 Former Deputy PM Vu Khoan
So we stand before a new challenge. The developed countries have such needs for human resources, so the gray matter that Vietnam trains flow outside. In addition, Vietnam has opened its door to foreign workers, so workers from these developed countries also "occupy" part of the employment of workers in the country.
Here, there is a problem that I think we have not mentioned yet. We are referring to users (using digital technology), there are two other types of subjects that we have not discussed yet. If this problem is not resolved, it will not be possible to change the situation of human resource challenges in the digital age.
That is the group of subjects working in our machinery sector. No one has even talked about re-training them. If they are not re-trained, they will not be able to adapt to this new situation. Even the workers in factories now have reached a certain level and they can use many advanced things. Our cheap labor advantage is no longer good because high quality labor is the top requirement. The re-training of this group has not been resolved yet.
The second group, I'm very worried about. That is the number of surplus employees, the number of workers who may be unemployed (because of the replacement of machines and robots). How can we retrain them? How can we help them to cope with the issue? I find that this problem has not been discussed well.
I think this topic should be expanded.
Also, another big thing is the coverage of policy. How should the education policy, production structure be? What is the policy for workers? These are national level issues.
I think other countries use policies to solve this problem. They change the education policy very quickly to meet the facts in time, while we keep discussing it over and over agin and we are still very awkward.
It is within the framework of multilateral cooperation, as in APEC, the policy cooperation is varied.
Journalist Pham Huyen: There is another issue: within APEC, what is the role of the more developed economies in promoting and helping the less developed economies to narrow the gap of development between them?
Former Deputy Prime Minister Vu Khoan: Within the framework of multilateral organizations such as ASEAN, APEC or other organizations, the idea of helping each other and working together to narrow the gap is always put forward. The idea has also formed formal agreements, but the implementation is based on bilateral cooperation. Because these organizations are not aspecific entity to do specific things, they only set frameworks, directions and principles. 
In APEC, our country also has cooperation programs with more developed countries.
For example, when working with the United States, we have Fulbright University. The US has also helped train our students and so far there are about 16,000 to 17,000 Vietnamese students trained under these cooperation programs. This number is not low.
Or, as in cooperation with Japan, Japan has opened a Japanese university in Vietnam. On the one hand, they help us in the training of our human resources but that is also helping themselves, serving their needs. For example, they train health care workers in Vietnam, which also meet the needs in Japan with the aging population. Bilateral cooperation is reciprocal.
In addition, we also have training programs with Russia in Vietnam, then with South Korea ... So, Vietnam and other countries have a lot of policy cooperation in the field of training in particular and the field of digital technology in general.
However, the results are moderate and still far away from the real demand.If Vietnam does not raise the level of universities, a brain drain will occur as our students study abroad and then stay there to work. Without a comprehensive policy and approach, we will be very confused and the gap will be longer. This time, we will lag behind in terms of quality, not in terms of quantity.
Journalist Pham Huyen: Mr. Dao Quang Vinh, from the perspective of the Institute of Labor Science and Social Affairs, what is the responsibility of the Ministry of Labor, Invalids and Social Affairs in this matter? How can we address these bottlenecks in terms of policy?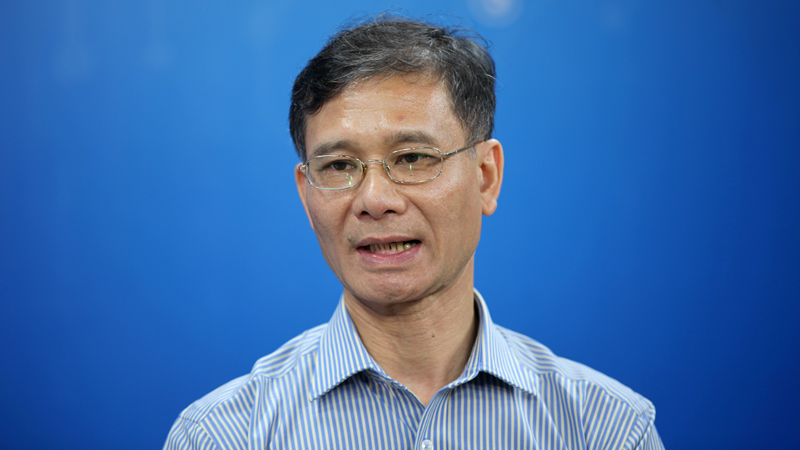 Dr. Dao Quang Vinh
Dr. Dao Quang Vinh: First of all, I would like to mention the cooperation on human resource development in the digital age under the framework of APEC cooperation. The framework consists of 3 important contents. The first is the future of employment and the labor market, which deals with forms of employment, job opportunities and challenges and labor market information.
The second content includes skills of education and training, which sets out the skills requirements in the new era that businesses are in need of, thus posing requirements for the education and training system.
The third is the content that Mr. Vu Khoan has just talked about, that is the content of social security. Countries should have a social security policy to deal with the adverse impact of the 4th Industrial Revolution. More worries about mass unemployment, low-skilled workersreplaced by robots, the problem in the context of aging population, the impact of climate change ... with many impacts occurring at the same time, how should the social security system be designed?
For example, how do we design the social security system, social assistance system, the multi-dimensional poverty reduction policy system and also policy systems to help specific groups that fall into difficult circumstances in the new context ...
More specifically, the social insurance system must redesign for new forms of employment... For example, employment in the shared economy. With Uber and Grab, the problem is that a person is at the same time working for many different companies, so which contract of employment is the foundation to pay social insurance? In the past, traditionally, you worked for only one company, so you pay social insurance based on the contract you signed with that firm, but it is different now.
Regarding training and skill education, it can be seen from recent researchthat general education also needs to be based on practical requirements.
We can see that, first of all technical skills, this problem is clear. But the second skill is the skills of awareness. This issue can not be changed overnight. It is a matter of logical thinking, teamwork, creativity, critical thinking, and the ability to think independently when solving problems. These skills can hardly be provided in the university but they need to be taught to students right from the general school, even from primary school. Many say that one needs only two things - good knowledge and skills of IT and good English - to find a job.
But these things do not suddenly come,so they must be trained ata very early stage. 
So in policy design it is necessary to innovate from general education to professional education. That poses the challenge of changing labor market policies, social security policies ... This content has been discussed within the APEC Framework for Human Resource Development in the Digital Age.
Journalist Pham Huyen: So in the future, in your opinion, how will the structure of employment and characteristics of workers change in the digital era?
Dr. Dao Quang Vinh: I think in the future, the change will happen very quickly. Studies conducted from last year to this year have made different judgments. According to a recent survey, the introduction of new technologies into the textile, footwear, electronics and food processing industries has been very fast. Many robots have replaced many workers. That replacement is no longer a risk.
This poses a series of challenges in training policy formulation. A large number of workers are in need of retraining, such as 30- to 35-year-old workers in garment, footwear, and enterprises, who have very low skills. How should we deal with this group of workers? Obviously, supportive policies such as unemployment insurance and the unemployment fund are not enough. The government should quickly adopt a new policy to support this group of workers.
In our opinion, the matter here is not to deal or to deal with it, but how to deal with it and at which speed.
Journalist Pham Huyen: Dr. Huynh Quyet Thang, what do you think about the role and responsibility of universities in this matter? Can colleges and universities keep up with the fast pace of the Industrial Revolution 4.0 in terms of labor training?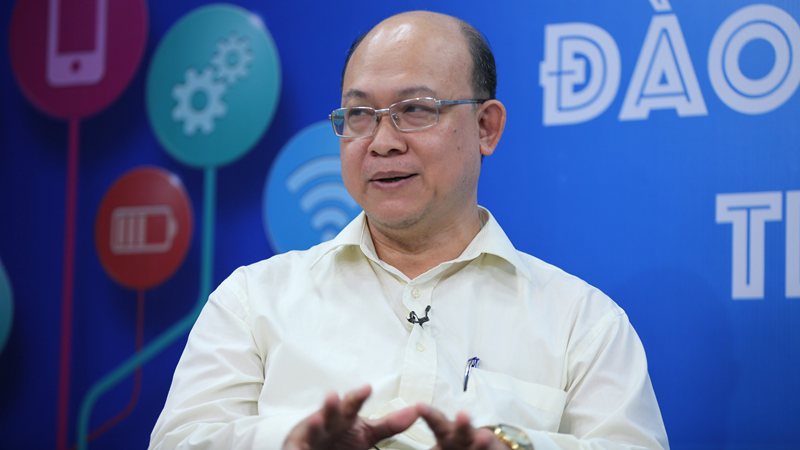 Dr. Huynh Quyet Thang
Dr. Huynh Quyet Thang: The digital era and the industrial revolution 4.0 poses many challenges for universities. I suppose that the digital age is going to redirect some universities in some fields.
Firstly, occupational needs change; secondly, personal skills are important; and thirdly, Vietnamese workers need access to advanced knowledge in the world.
According to our university's cycle, this year is the time to change the training program. We are changing the program in the direction of integration. In it, the most important thing is to change thinking in teaching, learning ... For example, we can use the open learning resources in the world, open courses, and the laboratories that allow students to work late at night, connect to online professors all over the world, creating a learning environment wherever and whenever.
The last thing that is very important is to work in partnership with businesses.
However, from the perspective of our school, we propose a shortcoming, with the government. Nowadays, in society, there are very "hot jobs" selected by many students, with great training needs, but there are also jobs that are important for the national economy but they are less appealing at the present time. TheState needs to have a drastic policy to maintain these training fields.
For example, in the process of innovation and industrialization, mechanical engineering and the material industry are very necessary. The State must have drastic policies to support and promote training and attract people to study these professions. If so, we will be able to fulfill our responsibilities to society, ensuring the supply of engineers for the long-term development of the country. We cannot offer training for the "hot fields" now, but in the next 10-15 years we will lack labor for key industries. That is very dangerous.
Journalist Pham Huyen: Mr. Vu Khoan, it is usually said that Vietnamese people are smart and are fast learners but they have many restrictions compared to the Japanese or Americans in terms of working style. So, in your opinion, how should Vietnamese workers change themselves to be able to enter the new era?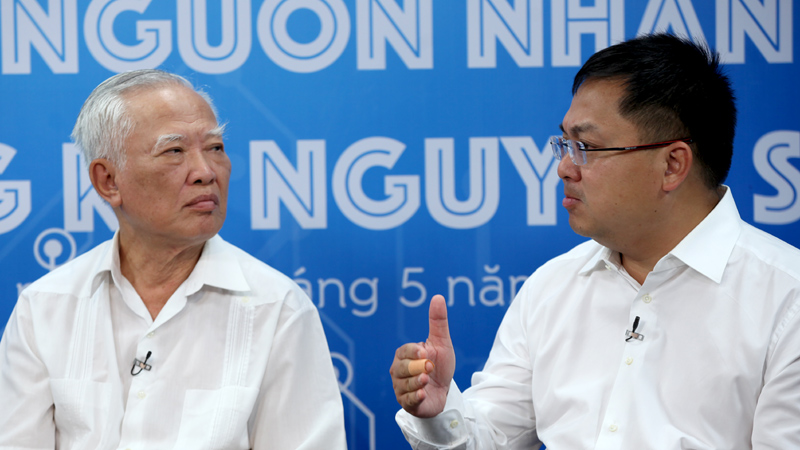 Former Deputy PM Vu Khoan and Mr. Hoang Nam Tien
Former Deputy Prime Minister Vu Khoan: I think the first thing that must be changed is macro-level thinking. We need to fully understand how the characteristics of the current situation in the world affecting our country, and from there make appropriate policy.
Secondly, we need to change the cultural traditions of Vietnamese people about learning. That is the thinking of learning to get a degree, learning to become an official. If this mindset can not be freed, then we will not have workers. Changing the way of thinking of the whole society is very important and it is a long-term task.
So far, the Vietnamese have many cultural strengths but they also have weaknesses like the overemphasis in theory while neglecting practice. Vietnamese are praised for creativity, but it is creativity in repairing, not creating, new things.
We are hard-working but we lack creativity. We often avoid the defects in culture and often emphasize the strengths. If we do not overcome this weakness, how can we be stronger in order to change society?
From that foundation, then we can think of doing specific things such as issues related to universities, businesses and labor. The first is to change management thinking and the last is to change the social psychology.
But I also emphasize that we cannot be rushed. We must implement these tasks very carefully and methodically, from thinking, to policy, to society. In addition, there must be quick adaptations, adaptations right now, because we cannot wait anymore.
In this adaptation, international cooperation is the one that can be utilized. The advantage is that Vietnam has relations and cooperation with many countries, and through cooperation we can raise ourselves and solve our problems. I think that's the thing to do right now.
VietNamNet