VietNamNet Bridge - Vietnamese cuisine is so famous that many well-known chefs in the world have  cookedits famous dishes.
Some of them have visited Vietnam to learn about the origin of the increasingly famous cuisine. Here are the chefs who fell in love with Vietnamese cuisine:
British chef Gordon Ramsay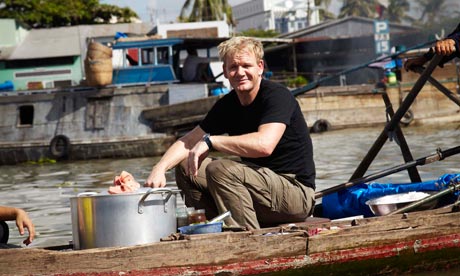 Gordon Ramsay, 49, is a Scottish-born British chef, restaurateur, and television personality. His restaurants have been awarded 16 Michelin stars in total and currently hold 9. His signature restaurant, Restaurant Gordon Ramsay in Chelsea, London, has held 3 Michelin stars since 2001.
Ramsay is known for presenting TV programs about competitive cookery and food, such as the British series Hell's Kitchen, The F Word, and Ramsay's Kitchen Nightmares, along with the American versions of Hell's Kitchen, Kitchen Nightmares, MasterChef, MasterChef Junior and Hotel Hell.
In 2015, Forbes listed his earnings at $60 million for the previous 12 months, and ranked him the 21st highest earning celebrity in the world.
Gordon Ramsay has made it clear that Vietnamese cuisine is on the top of his list. His love was on full display in the Master Chef US 2013, where he tasked the final 5 contestants to prepare a bowl of hu tieu. So where did chef Ramsay's passion for Vietnamese food come from?
In 2011, Ramsay visited Vietnam for an episode of Gordon's Great Escape and quickly became enamored with the Vietnamese dishes with complex flavor profiles.
In the TV show "Gordon's Great Escape", broadcast on Channel 4 (UK) in 2010-2011, Gordon Ramsay discovered the traditional cuisine of Southeast Asia, including one episode about Vietnam.
American Chef Anthony Bourdain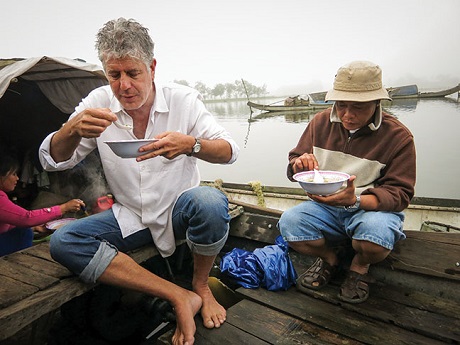 For Vietnamese people, Bourdain is best known as the one who ate"bun cha" with US President Barack Obama in Hanoi. However, for those who love international cuisine, Anthony Bourdain is not an unfamiliar name and his affinity for Vietnamese cuisine has existed a long time.
Bourdain is an American chef, author, and television personality. He is a 1978 graduate of The Culinary Institute of America and a veteran of numerous professional kitchens, including many years as executive chef at Brasserie Les Halles.
Although Bourdain is no longer employed as a chef, he maintains a relationship with Les Halles in New York. He became widely known for his 2000 book Kitchen Confidential: Adventures in the Culinary Underbelly.
His first food and world-travel television show was A Cook's Tour, which ran for 35 episodes on the Food Network from 2002 through 2003.
In 2005 he began hosting the Travel Channel's culinary and cultural adventure programs Anthony Bourdain: No Reservations (2005–2012) and The Layover (2011–2013). In 2013, he switched to CNN to host Anthony Bourdain: Parts Unknown.
He has always actively introduced Vietnamese gastronomy on world famous travel and culinary  websites. In an interview with Condé Nast Traveler in 2014, Bourdain said: "The trip to Vietnam changed my life!".
In four seasons of the television show "Anthony Bourdain: Parts Unknown" aired in 2014, he took his crew to Vietnam. During this trip, he was particularly impressed with the cuisine of Hue, such as bun bo (beef noodle), banh beo (pan cake), com hen (rice with mussels), banh bot loc (rice cake with shrimp stuffing).
Besides "bun cha" (noodle with fried pork), eaten by US President Barack Obama during his recent visit, bia hoi (draught beer) and bun oc (noodle with snails), two famous dishes of Hanoi, will appear in CNN's culinary discovery program featuring Bourdain called "Bourdain: Part Unknown" this September.
Photo: The chef ate bun cha with President Obama at Huong Lien restaurant on Le Van Huu Street, Hanoi, on May 23, during Obama's visit to Vietnam.
British Chef Jamie Oliver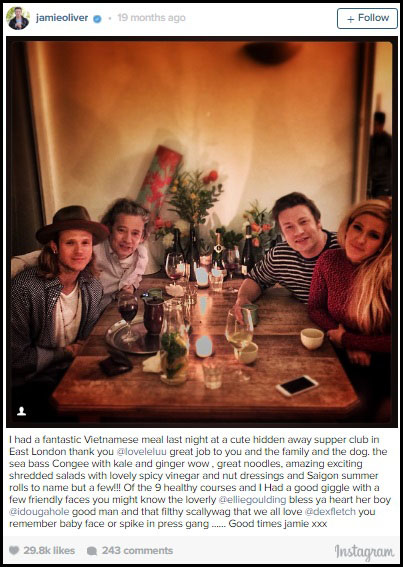 Jamie Oliver is a British chef born on May 27, 1975, in Clavering, United Kingdom. As a child he worked in his parent's restaurant, thus influencing his career direction. At age 16, he attended Westminster Catering College and then gained valuable experience working at several reputable restaurants. His broke into television when he appeared in a documentary while working at the River Café in London. From there, he gained fame after hosting a hit cooking show, The Naked Chef. Multiple cookbook publications and restaurant openings followed. Throughout the 2000s, he championed healthier eating for school children in the U.S. and U.K.
Oliver is very interested in Vietnamese cuisine. He had introduced the recipe for many Vietnamese dishes, for example "ca kho to" (braised fish), bun cha (vermicelli and grilled chopped meat), "pho ga" (chicken noodle) and "pho cuon" (rolled noodle) on his own website and Youtube channel.
In London, a Vietnamese-born girl named Uyen Luu has been very successful with a Vietnamese cuisine club at her home, where she cooke Vietnamese dishes and invites guests.
Oliver registered to join the club and complimented the club. Thus, Uyen Luu was more known and her club's prestige was enhanced. The club was very successful, becoming a destination to attract attention of lovers of Asian cuisine in London.
Major British newspapers have written about Uyen Luu. In November 2014, Oliver enrolled at Uyen Luu's club, and also invited famous singer Ellie Goulding and her boyfriend at that time Dugie Poynter, and actor Dexter Fletcher to visit the club.
After returning from the dinner at Uyen Luu's home, Jamie Oliver wrote on Instagram: "I had a fantastic Vietnamese meal last night at a cute hidden away supper club in East London thank you Uyen Luu, great job to you and the family and the dog. The sea bass Congee with kale and ginger wow, great noodles, amazing exciting shredded salads with lovely spicy vinegar and nut dressings and Saigon summer rolls to name but a few!!!"
US MasterChef winner 2012 Christine Ha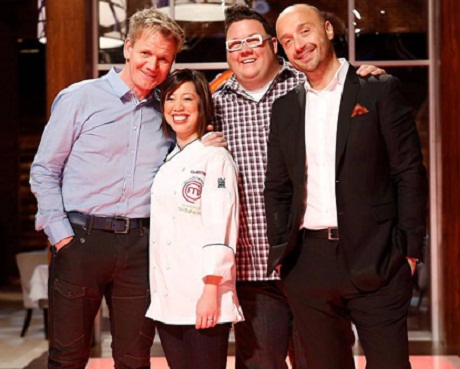 Christine Ha is the first-ever blind contestant and season 3 winner of MasterChef Season 3, she defeated over 30,000 home cooks across America to secure the coveted MasterChef title, a $250,000 cash prize, and a cookbook deal. During the competition, Ha presented many traditional cuisines of Vietnam.
Christine also has a Master of Fine Arts from University of Houston's nationally acclaimed Creative Writing Program. During her time there, she served as Fiction Editor for Gulf Coast: A Journal of Literature and Fine Arts. She is currently working on a memoir. Christine lives in Houston, Texas, and plans to open establishments both locally and elsewhere.
Since winning, she has made a guest appearance on the inaugural season of "MasterChef" Vietnam and travels around the globe to give inspiring keynote addresses and cooking demonstrations. Her latest foray into television is a Canadian cooking show called "Four Senses" (Varner Productions), on which she is a co-host with Carl Heinrich, season 2 winner of "Top Chef" Canada.
In 2015, Christine became the judge for season 3 of Master Chef Vietnam that is under production as of 29 August 2015, whereby local celebrities competed alongside amateur cooks.
Compiled by Pha Le