VietNamNet Bridge – We've translated and summarized a series of stories from the local media about the business of brokering marriages betwen Vietnamese women and Korean men. The stories have triggered hundreds of letters to VietNam Express from its readers.  Here are typical reader's comments. 

Young women queue for chance to snag a foreign husband
Portraits: Korean 'grooms' and marriage brokers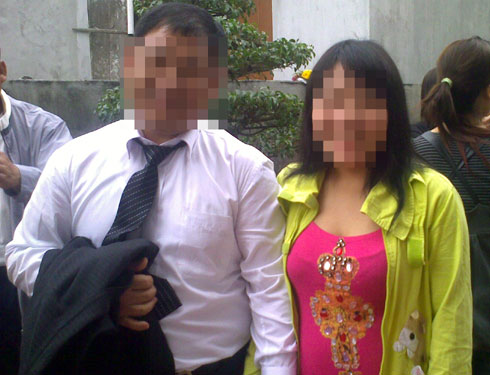 As a Vietnamese man, I always protest Vietnamese girls marrying foreign men. The fundamental solution is creating jobs for rural women so they can have stable sources of income and can live in their homeland. If that's not done, this situation will persist forever, even though the law forbids it. I hope the state can solve the fundamental problem. (Duong Phan)
I'm sad.  Many girls have not cared about their honor just because of money.  Even sadder, Vietnamese law is too loose. (Bui Tan Man)
Who will Vietnamese men marry?  Korean women don't want to marry unsuccessful men so Korean men go to Vietnam to seek wives. Where will Vietnamese men go to seek wives? (Thu Nam)
Government agencies must intervene.  It's so sad to read stories about Vietnamese girls who are maltreated or even killed by their Korean boyfriends in Vietnam. Please be watchful, you Vietnamese girls who dream of marrying foreign men! In my view, Government agencies must do more to educate girls and deter such marriages, to minimize unfortunate consequences. (Quang Tuan)
Learn from Cambodia. Our male-female balance is at an alarming level already.  Vietnam should learn from Cambodia and adjust the laws on marriage with foreign men.  Further, these Korean grooms don't have good jobs. They belong to low social classes in their country and local women don't want to marry them. But they can immediately have young, pretty and obedient, especially… cheap wives when they go to Vietnam.  Does anyone feel this pain? (Nguyen Trung Nam)
Vietnamese people in the eyes of foreigners.  As an overseas student, I felt great anguish when a Taiwanese asked me "How is it that we can buy Vietnamese girls at such cheap prices?" Good Taiwanese friends told me that if I know any girl who wants to marry a Taiwanese men, I should tell them to not do it because 99 percent of Taiwanese grooms are rural or disabled men. (Nguyen Tuan Anh)
Gambling their lives.  The young women don't understand about overseas life. All of them imagine that foreign countries are heaven, places where they can have a new life. That is the mistake that any naive girl can make.
It is very difficult to integrate into the life of foreign countries because of cultural and lifestyle differences. It is also lonely. Everyone has to work to maintain their lives. In a developed country, they have to work very hard.
Girls, don't believe your lives will become happy if you get married to a foreign man. Those who gamble with their lives and are unlucky must pay a very high price. It's better to respect your values and strive to make a happy life in your homeland. (Ta Duc Thong)
Disguised trafficking.  It is very sad to read these stories. Are Vietnamese women so cheap? What can we do to stop this situation? Why doesn't Vietnam ban such marriages like Cambodia?  We should raise our voices in our communities about this issue. Let's do what we can to stop it! (Minh Vien)
Create a good environment for Vietnamese women. I don't understand why we ask the state to copy Cambodia's policy. It is a human right to marry anyone one likes, if they have civil capacity.  Why should we prohibit Vietnamese people from marrying the people of this or that country. Suppose such people are in love? Cambodia only bans temporary marriages with foreigners and I think they are seeking an optimal method.
I think that nobody wants to marry someone they don't love, who is much older than them, and with whom there are language and cultural barriers. You Vietnamese men need to take a good look at yourselves and they way you treat women.
Our society needs to create jobs and better conditions for women to become more socially aware. If foreign men want to marry Vietnamese women, we should not ban them but help our women to learn more about foreign men so they can make good decisions. (Andy)
Why bar people from making choices?  Why should the State prohibit Vietnamese men or women from marrying foreigners?  They have the right to choose. We should organize clubs, for example a club for Korean grooms in Vietnam and a club for Vietnamese brides in South Korea.
These clubs can provide information for people to learn about each other, the culture, customs and habits of both countries. They will also protect the interest of Vietnamese brides in South Korea.
Please don't think that if you can't control something you ought to ban it! If our newspapers only report about Korean-Vietnamese marriages turning out badly, it will hurt Vietnamese brides, their Korean husbands and especially their children when they visit their mother's homeland.
Girls can take care of their lives. If they are happy, they will stay abroad, otherwise they will return home.  Some may unluckily marrry brutal men but that ratio is not high, otherwise they would not go to Korea. It is better to live far from home if you can have a better life and send some money home to the parents than to live in Vietnam with a despotic husband who forbids a wife to help her parents. (Fiat1.6)
Legal framework lacking. Sixty-five percent of the foreign brides in South Korea are Chinese and Vietnamese. Getting married to foreign men happens in other countries, too. But how it happens and how it differd in each country is the issue of law.
Rural girls have the right to wish for a better life and to be able to assist their families. They marry the foreign men voluntarily. We only lack a proper legal framework. (Vinh)
Education and jobs are the key. Do you see any girl who has graduated from a university or has a stable job lining up at the marriage brokers to get a Korean or Taiwanese husband?  If one has no job, one dreams of changing one's life. And why would any woman prefer a Vietnamese husband if he's a drunken oaf, a wife-beater and one who disdains her parents? If that were my only choice here, probably I'd think of marrying a foreigner myself. (Le Annie)
Marriage brokers ought to be heavily punished.  Why don't government agencies intervene to prevent such activities? (Anh Minh)
Korean grooms are really very poor.  I'm working in South Korea so I know about real life there. My advice is not to marry a Korean man because they are really poor. Their income is no more than the income of workers like me and they are all from rural areas. Often they leave their foreign wives at home with their parents while they work in industrial zones, and only come back home one every few months. Elderly Koreans are often very demanding, so many Vietnamese brides are treated badly.
Moreover, many men only marry you to have children. If you can't bear a child, you may be divorced and sent home. Sometimes after giving birth to a child, you'll be sent home anyway. Another matter is that in your first years in South Korea, you don't have Korean nationality so you are not protected by the local laws. You can become victims of violence. (Hoang)
It is quite common. I see this 'brokerage' going on every day. Sometimes the girls have to strip naked for the Korean men to choose.  At 107 Nguyen Du, District 1, HCM City you can see top brokers, both Korean and Vietnamese. It is sad that 'selections' take place publicly at two schools, Nguyen Du and the Conservatory of Music. I hope the authorities do something to stop it. (Thanh Hoang)
There is no happiness when you are tricked.  I'm living in South Korea with my Korean husband. I married him through brokerage. I cried when I was chosen by my husband from among hundreds of girls. I agreed to follow him within several minutes. At that time I only know his name and that he was 38 years old.
After three months of doing paperwork, I went to Korea and my dream collapsed completely. My husband is unemployed and an epileptic – something I'd never been told. At first I suffered great misery. I cried a lot, missing my home and knowing I'd been cheated. However, my husband is very gentle and my parents-in-law are very kind to me, because they know that I suffer in this marriage. I'm luckier than many other Vietnamese brides in Korea. I accept this life and try to overcome difficulties. I hope others in similar circumstances will also succeed. (Nguyen Thi Hong)
No free lunch.  I'm living in South Korea and I've met many Vietnamese women here.  I'd estimate that out of 100 Korean-Vietnamese couples, only two or three are living at a "satisfying" level. I don't dare say 'happy.' I think when they agree to marry Korean men after several minutes, young women don't hope to build a happy family. They have to accept what the marriage brings.
I see many good husbands who give their all money to their wives to manage but it depends on the wives, too.  They must face reality and make an effort. There is no free lunch! (Khoai)
Cruel parents.  I'm a photographer and I sometimes take photos for young girls to send to Taiwan grooms. Seeing these girls, I feel very sad that some parents force their daughters to get married with foreigners to change their lives. They don't think about their daughters' happiness. (Viet Long)
My life is ruined. I was cheated by the go-between, who assured me that my current husband is very gentle, a university graduate and an office employee.  Within two weeks after I came to Korea, I knew that I was tricked.
My husband is a brute. Sometimes he wakes me at midnight to press his fingers into dangerous spots in my body. My husband and his mother told me that in Vietnam and Korea, it is normal for husbands to beat their wives. It is their way of show their love.
I'm thoroughly fed up and have made up my mind to return home. However the officials told me to wait. I don't know how long I will have to wait. I want to tell my story so other girls will know and avoid bride 'selections.'
Briefly, we are seen as cheap girls and I hope the Government will abolish marriage brokerage in our country. (Nguyen Thi Thu Huong)
The 'brides' dream of eating well and wearing beautiful clothes. I think differently. I think it is a shame for Vietnamese women.  Only a very few of the women who get married via brokers are forced to live hard lives. Others are lazy women who want a life of luxury, don't want to struggle to achieve it themselves but rely on luck through marrying foreigners. (Knight)
Just fate.  I witnessed a bride selection in Hai Phong. Actually, looking at the future grooms I couldn't image that they were selecting wives. A group of men wore black suits. Some looked odd.
Escaping from poverty by marrying foreigners is a fact in not only Vietnam but also in China and some other Southeast Asian countries.  We can't ban because Vietnam is too poor and it's too difficult for rural girls to escape from poverty. (Ha Thi Phuong Dung)
What is the truth? I have been working at a factory in Korea for four years and I know the facts.  A man with monthly income of $5000 can easily marry a Korean wife because the average worker's income here is from $1000-2000 per month. So why would they go to Vietnam to seek a wife?  About handsomeness: unemployed men can be handsome. Be careful, girls! (bake_kr)
A 'love market' may be a good idea. I've been to many countries in the world and I see that life in Vietnam is the best. I wish our leaders to create jobs for Vietnamese people to help them escape from poverty. Our media must report about unlucky lives of Vietnamese women in Korea to awaken rural girls.
Girls, there are many good men in Vietnam for you to marry. You just don't have opportunity to see them. A 'love market' -- like in China -- may be a good idea. (Dung Pham)
PV