VietNamNet Bridge - Deputy Minister of Agriculture and Rural Development Ha Cong Tuan said the Trans-Pacific Partnership Agreement (TPP) creates opportunities but also poses challenges. It will act as a reagent for Vietnam's agricultural restructuring.
Vietnam enters new playground after TPP negotiation ends
VN doesn't fear disadvantages of TPP membership: Chief TPP negotiator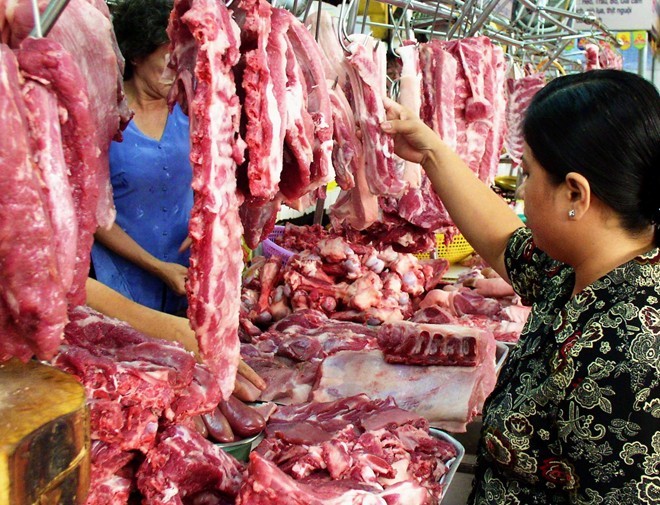 Tuan said that the TPP, once effective, will help Vietnam expand consumption markets for its farm produce and ease its dependence on traditional but fluctuating ones like China. 
China, for example, is currently consuming 35 percent of rice, 48 percent of rubber, 64 percent of fruits and vegetables, and over 13.2 percent of timber exported by Vietnam. Meanwhile, Vietnam imported 62.5 percent of materials from China to service the country's farming sector, according to the deputy minister. But as one of Vietnam's largest trade partners, China had policies that required Vietnam to be flexible in import-export activities, the official said. 
The TPP will enable Vietnam to adjust its import-export market structure in agriculture, Tuan said. 
Aquaculture and wood products will gain a lot of competitive advantages as taxes imposed on all agricultural products will be eliminated shortly after the accord is put in place, he stressed. 
Vietnam's wood exports to the US and Japan – two other TPP member countries – presently account for 39 percent and 19 percent of its total export value, respectively. 
The country will also see huge advantages compared with India and Thailand when shipping aquaculture products to the two major markets, the deputy minister said. 
He added that with tax incentives stipulated in the pact, Vietnam is expected to welcome a significant flow of investments into the farming sector, thus speeding up the country's agricultural restructuring. 
However, the agricultural sector is forecast to face a spectrum of challenges, especially in product consumption, as it is mainly driven by household-based businesses with out-of-date technologies, Tuan said. 
The official suggested the sector revamp its apparatus, calling for joint efforts of managers, farmers and businesses. 
Will livestock quality be better?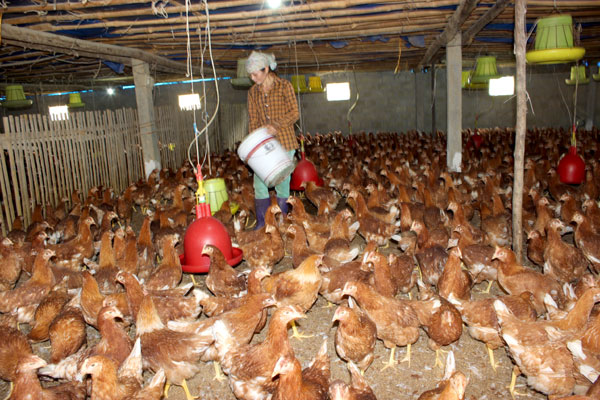 Vietnam will have chances to buy modern livestock rearing methods and good quality breeds from other TPP members, helping advance the country's livestock sector, said Nguyen Xuan Duong, deputy head of the Department of Animal Husbandry.
However, some experts worry that the TPP will "strangle" Vietnam's chicken and beef because the industry is facing many difficulties and is also sensitive to the fluctuations of the market.
Nguyen Kim Doan, vice president of the Dong Nai Livestock Association, said that in the province, the current rate of animal husbandry is 75% pig, 15% of chicken and 10% of cow. Although accounting for a smaller part, cow and chicken breeding will face more difficulty when Vietnam joins the TPP, particularly in chickens.
Doan said besides Europe and America, it is very tough for Vietnamese chicken to compete with regional countries like Indonesia, Singapore and Thailand if the meat import taxes are slashed.
"Chicken breeding does not require much water, so even Singapore has a lot of chicken farms with millions of heads. Thanks to the application of industrial scale of breeding, their production cost is 10-20% less than Vietnam. This is the advantage for Singapore and other countries to export chicken to Vietnam," he noted.
Nguyen Van Ngoc, Vice President of the Southeastern Livestock Association, said that chicken was more vulnerable than others because domestic chicken farming is very sensitive to external impacts. 
In Dong Nai, most chicken breeders raise chickens for livestock firms. When these firms have losses, chicken breeders will be affected, Ngoc said.
Dr. Nguyen Van Giap, Deputy Director of the Southern Center for Agricultural and Rural Policy and Strategy, said to compete with imported chicken, Vietnamese farmers should develop domestic chicken breeds like Yen The or Dong Tao, besides capacity building and participation in the production chain to help reduce product costs.
For cows, Giap said Vietnam does not have large pastures and large cow herds so an invasion of foreign beef is possible Recently, despite high import taxes, Australian beef has entered Vietnam in large numbers. If import taxes are slashed, Vietnamese beef will certainly fail to compete with imports.
Nguyen Van Ngoc, Vice President of the Southeastern Livestock Association, added that Australian cows gain weight of nearly 1 kg a day, compared to just 0.5 kg for Vietnamese cows.
"The rapid growth of Australian cows has encouraged many local firms to import Australian cows for fattening to sell meat and abandon local cows," Ngoc said.
For Vietnamese pork, the major competitors are Thailand and China. However, the market for Vietnamese pork is still stable because the price for Chinese pork is now VND5,000-VND8,000/kg higher than Vietnam's, due to the strong increase of feed in China. 
The price of Thai pork is similar to Vietnam's. But the most important factor is that imported pork to Vietnam is mainly frozen, while Vietnamese consumers are more familiar with fresh pork.
Opportunity for restructuring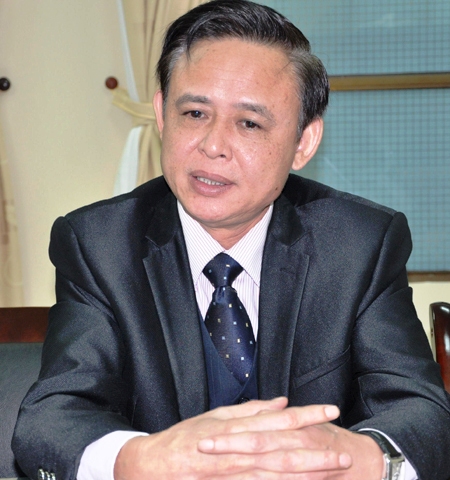 Deputy Minister Ha Cong Tuan.
According to Deputy Minister of Agriculture and Rural Development Ha Cong Tuan, generally the TPP will bring big opportunities for Vietnam's agricultural sector. The export market will be expanded to 11 members states, and will help Vietnam reduce dependence on the Chinese market.
Tuan said the TPP has 12 participating countries with a combined population of 600 million, accounting for 40% of global GDP and 26% of the world's goods value. As a TPP member, Vietnam's agricultural sector will have four major opportunities.
Firstly, once the TPP is officially signed, the market will be more open for Vietnam, helping the country adjust the import - export market in the field of agriculture. 
The second opportunity is that when the TPP takes effect, the import tax rates on most of the agricultural products will drop by over 90%, and even to 0%. This is a great advantage for many agricultural products of Vietnam like wooden furniture and seafood.
The third and fourth opportunities are to attract investment capital along with modern technology and management methods from TPP member states into the agricultural sector and to promote restructuring of this sector. 
However, Deputy Minister Ha Cong Tuan also said that the agricultural sector would face many challenges.
Currently, there are about 3,500 enterprises investing in the agricultural sector, accounting for 1.01% of the total enterprises in the country. Most of them are small- and medium-sized enterprises. The small ones with capital of less than VND5 billion capital make up 65% of the total, and it will be difficult for them to compete when Vietnam integrates more deeply into the world market.
"But TPP is the reagent for agricultural restructuring in Vietnam. With the same playing ground, the common law, the stronger will be the winner. If Vietnam continues to not change its production, it will lose even in at home," Tuan said.
Nguyen Xuan Duong, Deputy Director of the Department of Animal Husbandry, said that livestock was the most vulnerable industry of Vietnam when joining the TPP because other markets such as the US, Canada, and Australia are much more developed.
"However, if we take businesses as the center followed by cooperatives, build chains, ensure safe production and encourage Vietnamese people to maintain the habits of using local meat, we will surely be competitive," he said.
Tu Minh Thien, deputy chief of the management board of HCM City Hi-tech Park, said more trade agreements were being signed, and the prospect of a common market was very near. 
"We should be prepared to compete and raise capacity, by improving product quality, especially in the agricultural sector. This is the field that we can go after many countries. Let's take the TPP as a driving force for innovation in agriculture, which used to overlook quality," Thien said.
Lack of knowledge about TPP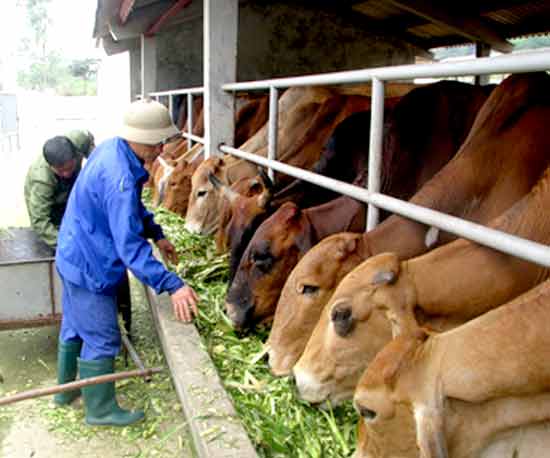 Many Vietnamese breeders are still rather vague about the TPP.
"It is already difficult for livestock, it will be more difficult if more meat is imported. I heard that when the TPP is signed, imported meat will 'kill' domestic meat. I just heard that but I don't know what to do," said Ngo Minh Thuan, the owner of a farm with 8,000 chickens in Gia Tan 2 commune of Thong Nhat district, Dong Nai province.
Nguyen Van Ngoc, Vice President of the Southeast Livestock Association, said that the associations did not know what to do as the local livestock industry has too many 'holes'. 
Ngoc said feed and veterinary medicines account for more than 70% of the cost of production but these products are not controlled. Given the situation that the state does not control the feed, breeding and supplies companies, it is hard to keep the livestock industry stable.
Even many livestock companies are confused about the TPP. 
A manager of Binh Minh Company in Trang Bom District, Dong Nai Province, said the domestic chicken industry has been through hard times because of imported chicken from the US. 
To compete with imported chicken, the company tried to control the quality of chicken and slash the cost of production.
Compiled by Nam Son