VietNamNet Bridge – Vietnam's rice prices are much lower than the brand-name rice from Thailand and Pakistan. New policies need to be developed to help farmers increase income.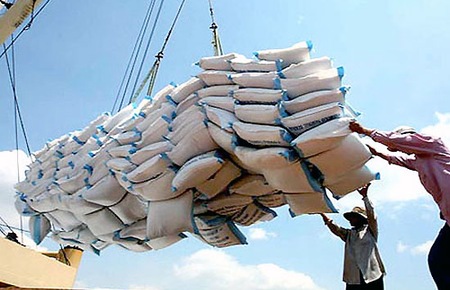 According to data from the World Food Organization (FAO) in 2015, the export prices of Pakistan's Basmati rice and Thailand's jasmine rice were above $1,000 per ton in 2012-2015.  At the same time, 5% broken rice of Vietnam has never reached the price of $500/ton.
In the period from 2004 to 2012, the average price of imported rice in Vietnam was always higher than the average export price.
In 2008 and 2012, the average price of imported rice in Vietnam was over $1,000 per ton, while the average export price was less than $600 per ton. We can understand that due to diverse tastes, we still import rice with a small volume. But it is unfortunate that we have to import high-quality rice at high prices, but have only low-quality rice for export.
Therefore, the problem of building a Vietnamese rice brand is more urgent than ever. Recently, the Prime Minister signed Decision 706/QD-TTg on building a brand for Vietnamese rice until 2020, with the vision to 2030.
Currently, some local companies are trying to develop a brand of rice, for example, the organic rice brand "Hoa Sua" of Vien Phu Viet Nam Company, exported to the UK, or "Hat Ngoc Troi" brand of An Giang Plant Protection Company for the domestic market and for export. These firms have their own rice fields or have close connections to high-quality rice areas.
Looking to Thailand or Cambodia, all rice brands are directly managed by enterprises. Obviously, to form a rice product of high quality, the rice production process should be linked in a chain, in which the enterprise is the most important link. This link helps connect farmers and output markets, controls the process of growing high quality rice, and builds brands and markets the brand to consumers. In building rice brands, enterprises play the key role.
Enterprises needs to be "untied"
Looking back on the process of innovation in the last 30 years, the turning point in terms of policy for the rice sector is the policy "Contract 10". In essence, "Contract 10" motivated farmers to cultivate and increase production because they were the main beneficiaries of their rice fields.
The current question is: who has enough motivation to create branded and high quality rice?
"The historical role" of farmers is to produce enough rice to supply sufficient output for the domestic market. They have successfully completed that role for 30 years. But farmers do not have much incentive to produce better rice without influence from the state, entrepreneurs and researchers because rice traders only purchase fresh rice without needing to know about the quality.
The state and researchers are motivated but they do not directly produce and benefit from rice. That leaves only entrepreneurs, who seek long-term profits in the market, and have real motivation for the production and sale of high quality rice. When they have a profit, their partners, farmers, will also benefit. Therefore, only businesses and farmers can decide whether we can produce high quality and branded rice.
Therefore, the most important thing in terms of policy right now is to offer support towards market forces, namely businesses and farmers, making them feel that they can benefit from the creation of the brand, from the production of high quality rice. With such policies, both farmers and businesses will create a sustainable and lasting link.
The absence of rice brands of Vietnam at recent international food fairs shows that the impetus for the parties is not sufficient, and the policy barriers to this issue are still large. Businesses are still tied somewhere and they need to be untied. That is the basis for Vietnam to create another "Contract 10" policy, oriented to rice enterprises.
While the State-owned Vietnam Food Corporations (Vinafood) is still struggling to find ways to create brands of rice for export, some private companies have actively set up links with farmers to produce special rice.
Dr. Nguyen Duc Thanh, director of the Vietnam Economic Policy and Research Institute (VEPR), said private enterprises are the "gladiators" bringing Vietnam rice brands to the world arena. However, the will to fight of these gladiators is being eroded by policies and mechanisms.
The next article will address the limited policy that should be removed so that rice enterprises can be "unleashed".
To be continued…
Nguyen Quang Thai - Nguyen Khac Giang
(Vietnam Institute for Economic Policy Research)