VietNamNet Bridge - To enhance the competitiveness of Vietnam's rice production and value, and bring more profits to farmers, Vietnam needs new breakthrough policies.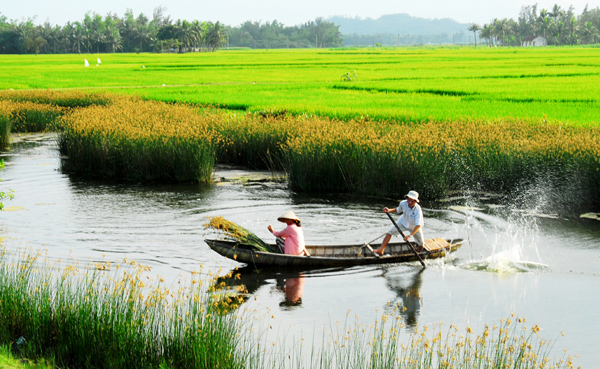 Since the late 1980s, Vietnam's rice industry has developed strongly. This helped Vietnam not only ensure food security in the country but also become one of the top three rice exporters in the world.
However, the expansion in scale of Vietnam's rice sector instead of being greeted cheerfully has become a concern despite the increase of rice output because farmers' income has not improved, accompanied with a risk of degraded soils and pollution.
The over-emphasis on increasing rice production has led to the low quality of Vietnam's export rice. As a result, the export markets are concentrated in the lower segments, are less diverse, and are focused on the Chinese market. When the export markets are in trouble, the pressure of lowering prices is placed on the domestic market, causing losses to the components in the production chain in the country, especially for farmers.
VietNamNet talks with economic and agricultural experts to find a solution.
New policy needed
In 2016, Vietnam marks 30 years of renovation. This breakthrough economic policy, which helped Vietnam made a complete makeover of both economic and social reforms, originated from agricultural renovation policies to "untie" agriculture and farmers.
After a long journey, the rice sector has created "miracles", taking Vietnam from an importer of rice into a leading rice exporting country. Vietnam no longer has to worry about food security, but focuses on rice production as a key commodity for export.
However, this achievement has not brought added value to the sector, and has not created many positive changes in income for farmers. Vietnam's farmers have the lowest average income in the country, and in Southeast Asia their average income is only higher than that of Cambodian farmers.
Among many reasons for that situation, the most notable is that in the last 30 years, Vietnam has focused only on strategies to increase rice output, instead of improving rice quality, creating a rice brand with higher added value.
The current policy is still in this direction: increasing production and encouraging exports. This will continue to cause over-production, low quality of rice and many negative implications for the sustainable development of agriculture and the livelihoods of farmers. In this case, overproduction of rice is not good.
Prof. Vo Tong Xuan, a well-known rice expert, Rector of the University of South Can Tho, said that Vietnamese farmers, "under the cheers of the state", just plant rice to achieve high productivity and pay little attention to quality.
The emphasis on increasing rice production is also reflected in the density of rice planting. In 1990, farmers in the Mekong Delta planted 1.6 crops/year, and as of 2010, this figure rose to 2.1 crops/year. Notably, this process causes weaker soil, and farmers use more fertilizers and plant protection chemicals. The grain quality has deteriorated over time.
Vietnam's rice exports to countries, 2010-2013 (% of export value)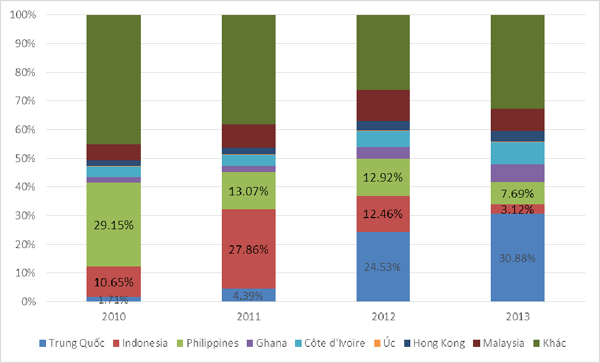 The world rice market is increasingly competitive
According to UN Comtrade, in 2010 Vietnam mainly exported rice to the Philippines (about 29% of the total export value), in 2012-2013; Vietnam largely exported to China (24.53% and 30.88% of the total export value of the corresponding year), compared to only 1.71% in 2010.
In the world rice market, the segment for low grade rice has tended toward oversupply. According to FAO's forecast, rice production will have strong growth in the coming years due to the increase in rice acreage, number of rice crops, and improvement of productivity. Global demand for rice will increase to 2030, then will reduce.
Vietnam's rice importers like Indonesia and the Philippines have had a rice self-sufficiency strategy. Indonesia, the largest rice importer in the world in 2011, with 3.1 million tons, reduced rice imports sharply in 2013 with 650,000 tons.
Meanwhile, countries like India, Cambodia and Myanmar are seeing strong growth in rice exports. India has had the most powerful breakthrough in rice export, with export volume increasing by nearly 2-fold, from 4,637 thousand tons in 2010/11 to 10,901 tons in the 2013/14 crop, to become the second largest rice exporter in the world.
Cambodia increased the export volume from 750,000 tons in 2009/10 to 1 million tons in the 2013/14 crop to the markets of Europe, Malaysia, Thailand and China. Myanmar also nearly doubled the export volume from 700,000 tons to 1.3 million tons in this period.
In this context, if Vietnam keeps focusing on an increase in rice production and does not pay attention to the quality of rice, the entire rice value chain of Vietnam will suffer heavy losses, and the farmers will suffer the worst losses.
Following this trend, in the future, the position of the countries on the rice export market depends on the ability to supply high-quality and specific rice to different customer groups. Output is no longer a problem, but rather the quality and value of exports.
The rice exporters in the world are all aware of that. Thailand, India, and even an emerging rice exporter like Cambodia have their own "weapons" – their own rice brands.
At the Food Fair held in Bangkok in 2013, Thailand had more than a dozen rice brands; Cambodia also had eight brands while Vietnam had nothing.
To be continued…
Nguyen Quang Thai - Nguyen Khac Giang
(Vietnam Institute for Economic Policy Research - VEPR)