VietNamNet Bridge - The US-based International Living magazine early this year released the Annual Global Retirement Index 2015, ranking and rating the 25 best retirement havens in the world, which included Vietnam.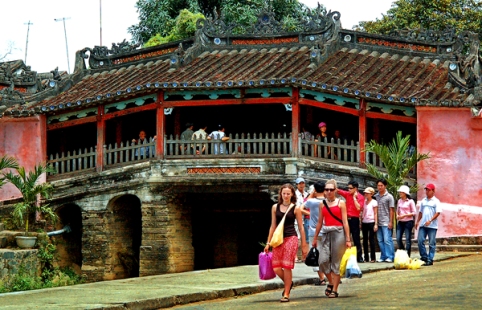 The Japanese-styled Bridge Pagoda in Hoi An.
For some, it was not a surprise as nearly two decades ago, the Japanese discovered that Vietnam was an ideal location for retirement, particularly Dien Bien, a neighboring area of Hoi An (now Dien Ban City of Quang Nam Province).
Why is Vietnam included on this list? Many Vietnamese thought that Vietnam was not attractive to foreigners.
To choose the ideal places for retirement in 2015, International Living evaluated day-to-day expenses to the cost of a flight back to the U.S., groceries, movie theater tickets, eating out, garbage collection, gas, gym membership, and all the hidden and often unconsidered costs—like traveling and exploring neighboring towns.
Along with Vietnam, four other Asian countries are also among the Top 25, including Malaysia, Thailand, the Philippines and Cambodia. However, Vietnam is in the top five for the lowest cost of living.
"Rent, utilities, eating out, exploring…a couple can live well in Vietnam for $1,000 a month or less. Much depends on where you go and what lifestyle you want. Pay $200 a month in the beach town of Hoi An for a furnished one-bedroom place close to a quiet and beautiful beach. Spend $600 to $800 and you'll get a three- to four-bedroom house with a garden. In Ho Chi Minh City you'll have to dig around to find the same value, but $500 a month should get you a comfortable apartment."
"Internet with unlimited data costs $14 a month, electricity around $35 a month, a call on a cell phone is less than a cent a minute. You'll pay 90 cents for a beer, $2 an hour for a maid, get a movie ticket for $4 and buy a kilo of rice for 75 cents."
"Most street food will cost from $1 to $2 and it's delicious. Noodle soups, baguettes stuffed with meat and veg, roll cakes with pork, sticky rice…there's so much to choose from that eating well is not only cheap and healthy, it's also fun. For a sit-down meal at a Western-style restaurant a couple will pay $20 to $30, or go to a Vietnamese restaurant and you'll pay a third of that or less."
"For groceries, especially fresh fruit and vegetables, shop in the markets and avoid supermarkets. And be prepared to bargain," IL said.
In March 2014, the US News ranked Vietnam as one of the 18 best places to retire in the world. In particular, a special place for living is the city of Nha Trang.
Previously, BusinessInsider ranked Vietnam 16th in the "top 20 most liveable destinations".
According to this site, Vietnam has many beautiful landscapes, delicious food, affordable prices, and social life is also stable. However, they also pointed out some limitations of Vietnam, such as health care.
Many overseas Vietnamese also return to the homeland to live after retirement, though they have to travel back after several months to receive their pension.
Japanese in Hoi An
The Japanese discovered Dien Ban as the ideal place to build a nursing home for the elderly perhaps because it is near Hoi An, where there are many Japanese-style works. If elderly Japanese live here, they will feel more at home.
In addition, it is cheap to hire nurses to take care of the elderly in Vietnam. Vietnam has recently started training nurses to send to Japan to care for elderly, sick people with very high salaries.
The Japanese who are busy at work and have old parents can save a lot of money if their parents live in Vietnam for retirement, avoiding the cold in Japan. Even for the homeless elderly, who are cared for by the Japanese government, is it cheaper to send them to Vietnam?
There are two views about the nursing home. Those who support this project said that if Vietnam licenced it, this would be a way to attract Japanese tourists to Hoi An. This would also create more revenue for the tourism industry.
In addition, if Vietnam approves the plan, Japan will invest in healthcare facilities in the area that would also serve local people.
Those who opposed the project said the nursing home would turn Dien Ban into a new residential area for Japanese, next to Hoi An, a world heritage site.
The project is expected to be implemented in the near future. The farsightedness of the Japanese people is worthy of praise.
Quoc Phong