VietNamNet Bridge – Following a three-year stint at various marketing and advertising agencies in Ha Noi, Vinh Nguyen decided it was time to go out on his own.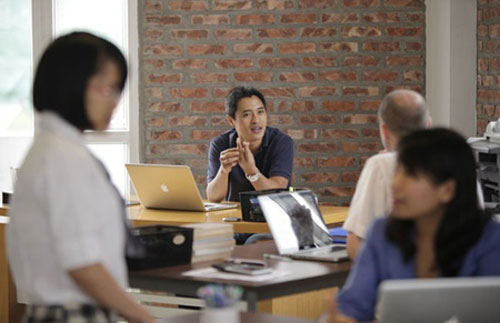 Freelancers gather at ClickSpace, a community centre in Ha Noi's West Lake area set up in March 2013 to connect Vietnamese and foreign freelancers. This type of independent working-style is gaining traction in Viet Nam's big cities thanks to new technology and an economy that requires more specialised skills. — Photo courtesy of ClickSpace
"You don't have to belong to a major agency to be creative," said Vinh, who graduated from the University of Central Lancashire in Britain in 2007, majoring in creative advertising. "I can do my job without getting involved in so-called 'office politics' or working set hours."
With about four years as a freelancer under his belt, the 30-year-old has done creative ads, websites, promotional materials, newsletters and graphic designs for about 30 clients ranging from non-profit organisations to health and fitness centres.
"The great thing about being a freelancer is that you get to choose your clients, decide on the quality of your work and pitch your ideas directly," Vinh said.
Vinh is a member of Ha Noi and HCM City's growing number of freelancers, who are carving out a new way of working in the nation's traditional nine-to-five economy and in a country where most young professionals prefer stability to flexibility.
But the challenges facing freelancers are also abundant: gaining the trust of clients, having on-time payments, meeting deadlines or dealing with projects that could turn up-side-down.
Seeing such demand to connect freelancers with potential clients, in mid-2013, Tran Ngoc Tuan, an IT freelancer from Ha Noi launched Vlance.vn, one of the few Vietnamese sites that targets the growing freelancing community in the capital.
Tuan now employs a team of about seven people to run the site, where freelancers can create their profile and clients can find those with suitable skills. Tuan said the site does not charge anyone and he claims already there are about 7,000 users.
"Most freelancers were previously skilled professionals, not untrained hopefuls," he said. "I think this generation is looking for something newer and more challenging rather than just working at a company and waiting for promotion."
According to Tuan, freelancing mostly appeals to those who previously worked as writers, photographers, consultants, website developers, programmers or copywriters, because basically these kind of works allow you to work on your own.
"The financial stress and lack of networking skills are the two biggest hurdles for those who take on the risks of freelancing," Tuan added.
At the same time that youngsters in many countries are facing tighter job markets, freelancing could be a sustainable and profitable career, said Evan Tan, regional director for Southeast Asia of freelancer.com, a global site for freelancing, outsourcing and crowd-sourcing marketplace.
"The young grew up with the Internet and see the vast potential of not just networking with people but also looking for niches where they can earn money," Tan said. "This is a growing market with a lot of potential."
A recent report released last week by the Ministry of Labour, Invalids and Social Affairs and the General Statistics Office suggests that, at the end of last year, there were about 72,000 people with some kind of college degree out of work.
Therefore, "those who have the guts to drop full-time jobs must prove they have something special to offer," said Pham Xuan Quy, a 25-year-old freelancer who specialises in organising events.
"Working as a freelancer does not mean you can sleep until noon. That is not what this is about. You have to wake up at the same time as your client and work to build up your skills and brand," Quy said.
He is also part of a network that is called freelancerviet.vn, which connects freelancers with clients. Since being launched in September 2013, founder Pham Lan Khanh from HCM City said the total value of freelancing projects on the site had reached VND1.5 billion (US$70,500).
Khanh said some freelancers could not handle the financial stress and instability of working on their own and eventually returned to work as full-time office workers. So she and other co-founders frequently organise meetings in both Ha Noi and HCM City to talk about networking skills, individual branding, and techniques for negotiating.
"I believe that in the next two or three years more people will become engaged in freelance work due to the development of technology - and an economy that is becoming more digitalised as more businesses learn more about cost-cutting."
Jason Lusk, co-founder of ClickSpace, a community centre for freelancers in the West Lake area set up in March last year, agrees that the trend is taking off in Viet Nam. Many foreign freelancers are also coming here and they need to find Vietnamese collaborators.
ClickSpace holds a monthly meeting called Hanoi Freelancers Meet-up, which attracts on average about 40 people per session, according to Lusk.
Quy admitted that in Viet Nam, some people mistook freelancing as another way of saying one was unemployed. "On the contrary, you really have to be an expert on the services you offer. Otherwise, you won't survive," he said.
Source: VNS