VietNamNet Bridge – The construction of the 15km Vu Tan - Lach Huyen Bridge in the northern port city of Hai Phong is starting on February 15, with a 5.4 km long section crossing the sea.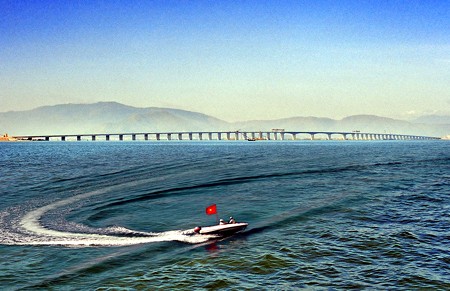 The Thi Nai Lagoon Bridge - The longest over-the-sea bridge in Vietnam at present.
On February 11, the Ministry of Transportation signed a contract with contractors to build the bridge, which totals 15km of road and bridge, including 5.44 km of bridge over the sea, 16 meters wide with 4 lanes and 2 safety strips. The roads to the bridge are 10 km long, 29m wide.
This route passes through Hai An and Cat Hai districts of Hai Phong city. Once it is completed, it will be the longest sea-crossing bridge in Vietnam.
The project is funded by ODA loans of Japan and Vietnam's reciprocal capital totaling VND11,849 billion, including VND10,049 billion of ODA.
According to the Ministry of Transportation, this is a national key project to connect the developing eastern areas of Hai Phong to the Lach Huyen port, the Dinh Vu Industrial Zone with the Ha Noi highway which is under construction.
The bridge is expected to be completed in early 2017.
Na Son