The Ho Chi Minh City People's Court on January 27 sentenced Huynh Thi Huyen Nhu, former deputy chief of the Risk Management Department of the Vietnam Joint Stock Commercial Bank for Industry and Trade (Vietinbank), to life behind bars at her trial that started on January 6.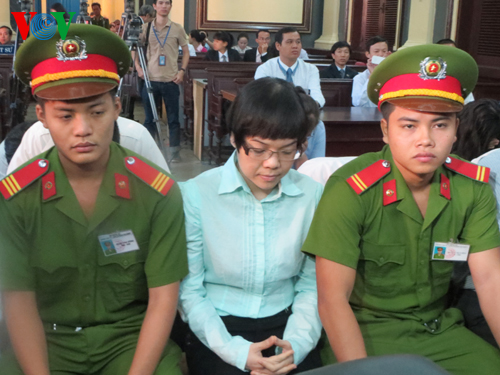 Nhu, who was born in 1978 in the Mekong Delta province of Tien Giang, was charged with "swindling to appropriate assets" and "counterfeiting seals and materials of agencies and organisations".
Her accomplice Vo Anh Tuan, former Deputy Director of Vietinbank's Nha Be branch, born in 1972 in the northern province of Thai Binh, received 20 years in jail for "swindling to appropriate assets".
Huynh My Hanh and Tran Thi To Quyen, former Deputy Director and member of Hoang Khai Investment JSC, were sentenced to 14 years behind bars each on the same charge.
Nguyen Thi Lanh, former Deputy Director of Phuong Dong Investment JSC, and Dang Thi Tuyet Dung, former Director of Dung Van Limited Co., got nine years and 12 years respectively for "swindling to appropriate assets" and "giving loans with high interest rates".
The court also gave jail terms of between eight and 17 years to officials and staff of Vietinbank's Dien Bien Phu and Dinh Tien Hoang transaction offices and the Vietnam International Commercial Joint Stock Bank (VIBank)'s Ho Chi Minh City branch for "violating lending regulations in operations of credit institutions".
Sharing the charge of "irresponsibility causing serious consequences", Luong Thi Viet Yen, Ho Hai Sy and Le Thi Ngoc Loi, former head, deputy head and member of Vietinbank's Vo Van Tan transaction office, will spend seven, six and four years in jail.
The group of defendants charged with "giving loans with high interest rates" were sentenced to serve two years to 26 months and ten days in prison.
Pham Anh Tuan, former Director of Petro Pacific Corporation, was given 14 years in jail on the charge of "abusing position and power while on duty".
The defendants were also forced to refund the money they illegally appropriated , of which nearly four trillion VND (188 million USD) Nhu took over from nine companies, three banks and three individuals.
The court also asked the Public Security Ministry's Investigation Agency to continue prosecuting several defendants who had assisted Nhu to appropriate hundreds of billions of Vietnamese dong from VIBank's Ho Chi Minh City branch and Phuong Dong Investment JSC.
They also suggested investigating Nguyen Thi Minh Huong and Truong Minh Hoang, both Deputy Directors of VietinBank's Ho Chi Minh City branch, for their dereliction of duty in this case. They signed contracts with ACB staff without supervising them, making it easier for Nhu to arrogate money from the Asia Commercial Joint Stock Bank (ACB).
According to the court's indictment, in 2007, Nhu took advantage of her professional position to mobilise over 200 billion VND (9.43 million USD) from many banks, organisations and individuals at high interest rates to invest in the local property market.
In 2010, when the market stagnated, Nhu suffered huge losses and fell into insolvency.
From March 2010 until September 2011, under the pretext of mobilising capital for two Vietinbank branches, Nhu allegedly obtained loans totalling 3.9 trillion VND from three individuals, nine companies and three banks.
She also forged the seals of Vietinbank and companies including Phuc Vinh, Thinh Phat, Hung Yen, An Loc, Duc Minh Quang and Saigonbank Berjaya, as well as nearly 200 documents, including 110 false contracts between Vietinbank's Nha Be branch and individuals and agencies.
Tuan had actively supported Nhu in appropriating money from many banks, individuals and businesses.
Source: VNA