VietNamNet Bridge – In a report to Prime Minister Nguyen Tan Dung, the Chairman of Thai Nguyen Province confirmed that the incident that happened at the factory of Samsung in Thai Nguyen Province on the morning of January 9 was ignited by the clash between the workers who went to work late and guards.
Conflict at Samsung's world largest factory, 11 people hospitalized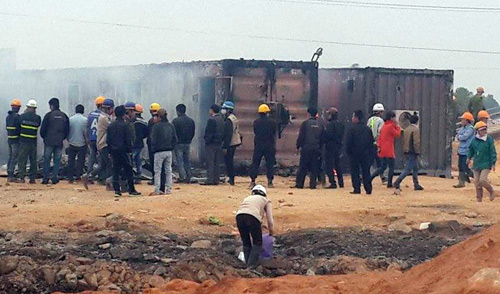 Three containers were burnt in the incident.

Accordingly, at around 6h50 am on January 9, at gate 3 of the Samsung factory project, a clash occurred between workers of the project contractor and guards of the Hoa Binh Guard Service Company.
Some workers went to work late and tried to get into the factory but they were prevented by guards, because under regulations, workers who come late are not allowed to enter the factory. The two sides had a clash and one worker suddenly shouted: "Guards strike workers dead."
Photo: The police estimate that the vehicles burned up in the incident are worth tens of thousands of US dollars.
Immediately, hundreds of workers flocked to surround and throw stone and bricks at the guards. The crowds of people then increased to several thousands of people.
Some guards ran into the factory office and the remaining hid themselves in the three containers, which are the guard offices and guard houses.
The workers continued surrounding, stoning the containers and burned a number of motorcycles of guards.
"At 9am, the police took 11 guards out of the three containers and dispersed the crowd. After 10am, the crowds were dispersed completely and the police began investigating the scene," according to the report by Thai Nguyen Province's Chair Duong Ngoc Long.
The report said that 11 guards and two police officers were wounded, 22 motorcycles and 3 containers were burned.
However, Thai Nguyen province did not mention the details that many people threw stones at the police forces which were equipped with shields at the scene.
Colonel Duong Xuan Quy of the Thai Nguyen province police agency said that the case was prosecuted and some people would be prosecuted for destroying property and disrupting public order at the construction site of Samsung factory. The number of motorcycles burned in the case totaled 22, worth tens of thousands of USD.
Authorities agreed to raise awareness of workers on meeting labour and safety requirements.
Nam Son