VietNamNet Bridge - "Previously our slogan was each couple should have one to two children; our current message is let's have two children, having two children is the best," said the chief of the General Department of Population – Mr. Duong Quoc Trong.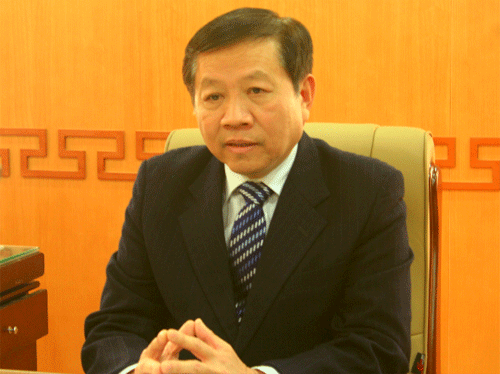 Mr. Duong Quoc Trong.

Vietnam's population in 2013 exceeded 90 million. According to Dr. Trong, this figure marks the success of the work of population and family planning in Vietnam in recent years. In 1989, after the second population census, scientists predicted that Vietnam's population in 2010 would reach approximately 105 million. Thus, Vietnam would have had 90 million people in 2002.
"According to the previous forecast, Vietnam would have had about 111 million people at present. It means that in the past 20 years, we avoided having an additional 21 million people. This is a really impressive number, which helps increase per capita GDP, reduce poverty and improve education and health care," Trong said.
In the past, each Vietnamese woman had 6.4 children on average. Today that number is only two. This is a revolution in fertility, but according to Trong, this has posed new challenges for Vietnam: The number and proportion of children is decreasing clearly. Previously, every two people had a child but now over four people have one child each.
In China, the 4-2-1 formula is popular: four grandparents and two parents take care for a child. That child's all needs is fully satisfied but disasters will happen after a few more decades with the contrary 1-2-4 formula. A child does not know what to do to take care of two elderly parents and four grandparents. China has recognized the problem and has gradually loosed its population policy.
Vietnam's current situation has many similarities with China and according to Trong, if Vietnam does not see China's lesson today to avoid, it will suffer severe consequences in the future.
Along with the reducing proportion of children, the rate and number of older people in Vietnam are increasing. Dr. Trong said that the aging speed of Vietnam's population tops Asia and is among five top countries in the world.
"Without giving a warning to the society about fast population ageing, we will miss the beat and will not see the importance of our early entering into the stage of population ageing," Trong said.
"Therefore, we would like to send families the messages "Let's have two children," "having two children is the best, instead of each couple having 1 or 2 children" as before, he emphasized.
P. Lan