Harsh sentences for human trafficking criminals
The People's Court of southern Tay Ninh province on December 25 handed jail terms totalling 48 years to nine persons for trafficking of women to China.
The harshest, 10 years, was given to the head of the ring Nguyen Thi Binh, born in 1961 in northern Bac Giang province.
The court also ordered them to pay more than 50 million VND to the State fund.
According to the indictment from the local People's Procuracy, Binh and her accomplices were caught red-handed on July 12 trying to bring two girls to China to sell to local men.
They told the police that since the ring was established in 2012, they had successfully lured 18 women and sent them to the neighbouring country illegally.
The same day, the People's Court of central Quang Nam province also ordered Nguyen Sa Ry, born in 1957 in An Giang province, to spend 20 years in jail for trafficking women and children.-
Woman dies in Ha Noi house fire
A woman was killed in a fire that broke out in a house on Tran Dang Ninh Street, Ha Noi's Cau Giay District yesterday morning.
Officials said the fire started on the second floor and then spread rapidly to the rest of the house. The fire was brought under control after nearly 30 minutes. Fortunately, the neighbouring houses were not affected.
A neighbour on the scene said the victim, 60, had suffered a stroke that had left her paralysed for many years.
The fire's cause is being investigated.
Former forest rangers, deforesters jailed
The People's Court in the northern province of Dien Bien yesterday sentenced five people to prison terms of up to 30 months for illegally trading in rare wood.
The defendants, including two forest rangers, were prosecuted for trading more than 22,100 chopping-boards and 75 boxes, equivalent to more than 136 cubic metres of the endangered nghien (Burretiodendron hsienmu) wood, between late 2012 and early 2013.
The court also ordered the confiscation of nearly 6,700 chopping boards and 75 boxes, seized by the police - and directed the defendants to pay VND52 million (US$2,400) to the State budget.
Illegal ads just won't go away, officials rue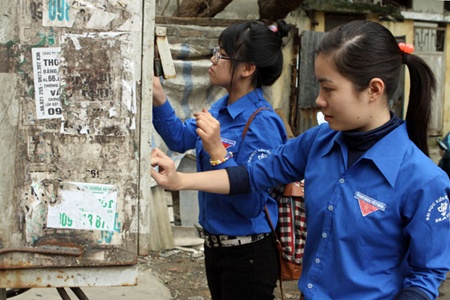 Whether it is getting rid of termites, drilling concrete, renting a house or a motel, or plumbing work, all you need to do is to call the number on the notice stuck on the wall of your house, the lamp post or many other public spaces in the capital city.
The easy access to this useful information, however is not appreciated by many residents and city authorities, who see it as a problem that has defied repeated efforts at finding a solution.
The mushrooming of illegal advertisements is resented by those who feel they give the city a dirty, tattered look, as also pose health threats when they are stuck in hazardous areas like transformer stations and even hung on electrical wires in order to make their removal difficult.
"We frequently remove the ads but it means nothing. New ones will be stuck again soon, especially at night or during the weekend at times when few people are around," a resident of Kim Ma Street told the Ha Noi Moi (New Ha Noi) newspaper.
Several crackdowns and measures by authorities have not been effective, at least not for long, officials admit.
The municipal Department of Communications & Information has asked telecom companies to recall mobile numbers feaured in the illegal advertisements, and this has been done, but almost all such numbers are unregistered, so difficult to trace.
The department said that while these measures have reduced the presence of the illegal hoardings and notices on main streets in the city, smaller streets and alleys continue to bear the brunt.
"While we want to solve the problem completely, what we can do right now is just a temporary solution," Tran Viet Hai, who heads a team of inspectors in Hai Ba Trung District, told the Kinh te & Dau tu (Economics and Investment) newspaper.
Under current regulations, each illegal notice can be fined VND100,000 - 300,000 (US$4.7 – 9.4), and this goes up to VND200,000 - 500,000 ($4.7 – 23) for banners.
Advertisements carrying mobile numbers or addresses of service providers that are stuck on walls or electric posts will be fined VND3-5 million ($141-235). For repeated offences, the fine will go up to VND10 - 20 million ($470 – 940).
But it is not easy to collect evidence and identify the guilty parties because the illegal advertisers deploy many tricks, said Pham Duc Hoa, an official in Ha Dong District.
Northern provinces brace for cold weather
People's Committees in northern mountainous provinces have been urged to take prompt action to save crops and livestock from a cold snap that is forecast to hit the region tonight.
The National Centre for Hydro-Meteorology Forecasting said the cold spell would last at least four days, bringing frost to northern mountainous provinces.
Temperatures were also forecast to drop to 8 degrees Celsius in Ha Noi, the centre said.
According to Minister of Agriculture and Rural Development Cao Duc Phat, frost, heavy snow and cold weather had hit the northern mountainous provinces of Lao Cai, Lang Son and Cao Bang already this winter.
This weather was expected to continue to batter the area, he said, instructing farmers to use nylon bags to cover seedlings and protect them from the cold weather.
Vegetable farmers had also been advised to harvest while they can and replant when the cold snap abates, he said.
Cattle farmers should provide enough food for their livestock and not graze them when the temperature dropped below 12 degrees Celsius, he said.
Around 200 cows and buffaloes were killed and 800ha of crop were damaged due to icy weather in early December in Lao Cai, and around 200 cows and buffaloes died during the cold weather in Lai Chau.
Ha Noi to revoke 948ha of land
The Ha Noi Department of Natural Resources and Environment has proposed that the municipal People's Committee revokes nearly 948ha of land from 12 institutions for violating land use regulations.
Department director Nguyen Trong Dong said inspections found that the project investors and organisations had failed to abide by relevant laws, particularly those related to timely implementation.
They key reasons cited for delayed projects include waiting for revised plans after the capital city's administrative boundary was expanded and lack of financial capital for implementing several projects as a result of the frozen real estate market, he said.
In order to use public land more effectively, the municipal People's Committee has asked investors and relevant agencies to exercise greater care and be more strict in inspecting and handling land law violations.
It said land that is revoked because of violations should be used for construction of public projects like schools.
In 2012, the city confiscated more than 8 million sq.m of land, according to official figures.
Young Vietnamese, Cambodian people step up exchanges
Vietnam and Cambodia will increase the exchange of youth delegations and step up experience sharing among the two countries' young people.
The affirmation was made at a meeting between Nguyen Dac Vinh, First Secretary of the Ho Chi Minh Communist Youth Union Central Committee and Hun Many, President of the Union of Youth Federations of Cambodia, in Hanoi on December 25.
Vinh affirmed that one of the Union's key tasks is to develop the friendship and cooperation with international and regional youth organistions, with focus on neighbouring countries, including Cambodia .
He spoke highly of the visit by the Union of Youth Federations of Cambodia, saying that it will make contributions to enhancing the understanding and collaboration between youth organisations of the two countries.
Hun Many said great efforts have been made to strengthen the relations between the Union of Youth Federations of Cambodia and the Vietnam Youth Federation
On the same day, Hun Many held talks with Phan Van Mai, President of the Vietnam Youth Federation.
They signed a cooperation agreement between the two sides for the 2013-2017 period.
Ho Chi Minh Memorial Complex to take shape in Thailand
Vietnamese and Thai official recently attended a groundbreaking ceremony for a memorial complex dedicated to late Vietnamese President Ho Chi Minh in a village of Pamakab district, Phichit province.
Local authorities invited six senior Buddhist monks from a nearby pagoda where president Ho stopped over during his stay in Thailand eight decades ago to attend the ceremony.
The memorial is being built on an area of nearly 8,000 square metres donated by local residents.
The project is expected to be completed in 2015 to mark President Ho's 125th birth anniversary.
In 1928 Ho Chi Minh, alias Nam Son, left Bangkok for the village to undertake his revolutionary task in Thailand.
He stayed there for a month before moving to north-eastern provinces to continue with his national salvation drive.
Better care for senior citizens
HCM City's Population and Family Planning Division will focus on programmes for elderly people's welfare in the year to come.
At a meeting held on December 25 to mark Vietnam's Population Day (December 26), To Thi Kim Hoa, Head of the Division, said a survey is being done on senior citizens' need for counselling and care.
Welfare workers and volunteers in districts would be trained in counselling and caring skills, she said.
Plans for a community-based elderly people's counselling and care project would be submitted to the Department of Health for approval, she said.
According to the United Nations Population Fund (UNFPA), Vietnamese population is ageing rapidly with the number of people over 60 accounting for 10 per cent of the entire due to the rising life expectancy and declining death and birth rates.
It forecast the population to start ageing in 2017 and be aged by 2035.
In HCM City, the rate of elderly people reduced from 6.52% in 2006 to 6.02% last year, but Hoa said it was only because the number of young immigrants has increased.
The actual number of elderly people is actually rising every year, and it is time for such programmes, she said.
The programmes would direct the community's attention to the issue of an ageing population, she said.
The division would work with television channels and Radio the Voice of HCM City to disseminate information about them, she added.
Besides providing care for seniors, the programmes would also help rectify the gender imbalance, strengthen prenatal and neonatal screening, and improve contraception, pre-marriage health care, and reproductive health by 2015.
The division will continue to collaborate with the Department of Health to inspect foetal ultrasound services in public and private health facilities to prevent sex selection.
Nguyen Tan Binh, the department's head, said the city this year hit the targets of reducing the crude birth rate by 0.01 per thousand, reducing the birth of third babies to less than 4%, and screening 32% of pregnant women and 64% of newborns.
The sex ratio for children born this year is 106 boys to 100 girls.
Boosting int'l cooperation in dealing with toxin chemicals
The office of the national steering board on the consequences of toxic chemicals during the war in Vietnam (Office 33) should expand collaboration with such traditional partners as Japan and the Republic of Korea to boost international cooperation.
Deputy Minister of Natural Resources and Environment Bui Cach Tuyen was speaking at a meeting in Hanoi on December 25 to review the office's performance in 2013 and put forth its action plan in 2014.
The office should also make more efforts to treat dioxin contaminated land area in Bien Hoa airport, Dong Nai province, while having access to methods using advanced technologies to deal with the toxic chemical consequences, Tuyen said.
A database identifying the contaminated areas is also needed, he added.
In 2013, the office's assistance, the steering board directed and coordinated with the relevant ministries, agencies and localities to conduct activities to clean the toxic chemicals effectively.
The US troops sprayed 80 million litres of defoliants, which contained almost 400 kg of toxic dioxin, on Vietnam's southern battlefields during a 10-year period beginning on August 10, 1961.
Management units proposed for urban clusters
Minister of Construction Trinh Dinh Dung has proposed provinces and cities nationwide to consider establishing management units for groups of urban areas so as to avoid fragmented urban development and slow-moving projects.
At the online meeting on 2014 socioeconomic development between the Government and localities on Tuesday, Dung said that urban management should be closely associated with the property market development.
Such a new way of management is aimed to ensure the healthy and sustainable development of the property market as the housing development over the past time has caused a lot of troubles for management agencies.
Each unit will not manage any single project but all projects in an area. This is a model applied successfully in many countries, according to Dung.
At the meeting, the minister also gave a brief overview on the construction industry in 2013.
The business value of the construction industry is estimated at VND191.2 trillion this year and contributes 5.3% to the nation's GDP, building materials excluded.
This year's property price, according to Dung, has dropped strongly by an average of 10-20% and even up to 50% in certain areas. Enterprises lower the price to increase liquidity.
The inventory value of the property market fell to some VND96.805 trillion last month, down 24.6% from the first quarter. Besides, Hanoi and HCMC witnessed inventory drops of over 20% and 30% respectively.
The Ministry of Construction and localities have also inspected over 3,000 construction works of the State having a total investment of VND27 trillion.
The inspection has helped reduce the investment of each work by an average of 8.4% and reduce State capital losses.
Gov't says will close natural forests in 2014
The Government will next year close all natural forests to prevent the natural resource from being depleted and exhausted, said Prime Minister Nguyen Tan Dung in his closing remarks at an online meeting on Tuesday.
There is now 10.5 million hectares of natural forest in the country, including two million hectares of special-use forest and four million hectares of preventive forest that are closed to exploitation. However, there is also four million hectares of natural forest that is still opened for measured exploitation.
However, all such forests will be closed from 2014, said PM Dung.
According to the Ministry of Natural Resources and Environment, the area of primitive forests in the country is being depleted, with small areas scattered in protective forests and in conservation parks.
Even forests in areas of brackish water are also shrinking, having been logged down by a half in previous decades, which is an alarming situation now that climate change is having adverse impacts on the economy.
According to the Ministry of Public Security, up to 43% of deforestation cases are related to mining, hydropower development, illegal logging, and farming.
The Ministry of Natural Resources and Environment in its scheme to cope with climate change has targeted to raise the forest coverage in the country to 45% by 2020 compared to 39.7%.
Increase in farmers annual income in last few years: Minister
The average income of farmers has continued to grow in the last few years to now touch an annual income of nearly VND20 million (US$952), said Cao Duc Phat, Minister of Agriculture and Rural Development.
Minister Phat announced this at a meeting on December 25 in Hanoi to review the five-year implementation of Resolution 7 of the Party Central Committee for agriculture, farmers and rural development.
The Minister stated that the growth of agriculture, forestry and aquaculture between 2009 and 2013 saw an annual average increase of 2.9 per cent.
For the last five years, the Party Central Committee plan as per Resolution 7 has helped revamp the face of rural districts and farmers' living conditions.
In the agriculture sector, production has soared with higher quality and increased exports. Farmers' average annual income has hit nearly VND20 million ($952), 2.18 times higher than in 2008. Poverty has also slumped by 12.6 percent compared to 2008.
However, the Minister acknowledged that there have been shortcomings in the agriculture sector such as not applying advanced technology in production, low competitiveness, a stagnant restructuring process, and a widening income gap between the rural and urban areas, and between the lowland and mountainous regions.
Speaking at the meeting, National Assembly Chairman Nguyen Sinh Hung stressed that the governments, ministries, and concerned agencies should realize the role of agriculture and farmers in the nation's growth.
Scientific, Technological Awards granted to young talents
A ceremony marking the 10th anniversary of the Golden Globe Awards, Scientific and Technological Awards of the Ho Chi Minh Communist Youth Union's Central Committee, and honoring of 10 young talents will be held in Hanoi on December 23.
The 2013 Golden Globe Awards were given to excellent individuals in field of Information Technology and Telecommunication; Medical Technology; Biological Technology and Environmental Technology.
Dr. Ta Hai Tung, Director of International Collaboration Center for Research and Development on Satellite Navigation Technology in South East Asia (NAVIS Center) under the Hanoi Polytechnic University; Dr. Phan Xuan Hieu, teacher of the University of Technology under Vietnam National University in Hanoi; Le Yen Thanh, student of Ho Chi Minh City University of Natural Sciences; MA Le Viet Hung, doctor and teacher of Ho Chi Minh City University of Medicine and Pharmacy; Doctor Huynh Van Binh Gia Dinh of People's Hospital in Ho Chi Minh City; MA Tran Thi Thu Ha of Hanoi Obstetric and Gynecology Hospital; Engineer Vo Khanh Hung, teacher of Ho Chi Minh City University of Agriculture and Forestry; MA Dam Thi Lan, teacher of Hanoi University of Construction; MA Tran Dai Nghia of Lam Thao Fertilizers and Chemicals Join Stock Company (formerly known as Super Phosphate Plant Lam Thao); and Dr. Le Van Canh, teacher of Vietnam National University in Ho Chi Minh City were the recipients of the awards.
Childcare becomes an issue in industrial zones
The Deputy Minister of Education and Training Nguyen Thi Nghia discussed solutions to private kindergartens after the most recent child abuse case.
During her meeting with HCMC Department of Education and Training, Nghia said that the child abuse case at Phuong Anh Kindergarten should be taken as a warning sign. When making plans, investors of industrial zones never thought about child care problems for the workers.
Because of poverty, female workers often choose to go to work as early as four months after birth, so they desperately need someone to look after their children for them. Nghia suggested to issue a new decree that force investors to include childcare centres into their plans and the authorities must carry out inspections at private childcare centres frequently.
She said, "Even the existing industrial zones would have to build childcare centres. Currently, only 6 out of 13 industrial zones in HCMC have plans for schools. In the near future, the ministry will also make suitable adjustments to the management over childcare centres."
Previously, the local authorities announced that they may ban all private kindergartens after the Phuong Anh Kindergarten incident. However, Nghia said it is an impossible task because of high demand.
On December 23, head of HCMC Le Hoang Quan also ordered the local authorities to make clear the individual responsibilities of those involved in child care, and strictly punish offenders in the Phuong Anh Kindergarten child abuse case. He also ordered collaboration betweem all agencies to tighten management over kindergartens in the city.
Source: VNA/VNS/VOV/SGGP/Dantri/SGT