VietNamNet Bridge – When the volunteers of Hope Club started selling vegetarian meals for VND5,000, they could barely keep up with demand. Can the cheap food convince other students to abandon meat?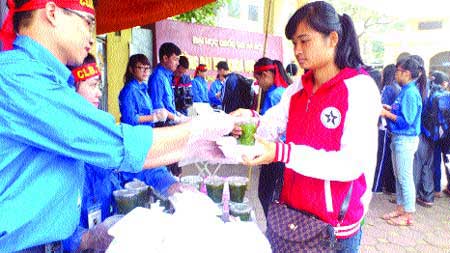 Meals of love: Members of Hope Club hand out portions of vegetarian food for $0,25 along with handouts about the nutritional and environmental benefits of vegetarian diets. 
At 10am every Friday, students line up at the entrance to the University of Natural Science affiliated to Viet Nam National University in Ha Noi. They are anxiously waiting to buy vegetarian meals for only VND5,000 (25 US cents).
Barely 30 minutes later, all 200 portions are sold out. Some students show up late and have to leave in regret, vowing to arrive earlier next time.
This is the second time Tran Huu Anh, a freshman from the department of environment science, has gotten in line for the cheap meal.
"I didn't expect vegetarian food to be so delicious! It's just as cheap as bread, but it's more nutritious," Anh says.
The cheap lunches are part of a "Meals of Love" project started about two months ago by Hope Club. Initially, the club served 70 portions as a test, but demand was so high that the number was increased to 200.
"Vegetarian food is good for health, preventing diseases and contributing to environmental protection," says Tran Van Vien, a third-year student at Ha Noi University and representative of the project. According to Vien, in addition to the VND5,000 meal, students receive scientific information about the benefits of a vegetarian diet.
Finances always burden the start of any project, and VND5,000 vegetarian meals are no exception. The total expenses for each portion range from VND25,000-30,000 ($1.25-1,5), but fortunately, the project received tremendous support.
"Thuan Nguyen vegetables company agreed to provide 100 per cent of fresh vegetables, while Tinh Xua vegetarian restaurant and Buddhists from Linh Thong Pagoda also contribute," Vien says, adding that restaurant staff also helped the volunteers – who were unfamiliar with vegetarian preparations – learn how to cook several main courses.
Each of the 25 members, who come from different universities in Ha Noi, plays a different role. Some travel to the farm of Thuan Nguyen Company, located 30km from Ha Noi, to pick up the fresh vegetables. In the afternoon, all members gather at Linh Thong Pagoda to process the dry ingredients. At 4.30 next morning, some arrive at the pagoda to start cooking so that 200 portions can arrive at the University of Science by 9.30.
Each portion contains rice, stir-fried vegetables, spring rolls, fried 'pork ribs' or 'eggs' and soup, all of which are made from non-meat sources. The menu changes weekly according to the weather.
The "Meals of Love" aren't only for students.
"I find VND5,000 vegetarian food delicious and cheap," says 43-year-old Luu Thi Thu, a vendor near the entrance of the university. "It's such a meaningful activity for the students. I hope that the project will be expanded more widely so that more people will have the opportunity to enjoy nutritious food at a cheap price."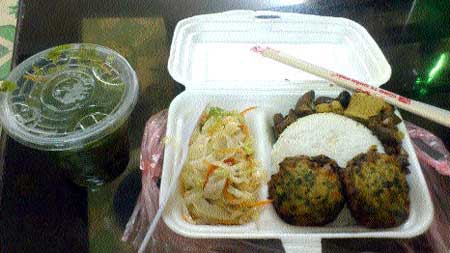 Green eats: Each vegetarian portion contains rice, stir-fried vegetables, fried ribs or eggs (made from vegetables), mushrooms and soup. The menu changes every week according to what ingredients are available.
While serving food, the volunteers also issue handouts about nutrition and the benefits of a vegetarian diet. In addition, they encourage the students to limit using plastic bags for environmental protection.
The money earned from the project goes towards funding the other activities of Hope Club and other charity activities like Mid-Autumn and New Year celebrations for poor children.
"Even though we call for environmental protection, we cannot use environment-friendly containers because of budget constraints. The soup is still contained in plastic cups and rice is contained in styrofoam boxes or plastic bags," Vien says.
"So we look forward to support from environmental organisations that will help us replace plastic bags with environment-friendly materials."
In the next phase, the project will be expanded to more universities in Ha Noi. A vegetarian restaurant run by Hope Group is expected to open next June.
Vien also hopes that the project will be expanded to other cities like HCM City and Da Nang in the long term.
"Hope Voluntary Club wants to make 'Meatless Fridays' popular among more people, especially students. This will result in a healthier population and better environment," Vien says.
Source: VNS