No control on vaccine prices in HCMC
Recent deaths and hospitalization of infants after vaccination has increased worry and fear among parents who now are resorting to willing pay more for better quality vaccines than use those provided free in the Government Expanded Program on Immunization.
However, price of vaccines varies from one medical center to another. Cost of one shot of five-in-one vaccine can be as high as VND600,000-700,000 (US$28-33), and the price of the same vaccine may vary from clinic to clinic.
This cost difference of similar vaccines in the City is causing great concern among parents.
Mrs. Hoang Thi Phuong from Phu Nhuan District said she paid VND650,000 for five-in-one  Pentaxim vaccine at Pasteur Institute while her neighbor paid VND622,000 for the same vaccine at the Nutrition Center.
Parents have voiced their concern over the unreasonable difference in price of the same vaccine at different medical clinics. For instance, Hepatitis B EUVAX-B vaccine for children under 15 years of age at the Pasteur Institute costs VND80,000 per dose while it is VND85,000 at the Preventive Medicine Center and VND52,000 at Children Hospital 2.
Similarly, parents pay VND60,000 for Jevax vaccine for children under three years of age for prevention of Japanese encephalitis at the Preventive Medicine Center but it costs VND40,000 in the Pasteur Institute and VND35,000 in Children Hospital 2.
The difference in vaccine price has caused concern among parents in HCMC for years but there is no agency responsible for controlling vaccine prices, said a representative at the Preventive Medicine Center.
These days, parents take their babies to the Pasteur Institute, Preventive Medicine Center, Nutrition Center and Children Hospital 1 and 2 in Ho Chi Minh City for immunization. For instance, Pasteur Institute doctors administer vaccine shots for hundreds of toddlers in a day and as a result they sometimes run short of vaccines.
Man wins prize for mobile health clinics
Hoang Cong Hoa from the central region received a prize worth VND50 million (US$2,380) in a contest titled Innovation that matters to you.
Hoa proposed connecting healthcare departments, relevant agencies and sponsors to develop mobile services for health check-ups in remote and rural areas.
The contest has already been launched in the Asia Pacific region by Philips, the lighting company.
Creative ideas from the community were voted on by readers of www.meaningfulinnovation.asia.
International NGOs support Vietnam's landmine clearance projects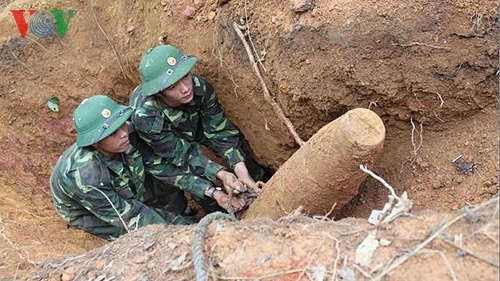 Photo: VOV

Thirty-three international NGOs are helping Vietnam overcome its war consequences.
Participants in the third international conference on cooperation between Vietnam and international Non-Governmental Organizations (NGOs) in Hanoi on November 28-29, said that about 6.5 million ha on land in Vietnam are still contaminated with unexploded ordnance (UXO) /landmines. The country needs VND185,000 to clean up the explosives left over from the war.
However, they said, most NGO-funded projects are focused on raising public awareness of the need to assist landmine victims.
They proposed strengthening cooperation between NGOs and administrative committees at all levels to increase the effectiveness of landmine clearance projects. They also called for assistance from NGOs and other international donors.
Photos highlighting HIV/AIDS prevention on display
As many as 80 photos featuring the lives of HIV-infected people who are living well thanks to antiretroviral drugs are on display at an exhibition that opened in Ho Chi Minh City on November 27.
In response to the National Action Months of HIV/AIDS control, the week-long exhibition aims to popularise the effectiveness of the early treatment of HIV/AIDS, which will benefit patients' health and reduce the spread of the disease.
With support from the US President's Emergency Plan for AIDS Relief, over the past years, more than 23,000 HIV patients in Ho Chi Minh City have had the chance to access free treatment using antiretroviral drugs, contributing to constraining the disease's hold over the country.
The city now records between 400 and 500 HIV/AIDS deaths each year.
On this occasion, the US Consulate General in the city awarded prizes to winners of the World AIDS Day Video Contest.-
Professional thief arrested in Hai Phong
Police in the northern port city of Hai Phong's Le Chan District on Wednesday detained a man for illegally trading in stolen goods.
The described Bui Cong Doanh, 50, from the district's Du Hang Kenh Ward, as a "professional" in handling stolen motorbikes in Hai Phong.
He was caught while trying to sell a HONDA SH motorbike worth VND130 million (US$6,200) that was stolen from Nguyen Van Quyet on Monday, the previous week. According to Quyet, he had carefully locked his motorbike before going into a friend's house. But when he returned after just three minutes, the bike had been stolen.
The police later seized a HONDA Spacy, owned by Le Ha in Ha Noi's Dong Da District, from Doanh's house. They said they also found suspicious-looking paperwork.
The police are investigating Doanh's activities further.
Vietnam, China discuss radio frequency management
Officials from the Vietnam Radio Frequency Directorate and the China Radio Management Bureau are working on how to better manage and coordinate radio frequency at the shared border areas.
At their conference, the 10 th of its kind so far, in central Da Nang city from November 27-29, they sought for joint coordination in ensuring the normal, efficient operation of radio frequency in the border areas.
The officials also worked on the control of short wave frequency and the development of surveillance satellite and cooperation methods between WCDMA-WCDMA and WCDMA-CDMA2000 networks.
They introduced their respective telecommunication markets and State management over radio frequency, especially those used at the common border areas.
Ministry holds talks on new tobacco rules
The Ministry of Health and the Viet Nam Fatherland Front held a conference yesterday for district officials in southern provinces to explain in detail the law on tobacco harm-reduction that took effect on May 1.
The law prohibits selling tobacco to people under 18 years old. It also requires cigarette manufacturers to include health warnings on the front and back of cigarette packages.
Viet Nam has nearly 16 million smokers, and is one of 15 countries with the highest rate of cigarette smoking in the world, according to the Viet Nam Steering Committee on Smoking and Health.
Tobacco use is the cause of 40,000 deaths in Viet Nam each year, according to the ministry.
Da Nang hosts ASEAN disaster management conference
The second partnership conference of the ASEAN Agreement on Disaster Management and Emergency Response was held in central Da Nang city on November 28 by the Ministry of Agriculture and Rural Development, in conjunction with the ASEAN Secretariat.
Delegates from 10 ASEAN member states, East Asian countries, strategic partners and donors reviewed the implementation of the Working Programme in the 2010-2012 period, including the establishment of the ASEAN Coordinating Centre for Humanitarian Assistance on Disaster Management.
The conference was also considered a channel for partners to study cooperation opportunities in disaster management with ASEAN member countries so as to effectively implement 21 projects in the 2013-2015 period.
Deputy Head of the General Department of Irrigation Nguyen Xuan Dieu stressed that over the past decade, many disasters have caused great human and property losses in the region and the world.
ASEAN states and others worldwide need to work together in the fight against natural disasters, he added.
The ASEAN Agreement on Disaster Management and Emergency Response was approved in 2009. It is a legal framework for cooperation, coordination, technical assistance and resources mobilisation in disaster management.
Heavy rain triggers landslides
Landslides caused by heavy rain occurred in mountainous Bac Tra My District in central Quang Nam Province. This has led to traffic congestion and threatened local houses and roads.
Hundreds of cubic metres of soil and stone fell onto a road in Tra My Town. However, there were no reports of casualties.
Local authorities have set up danger signs to warn road users, according to Le Anh Tuan, chief of the district People's Committee's Secretariat.
Northern police seize smuggled products
Police in the northern border province of Lao Cai uncovered a large quantity of illegally imported goods yesterday.
They seized 700 bottles of cosmetics and hair dye and another 150 items of hair products owned by Dinh Van Dao from Kim Tan Ward in Lao Cai City.
The goods all bore labels from Spain, South Korea, Germany and China, but had no supporting papers.
Police also seized nearly 200kg of frozen-food of unknown origin, including sausages and grilled fish. The products were illegally imported i nto Viet Nam and found by police in Lao Cai City.
The case is under investigation.
KOICA assists Quang Tri in poverty reduction
Korean International Cooperation Agency (KOICA) has agreed to provide US$10 million for Quang Tri province in a programme to reduce poverty and improve local people's living conditions in the 2014-2017 period.
Under the "Vietnam Happiness Programme", KOICA will implement activities in four major areas of community development, improvement in the rural medical system, support for environmental issues and capacity enhancement to cope with natural calamities.
Quang Tri is committed to creating the best conditions for the KOICA delegation to conduct a fact-finding tour from now till the end of December 4 as scheduled.
Domestic violence measures fall flat
The enforcement of the Law on Domestic Violence Prevention and Control had met with difficulties due to migration and a lack of information.
The remark was made by Hoa Huu Van, deputy director of the Ministry of Culture, Sports and Tourism's Department of Family at a conference on Monday.
The law was put into effect in 2008, and different agencies and organisations have conducted various measures based on the law, including dissemination, consultancy and mediation.
However, the country did not have enough professional consultants to make people aware of the law, and those that were informed not really understand, said Van.
The law did not include the punishment procedures for people who violated it, leaving authorities confused.
The shortage of expertise also led to late support for victims of domestic violence.
Culture, shows and arts were good ways of informing people about the law, but they were not used enough.
Advice was mainly issued based on experience, which was not very effective, he said.
Many people who were sent to counselling also moved houses so the process was disrupted.
Van said a regulation should be issued on interdisciplinary co-ordination so that different agencies could work together to reduce domestic violence.
Information about alcohol addiction should also be spread as statistics showed that more than 80 per cent of divorces were caused by alcoholic husbands who beat their wives.
Counselling should be made available for couples in need, he said.
Associate Professor Nguyen Huu Minh, director of the Institute of Family and Gender, added that men and boys should be encouraged to work as counsellors.
National data on gender violence should be collected as a foundation for policies and programmes in the future, he said.
The conference was organised in Ha Noi as part of the country's campaign to end violence against women and girls which will run until December 10.
Conference discusses disaster management
ASEAN Deputy Secretary General Alicia Dela Rosa Bala has commended Vietnam's active contributions to practical initiatives mitigating the negative impacts of climate change.
The ASEAN Deputy Secretary General was speaking at a November 28 conference on the ASEAN Agreement on Disaster Management and Emergency Response (AADMER) in Da Nang City.
Deputy Secretary Bala was especially impressed with the way Vietnamese city planners have incorporated natural disaster response concerns. The AADMER is a regional natural disaster management framework for cooperation, coordination, technical assistance, and human resource mobilisation. The ASEAN Committee on Disaster Management divides its five-year working programme into two phases.
The conference is preparation for beginning the second phase, which includes 21 natural disaster and climate change risk reduction projects and the official website launch for the ASEAN Coordinating Centre for Humanitarian Assistance on Disaster Management (AHA Centre).
The second phase's 21 projects prioritise strengthening the AHA Centre's disaster assessment capacity, establishing a regional rapid-response team, and honing disaster responses through regional scenario rehearsals.
ANZ improves financial skills for students
ANZ has released a November 28 review of its MoneyMinded pilot programme, launched in Vietnam last year to help young Vietnamese students cultivate necessary financial skills.
According to the Foreign Trade University's Institute of Economic and International Trade, MoneyMinded's more than 170 university student participants learned the importance of setting financial goals, planning for the future, and healthy spending and savings habits.
Over 80% of respondents referenced in the Institute's MoneyMinded Impact Report said they now felt more organised when managing their money; 76.9% said their awareness of daily living expenses had improved; and 79.5% made sure to pay all bills on time.
Only 8.7% reported an inability to save money, down from 25.6% before the programme, and the proportion who said they now save on a regular basis doubled to 26.9%.
ANZ Vietnam CEO Tareq Muhmood described MoneyMinded as part of ANZ's long-term commitment to helping improve financial inclusion for young adults and the financial wellbeing of communities more broadly.
"Our research shows students' financial futures brighten significantly after participating in the programme," he underscored.
The MoneyMinded programme has proven successful in Australia, New Zealand, Fiji, and Hong Kong. Vietnam is the first Southeast Asian country selected to carry out the programme.
WB supports water management in Mekong River Delta
The World Bank (WB) Board of Executive Directors on November 28 approved a US$25 million credit to Vietnam to help Vietnam better manage trans-boundary water resources and climate risks.
The Integrated Water Resources Management Project – Phase 2 will contribute to the overall goal of implementation of integrated water resources management in the Lower Mekong Basin for sustainable economic, social and environmental development by developing the capacity of the Ministry of Natural Resources and Environment, Vietnam National Mekong Committee and relevant agencies.
The project is the second part of a 4-phase program, which establishes key examples of integrated water resources management practices in the Lower Mekong basin at the regional, national, and sub-national levels, thus contributing to more sustainable river basin development in the Lower Mekong.
The project will provide support for the institutional development of integrated water resources management in Vietnam's part of the Sesan-Srepok Basin and help establish a Water Resources Monitoring Network at the border areas with Cambodia and Lao PDR in the Lower Mekong and a water resources information system for the Vietnam part of the Lower Mekong. In addition, it will also strengthen the hydro-meteorological information network, flood forecasting and warning system in the Central Highlands.
The US$ 25 million credit comes from the International Development Association (IDA), the WB concessional lending arm for low-income countries.  
International day celebrates role of disabled community
Local organisations in HCM City are carrying out activities to celebrate the International Day of People with Disabilities on December 3.
The Viet Nam Youth Federation Central Committee yesterday launched a programme to honour people with disabilities and the disadvantaged at the Youth Cultural House in District 1. Many of those honoured have become successful in their work.
In co-operation with Viet Nam Television's Channel VTV6, Young People Newspaper and Hoa Sen Group, the programme has attracted more than 3,000 students from universities and high schools.
During the programme, youths will be able to view an exhibition of photos taken of a worldwide limbless Australian speaker Nick Vujicic as well as photos of people with disabilities who have achieved success in life.
Students and young people with disabilities will have an opportunity to discuss employment issues with local enterprises.
On Saturday, 6,000 people with disabilities in HCM City, Can Tho and 12 provinces including Dong Nai, Binh Duong, Ba Ria-Vung Tau, Lam Dong and Tay Ninh will gather at Suoi Tien Park to watch entertainment shows and take part in games. There will also be a lunch buffet.
The programme is being held by the HCM City Department of Labour, Invalids and Social Affairs with the sponsorship of many organisations and companies.
On Sunday, the Disability Research and Capacity Development Centre will also hold an entertainment programme called An Inclusive Society for All, which will focus on the need of people with disabilities to have access to public works and buildings.
In addition, there will be games and photo exhibitions of several cities that have favourable access for people with disabilities in their public spaces.
Workshop looks at labour safety
New laws on labour safety in hazardous industries, including mineral exploitation and processing, chemical production and construction, are needed in Viet Nam, a workshop in HCM City was told yesterday.
Speaking at the two-day workshop that ends today, Dr Tran Mai, deputy chairman of the Viet Nam Occupational Safety and Health Association, said the current legal framework was ineffective and should be amended.
Dr Nguyen Ngoc Nga, deputy chairwoman of the Viet Nam Association for Occupational Health, said there was no legal guidance on counselling, technical assistance or investment in labour accident-prevention for small- and medium-size enterprises in hazardous industries.
Detailed regulations on developing healthcare for employees should be issued, Nga said.
Nga said that specific regulations on labour safety and health in hazardous industries should be established based on the International Labour Organisation's conventions and recommendations.
Mai said the inspection systems should be improved. Currently there is a shortage of inspectors.
According to a report from the Viet Nam General Confederation of Labour, the number of labour accidents in the fields of construction, mineral exploitation and chemical production accounted for 60 per cent of the total each year.
Mineral exploitation has developed in recent years, Mai said, adding that 2,378 enterprises employ nearly 2.1 per cent of the country's total workforce.
The working environment in this sector does not meet national standards, exceeding 2 to 45 times the criteria on dust, noise and poisonous gas, he said. Employees face a high risk of collapse or fire.
The number of mining accidents increased from 213 in 2005 to 252 in 2011.
Labour accidents in the construction field also rose in the past 11 years from 196 cases in 2000 to 502 in 2011.
Common occupational diseases in the field are deafness and lung diseases caused by silica dust.
In the last five years, 157 explosions at chemical facilities occurred in the country, killing 14 people.
Occupational diseases in the chemical field are the country's largest challenge. The number of occupational diseases accounted for 42 per cent of the country's total.
As of 2011, some 27,246 employees in the field had contracted an occupational disease. 
Source: VNA/SGGP/Nhandan/SGT/VOV/VNS